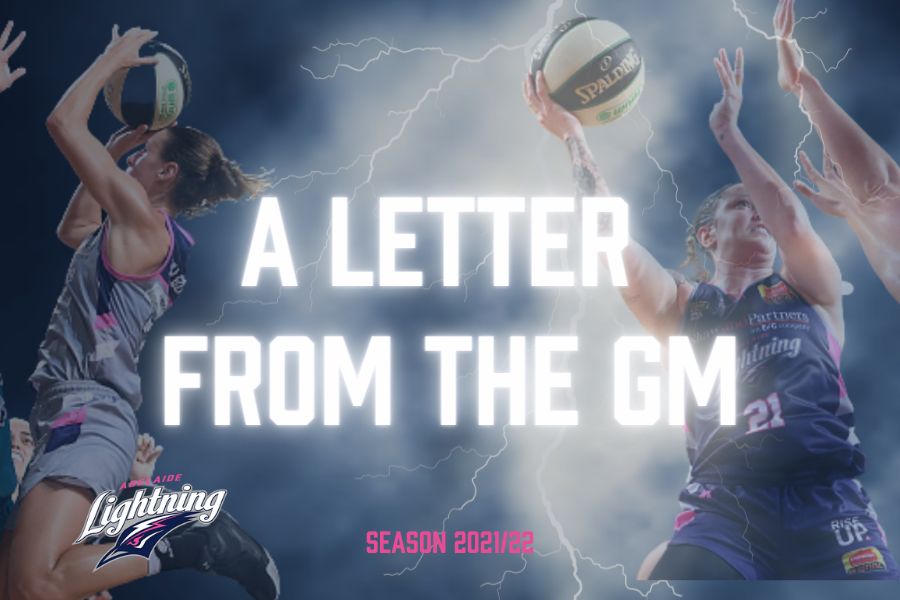 October 20, 2021 | Adelaide Lightning news
To all of our Lightning fans, supporters, members and lovers of basketball
On behalf of the Adelaide Lightning basketball organisation, we hope you remain safe and healthy through another year of change.   This letter is to update you all on the upcoming season.
Similar to 2020, the WNBL has taken a cautious approach in announcing a season fixture and we fully support this strategy.  Along with Chairman, Mr Bruce Spangler, we have worked closely with the WNBL in ensuring South Australia's basketball community and Adelaide Lightning fans receive home games for the upcoming season.  We are expecting decisions on our fixture in the coming weeks and when we have confirmation of the details, we will inform our members, supporters and fans of your opportunity to be a part of the Lightning community.
On the court, Chris Lucas returns for his 9th season as the Head Coach along with a team of South Australian support staff and development coaches.  Nat Hurst will return as the Lead Assistant Coach, and we look forward to having Nat in our program once again.
Regarding our playing squad, we are thrilled to sign seven South Australian players, Opals representatives and emerging talents.  Our commitment to creating basketball pathways for South Australian female players is as strong as ever.  The South Australian girls in our squad for the upcoming season include Steph Talbot, Chelsea Brook, Sam Simons, Taylor Ortlepp, Tayla Brazel, Jasmin Fejo and Brooke Basham.  Many supporters and fans are excited to see what Alanna Smith can do in a Lightning jersey after missing last season with injury.
Off the court, we've secured strategic partnerships with Basketball South Australia and Think Road Safety! and we will take this opportunity to thank them for their ongoing support of the Lightning.  We look forward to announcing other partners in the coming months.
In the coming weeks, we will release some exciting news relating to our brand and we haven't forgotten we are the most successful women's sporting team in South Australia, watch this space.
Most importantly, our organisation is keen to see live WNBL basketball in Adelaide after a year of absence.  Our home games, home court details and memberships will be available soon.
Thank you for your ongoing support of Adelaide Lightning.
See you at the next home game.
Kind regards
Tim Brenton
General Manager
Adelaide Lightning