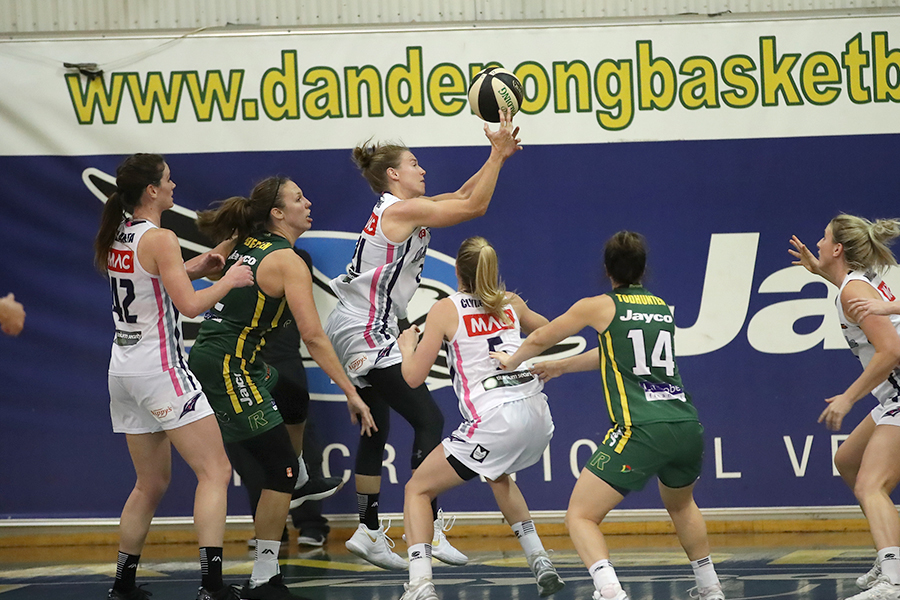 November 27, 2017 | Adelaide Lightning news
Lauren Nelli

MAC Adelaide Lightning have bounced back from last week's disappointing loss, to defeat the Dandenong Rangers by 21-points on the road, 49-70.
With Lightning and the Rangers sitting level on the ladder and holding one- game apiece against each other, the match proved an important one to win on the home-stretch of the season.
Nicole Seekamp started Adelaide off with their first basket and finished with a top-scoring 15-points, while Rangers' Blicavs not far behind on 14-points. Following their first score, Adelaide began to lose their feet as Dandenong scored a quick four points, initiating Lightning's first timeout. After an aggressive pep-talk from coach Lucas, the girls created three defensive score streak, finishing the quarter 15-18.
Canadian import Ruth Hamblin had an impressive second quarter, scoring  six consecutive points in the last few minutes of the second quarter and ending the game with four blocks. The Rangers, Palau's proved to be a valuable decision maker for her side, leading her team when it mattered and putting her own nine-points on the board. Despite Abby Bishop's basket-count remaining rather quiet, with a single basket for the first quarter, her charisma certainty was not, as the captain carried her team to victory out-rebounding Dandenong rival Kayla Pedersen with 14-rebounds.
The third quarter began with two turnovers to add to Adelaide's existing 15 for the total game. Lightning's game picked up with a consecutive three fast breaks, beating Dandenong in a game of speed. However, both teams produced two offensive misses. Dandenong's zone defence allowed Adelaide to continue draining three-point baskets, scoring two three-pointers for the quarter thanks to Novosel and another from Seekamp. Dandenong seemed to lose their way offensively mid-quarter, but resumed at the end of the quarter scoring the final five-points. Their man-to-man defence picked up and helped the Rangers grow momentum as Adelaide sat on a total of 21 turnovers for the game, still managing to seal the quarter with a double-figure lead.
Pederson was unstoppable in the paint, scoring five from nine field goals and sat on eight rebounds for the match. Dandenong clawed their way back to a 10-point game half way through the final quarter, yet lost their grip scoring a trivial four points since then for the rest of the game. Adelaide executed well, maintaining pace with intense defensive pressure and second efforts which kept them on top, settling the game with a 49 – 70 point win.