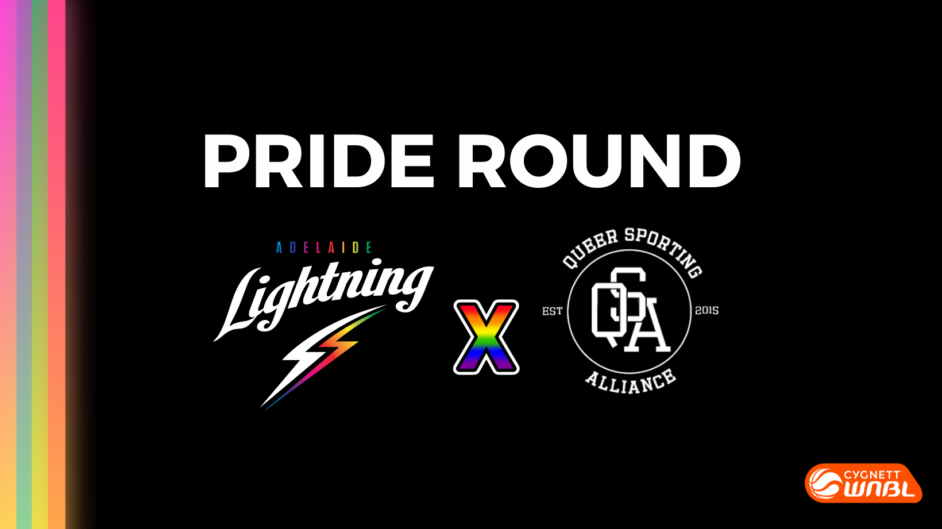 January 9, 2023 | Adelaide Lightning news
Adelaide Lightning is excited to unveil its Pride Jersey and inaugural Pride round in partnership with Queer Sporting Alliance (QSA).
Adelaide Lightning will don their Pride jersey for two home games to celebrate the round on Thursday, 12 January against Sydney Uni Flames and Saturday, 14 January against Bendigo Spirit.
The only team in the WNBL to hold a Pride round this season, Adelaide Lightning is proud to be supporting the LGBTIQA+ community both on and off the court.
Adelaide Lightning General Manager Reece Turner is extremely excited to host the Club's first Pride round, "Being able to celebrate this over two games at home is something we are all looking forward to. Adelaide Lightning pride itself on our diversity and inclusion and we are constantly striving to reach equality for all."
"Sport plays a huge societal role in bringing people together and celebrating what a diverse society we are. We are truly honoured to be the new official diversity partner with Queer Sporting Alliance, who do an amazing job of celebrating the LGBTIQA+ community." said Reece.
Adelaide Lightning player and Queer Sporting Alliance Ambassador Marena Whittle is on a mission with QSA to ensure the LGBTIQA+ community can access and participate in community sport.
"For me, pride is all about the celebration of people and inclusion. In my eyes, it gives everyone an opportunity to be seen, heard and respected. As the only team in the WNBL that has a dedicated Pride round this season, the impact of this support hits strongly within the South Australian community."
"I've always pushed for inclusion and equal respect, so when I met Stella and Bindi from QSA it just clicked for me. I am proud to be an ambassador for an organisation that provides all people with opportunities to play in a safe environment with fun and competitive teammates," said Marena.
Adelaide Lightning will host their inaugural Pride round this week. Tickets can be purchased here.
-Ends-
About Queer Sporting Alliance
Queer Sporting Alliance (QSA) is Australia and NZ's premier LGBTIQA+ sporting club. QSA's mission is to ensure LGBTIQA+ folk can access and participate in community sports. They have teams playing across Australia and NZ as a result of generous support from their major sponsor Champion NZ.
QSA President and founder Stella Lesic grew up playing community sport in Naarm. Having experienced life as a closeted youth basketballer, they were driven to build safe spaces for everyone to 'Come Out & Play'.
The club began in 2015 in Naarm as Bushrangers Basketball and moved to their new Club name QSA in 2021.
QSA pride themselves on creating safe spaces for LGBTIQA+ folk and their allies to play community sport. They are seeking to generate interest in all players in the LGBTIQA+ community (and allies) who are disengaged from sporting activity or looking for a safe space to play sport. They have a strong focus on supporting the inclusion of transgender and gender diverse players.
QSA are official diversity partners of Transgender Victoria and WNBL powerhouses Southside Flyers and now Adelaide Lightning!
QSA acknowledges the Traditional Custodians of the various lands on which their members enjoy sport and especially their Aboriginal and Torres Strait Islander members. QSA pay their respects to Elders past and present. QSA celebrate the diversity of Aboriginal peoples and their ongoing cultures and connections to the lands and waters of the country.