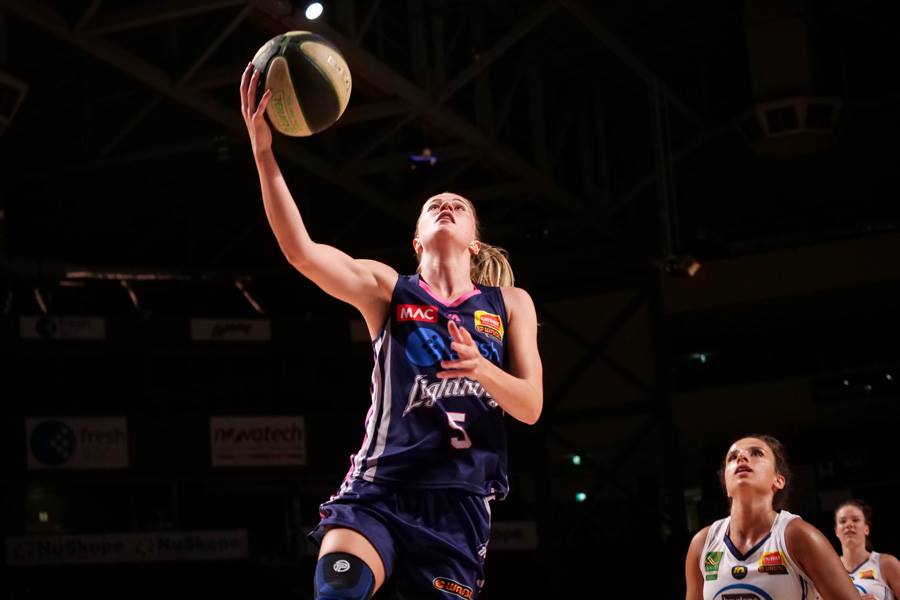 December 21, 2018 | Adelaide Lightning news
Written By: Kieren Vartuli @kierenvartuli
Twas the fixture before Christmas and the Lightning gave to me… A huge 95-52 victory and some fantastic 2018 memories!
Adelaide put on an offensive clinic for all in attendance finding a way to score consistently.
In what was a high-octane contest, Adelaide outscored the visitors in all quarters bar one.
After what was a heartbreaking end to their last fixture against Melbourne, Adelaide looked to use that as a drive. It appeared to work as 6-players finished in double figures.
"Having six-people in double-figures makes it easier, scoring 100 actually doesn't concern me at all.
"I'm more concerned about the scoreline" Lucas said when asked about cracking the 100-point mark on the scoreboard.
"I thought Colleen's impact off the bench was one of her best games this year"
Colleen Planeta had a fantastic night on the floor while coming off the bench. Planeta finished the contest with 21-points and 8-rebou while adding some videos to her highlight reel in the process.
It was business as usual for Nia Coffey who put on a show finishing with 18-points off 57 per cent from the field.
Kayla Alexander and Nia Coffey combined for 27-points and 19-rebounds showing that the paint was their domain.
Dominant is the word to describe Adelaide in the paint throughout the evening, totalling a whopping 50-points inside (58.1%).
Adelaide's ball movement was astounding throughout, with the Lightning finishing the contest with 28-assists to only 8-turnovers.
The supreme ball movement led to open looks as well as strong finishes around the rim.
On the other end of the hardwood, Adelaide forced 17-Sydney turnovers and kept them to a mere 52-points.
After a gruelling schedule in recent weeks, Chris Lucas addressed potential fatigue in his side.
"I'm super proud of the group, the way they have come into practice yesterday. We went pretty light yesterday, but they stepped in today. They deserve a break."
Defensively, Adelaide held the Flames to less than 10-points in two quarters much to Chris Lucas' delight.
After what was a monstrous opening term by the Lightning which saw them take a commanding 28-5 lead, the Flames showed signs of life during the second.
Adelaide demonstrated throughout the contest how dangerous they can be out of the gate after finishing the opening term 28-5.
With the season's end drawing near, the results are  continuing to appear.
"We need to beat people above us, and that's what we will try to do!  We're going to take it like the old cliché one game at a time".
Adelaide host the Perth Lynx after Christmas in a Lightning and 36er double header on December 30th.