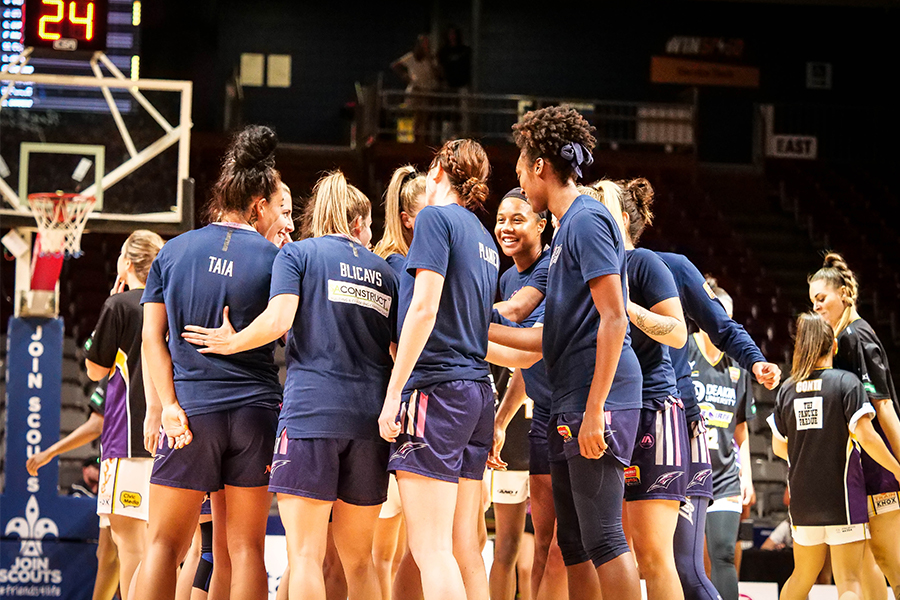 January 31, 2019 | Adelaide Lightning news
In what may be deemed one of the most anticipated matchups this Chemist Warehouse WNBL Finals series, the Adelaide Lightning defied the odds and defeated the visiting Melbourne Boomers 100-92!
"Excitement" and "proud of the team" were only a few words that came to mind after Chris Lucas' side overcome the Boomers by eight.
Adelaide kept the Boomers at bay after they continued to pose a threat throughout much of the contest.
Big plays on both ends of the floor during the final term helped Adelaide develop their momentum heading to the final buzzer.
"At some point, one team was going to crack, and I felt like we kept the pressure on and pressure on the scoreboard."
"This group is pretty special to coach, and I'm not just saying that" Chris Lucas said post-game.
"We know that they (Melbourne) are a tough team and they've got so many great players that can step up and hit shots" Co-Captain Nicole Seekamp stated.
Adelaide began to heat up from the floor during the second half outscoring the visitors 29-21 and 24-23 during the 3rd and 4th respectively.
With both sides shooting well, Adelaide shot just over 52 per cent from the floor and an incredible 60 percent from deep.
Lauren Nicholson showed why she is deemed a league-wide threat on the floor after amassing 23-points off an incredible 90 per cent from the field.
"That's pretty good isn't it? I always say to players do the work and you get the reward, that is exactly what she has done tonight" Lucas said on Nicholson's night out.
With another contest having four players in double-digits, Adelaide continue to boast a range of offensive weaponry who can operate on both ends of the floor.
Fan favourite Nia Coffey continued to light up the floor and dazzle the crowd in the process while notching a phenomenal game high of 30-points.
A win sending Adelaide to the big dance and a loss allowing a winner take all game 3, the Adelaide Lightning had little room for error.
Adelaide's ability to keep the ball safe (10 total turnovers) when crucial ceased any potential extra Boomer momentum.
As the clock wound down to zero, Coach Lucas and his side remained calm and executed when they needed it the most.
"To beat such a high-quality team in Melbourne, I think Adelaide has to be proud of that" Lucas said!
Kayla Alexander continued to impact the game on both ends of the floor while adding some highlights in the process.
The Canadian Forward finished with 20-points and 9-rebounds while demonstrating some impeccable footwork in the post.
With the final position in the grand final hanging in the balance, Chris Lucas believes that his side can continue to develop their game before the big dance.
"Is it the best we've played? Possibly, but I think we can do things even better"