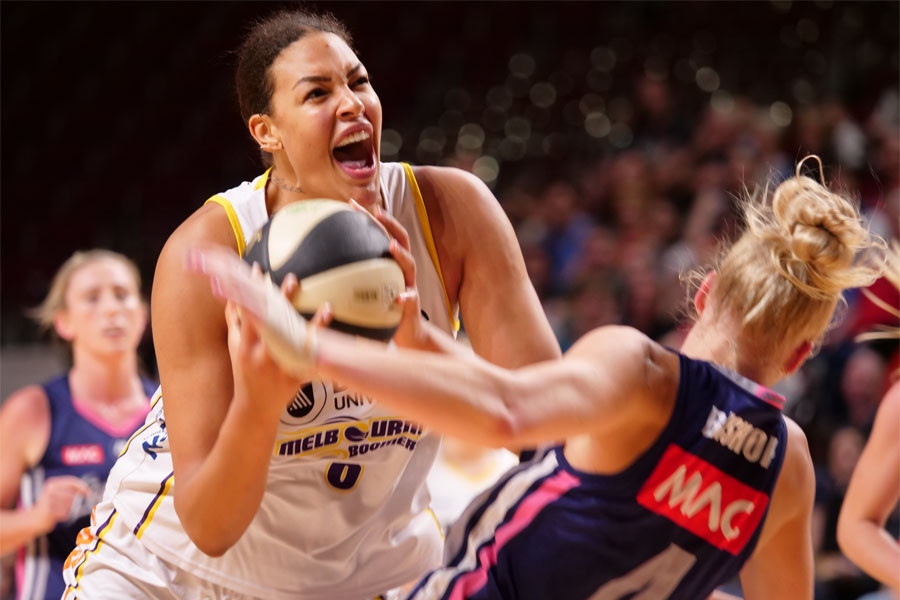 December 9, 2017 | Adelaide Lightning news
Twitter: @kierenvartuli
The Lightning were looking to build on their convincing win over the Fire earlier this week with a victory over Melbourne at home. This did not come to fruition, as the Lightning fell by 2-points in the dying seconds, 62-64.
Elizabeth Cambage showed her offensive presence on the floor finishing with a double-double consisting of a game high 32-points and 12-rebounds.
Cambage scored the sealing basket for the Boomers with the Lightning unable to reply coming out of their timeout.
Bishop tying the contest at 62 apiece with just under seven seconds remaining showed the resiliency of the Lightning pushing their visitors to the final siren.
Despite trailing by as many as 10-points throughout the final quarter, Lightning fought back and showed why they are a team to watch for the remainder of the season.
"There's a lot of positives to take out of the game, but obviously we are pretty disappointed after our performance the other night."
"Defensively we did a great job to hold that team to 64, I think that is one of their lowest scores of the year, but unfortunately, we didn't execute when we needed too," Chris Lucas said in a post-game press conference.
Injury concerns appeared for the Lightning during the second and final terms with Natalie Novosel (2nd) and Abby Bishop (4th) both leaving the floor. This was not the end of their days, as they both returned to the floor later.
"Losing Nat is a huge loss for us and it is not an excuse for losing, but reality is she was one of our best players on the court two days ago and we'll get that checked out. At this stage we are optimistic that she will be ready to go," Lucas said.
Coach Lucas showed the importance of his bench players also, as they notched 22-points of their own compared to Melbourne's nine.
Nicole Seekamp was effective offensively, scoring a team high 16-points (41.7 FG%) and dishing out six-assists. Excellently, she did not turn the ball over throughout the contest showing off her talents and contributing to her efficiency rating of 20.
Seekamp was not only efficient offensively, but also on the other end of the hardwood recording three steals.
The Lightning showed their determination to show how defence can turn into offence totalling 12-steals and three-blocks. The efforts put in defensively resulted in 16 of Adelaide's points.
Lauren Nicholson also flirted with a double-double of her own recording eight-points and eight rebounds including three on the offensive glass.
The Lightning look to redeem themselves in the coming days, as they begin their road trip in Perth against the Lynx on December 15.