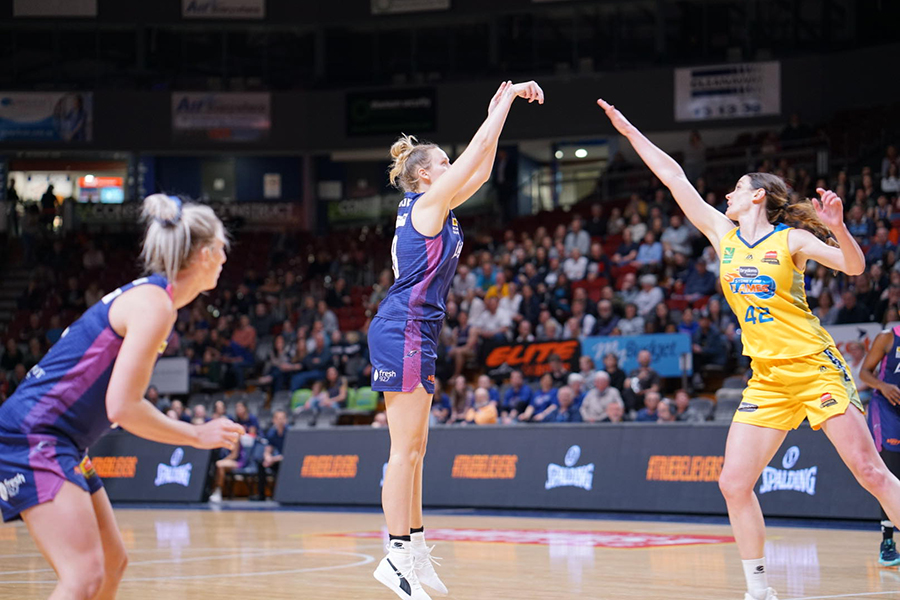 October 11, 2019 | Adelaide Lightning news
The Adelaide Lightning tonight gave notice to the rest of the Chemist Warehouse WNBL teams that they will be a tough competitor in the 2019/20 season. They cruised comfortably to a 10 point win.
With Laura Hodges ruled out for the weekend, it was a strong first game for the Lightning.
A solid 1,022 crowd converged to Titanium Security Arena, cheered on the Lightning and watched Chelsea Brook have her break-out game for Adelaide. Brook collected 10 points in the first half and 19 overall, hitting two 3 pointers back to back in the second quarter, helping Adelaide create a buffer at the half. Lightning Head Coach Chris Lucas said that Brook had a career-high game and that he was really pleased for her.
Former Lightning player, Colleen Planeta, had a dominating second half adding 22 to her 8 first half points and was in her element hitting the fade-away jump shots she is renowned for, keeping Sydney in the game.
Star Lightning import, Crystal Langhorne, was solid at both ends contributing 20 points and 13 defensive boards in her first hit out in Australia.
Lightning Head Coach Chris Lucas said that it was a good learning curve for the team who has only been together for one week, "It's going to take some time to grow offensively and defensively, I am excited to see what the team can do."
Stats
Adelaide – Langhorne (20 points, 13 rebounds), Brook (19 points, 4 rebounds), Talbot (12 points, 5 assists) and Seekamp (11 points, 8 assists)
Sydney – Planeta (30 points, 11 rebounds), Kunek (16 points, 6 assists), Wilson (11 points, 3 rebounds) and Scherf (10 points, 17 rebounds)
Adelaide head to Canberra for a re-match against the Capitals on Sunday and Sydney head to Perth for the second part of their road trip to take on the Lynx on Sunday.
The Adelaide v Sydney game was streamed live and is available now to watch on KAYO Sports.