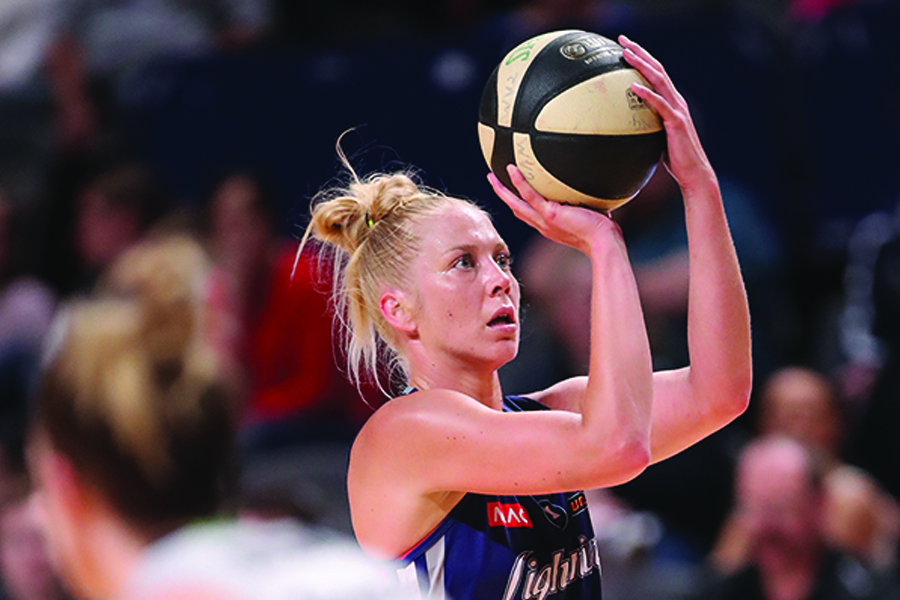 December 4, 2017 | Adelaide Lightning news
MAC Adelaide Lightning star Abby Bishop has been named in the Australia Opals squad that will attend the first camp in early February 2018, ahead of the Commonwealth Games.
A total of 18 athletes have been invited to attend the camp held in Italy at the AIS European Training Centre, however, the squad remains fluid with injuries as well as college and European commitments all taken into consideration.
Athletes not named for this first camp can still join the Opals team at a later date for a second cam,p before the final team is announced for the Commonwealth Games.
The Opals games will be held in Townsville and on the Gold Coast from April 4-15, 2018.
Every WNBL club is featured in the first camp list with the JCU Townsville Fire, Jayco Dandenong Rangers, Deakin Melbourne Boomers, Brydens Sydney Uni Flames and University of Canberra Capitals represented by two players while the MAC Adelaide Lightning, Bendigo Bank Spirit and Perth Lynx have one player each.
Rounding out the squad are five Australian players based in Europe who are in discussion with their respective teams as to their availability in February.
"This squad has been selected based upon performance levels in the various leagues in which the athletes compete as well as at past Opals camps and the recent FIBA Asia Cup in India," said Opals head coach Sandy Brondello.
"All of our Opals coaching staff will continue to monitor and evaluate the contributions the players make to their respective clubs leading up to the Commonwealth Games.
"Beyond that tournament, we are also preparing for the FIBA World Cup which will be held in Spain in September 2018 following our successful qualification at the FIBA Asia Cup earlier this year."
Not listed in the Opals squad is four-time Olympian Laura Hodges who has called time on her stellar career with the Australian Opals.
"Leading into the Rio Olympics I was quite certain that it was the last time I would represent my country in the green and gold," Hodges said.
"Losing in the Quarter-Final to Serbia was crushing and I felt like I wanted to wake up from a bad dream. This is why I'm so grateful that I got top represent Australia again this year under new head coach Sandy Brondello and help the Opals get back on the podium as well as qualify for the Worlds.
"For me, 16 years as an Opal is now over and I can sit back and be their number one supporter. It is still hard to believe that I have been lucky enough to represent Australia at four Olympics, three World Championships and at a Commonwealth Games.
"I can't thank all my teammates, coaches, physios, doctors and managers enough. They have all influenced my life in the best possible way."
"You do not achieve four Olympic uniforms without personal commitment and persistence to give and do your best," said Brondello.
"It is Laura's authentic personal qualities as a leader that always made her shine and will be her legacy with the Opals which aspiring athletes can learn from."
The Australian Opals List for the First Camp in February, 2018:
Rebecca Allen (Lyon- France)
Suzy Batkovic (JCU Townsville Fire)
Abby Bishop (MAC Adelaide Lightning)
Stephanie Blicavs (Jayco Dandenong Rangers)
Elizabeth Cambage (Deakin Melbourne Boomers)
Katie-Rae Ebzery (Brydens Sydney Uni Flames)
Cayla George (JCU Townsville Fire)
Kelsey Griffin (Bendigo Bank Spirit)
Natalie Hurst (University of Canberra Capitals)
Alice Kunek (Perth Lynx)
Tessa Lavey (Jayco Dandenong Rangers)
Ezi Magbegor (University of Canberra Capitals)
Lauren Mansfield (Energa Torun- Poland)
Leilani Mitchell (Hatay – Turkey)
Jenna O'Hea (Deakin Melbourne Boomers)
Belinda Snell (Brydens Sydney Uni Flames)
Stephanie Talbot (Mondeville – France)
Marianna Tolo (Abdullah Gul – Turkey)
Media contact:
Lisa Hasker
General Manager of Community and Stakeholder Relations
0418 194 933
lisa.hasker@basketball.net.au