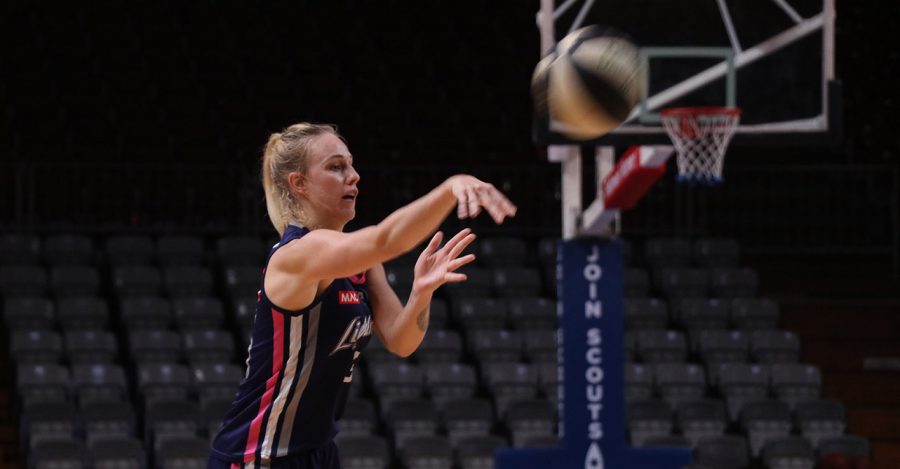 October 12, 2017 | Adelaide Lightning news
Benito Carbone @BurritoCarbone
MAC Adelaide Lightning 89 | Perth Lynx 81
MAC Adelaide Lightning have learned their lessons from a close loss to Canberra, taking down the Perth Lynx in a rousing eight-point victory at Titanium Security Arena.
Abby Bishop was at her imperious best, putting up 35 and 10 boards to grab the victory after Adelaide trailed by a tricky 10 points at the half.
Adelaide jumped ahead early, capitalising on early fumbles from the Lynx to take ascendancy.
It did not take long for Perth to claw their way back into the contest though. A 11-2 run in the final five minutes of the term saw the visitors claim a surprising four-point lead at the first break.
Bishop put up her second three of the night to return the hosts to the lead, and from there the contest continued to evolve.
Adelaide's inconsistency at the basket became troubling, and an energetic Perth threatened to capitalise on the errors, with South Australian Alexandra Ciabattoni (13 points) particularly troubling.
Strong efforts from distance and in tight from Courtney Williams (25 points) late in the half saw the Lynx achieve that, building a 36-46 lead.
Bishop continued to star, and the Olympian began to drag the girls back into the contest.
A third-quarter grind ensued for the Lightning, as they gradually ate away at Perth's half-time lead.
Great plays from Jess Good and Lauren Nicholson (14 points, 12 rebounds) really brought Adelaide into the thick of the contest again, with the match sitting 58-apiece at the last change.
A tremendous court length dime from the relentless Bishop teed up Vanessa Panousis for the score, before her 28th and 29th points of the game handed the hosts a narrow lead.
Adelaide continued to move from strength to strength.
Two triples from Nicole Seekamp (13 points, 8 rebounds, 7 assists) were pivotal in building a game-winning fourth term lead.
Clutch long-range baskets from Lynx players Williams and Alice Kunek (11 points) brought the margin down to four, but another two from the unstoppable Bishop settled nerves.
From there it was party time, with the Lightning collecting their second win of the season.
After the match, Adelaide's mercurial #4 addressed the crowd, lauding her side's response after a tight away loss earlier in the week.
"It was the same scenario in Canberra (at half time), but we showed we learned our lessons and came out and won today."
The MAC Adelaide Lightning have the bye next, before taking on the Bendigo Spirit at home in a double header with the Adelaide 36ers on Saturday, 21 October, keen to build on an exciting performance.