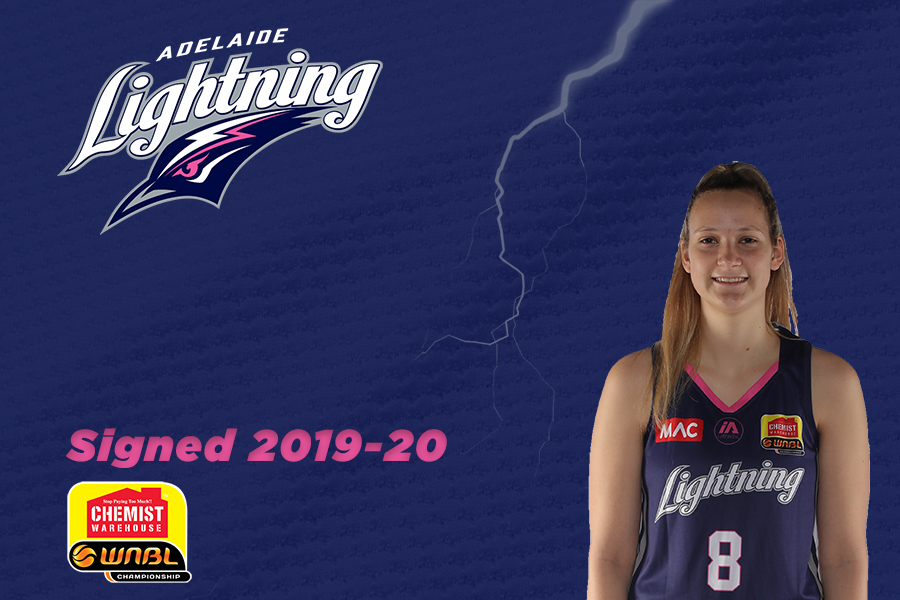 May 2, 2019 | Adelaide Lightning news
Chelsea Brook, South Australia's most successful domestic player last year and a member of Adelaide's WNBL grand finalist, will be back in Lightning colours for 2019-20.
Brook, 20 and 188cm, has been plying her trade this year in the new NBL1 competition, working against bigger and stronger opponents in a bid to ensure she can offer Lightning more this season..
Lightning coach and reigning WNBL Coach of the Year Chris Lucas has always recognised Brook as a special talent and she now is determined to be a big factor in his planning.
"This will be my fourth year with Chris and he has done so much for me in my career," she said from Melbourne, where this year she is playing for Eltham Wildcats.
"He came out to a Premier League game for Norwood to watch Jess Foley and I think that's where he first saw me.
"Obviously I did something he liked."
Brook's 2019-20 season is her fourth as a contracted player for Lightning, one of the reasons she made the switch to spending her off-season playing in the NBL1 competition.
A Premier League championship winner at Norwood, she switched last year to Sturt Sabres to work more regularly with Lightning assistant Marcus Wong.
It paid off exceptionally well, with Brook winning the Halls Medal as the fairest and most brilliant player in the competition.
This year it was time to take a further step upwards and she has been averaging 12.4 points, 7.8 rebounds and 1.6 assists with Eltham.
"I struggled to go from Premier League to WNBL, where I'm not a big body," she said.
"I've been doing strength work to be bigger and more competitive in the post. This is definitely a much stronger competition."
Brook joins captain Nicole Seekamp and WNBL Defensive Player of the Year Lauren Nicholson, as the first returnees from the 2019 championship run which fell tantalisingly short in the three-match grand final against Canberra.
Brook is the third South Aussie signed by Adelaide, with Seekamp and Rio Olympian and Phoenix Mercury WNBA regular Stephanie Talbot also back.
Natalie Novosel is back for her "third time (title) lucky" with Lightning as well.
The club will sign two imports and already is looking in solid shape to build on last season's surprise success.