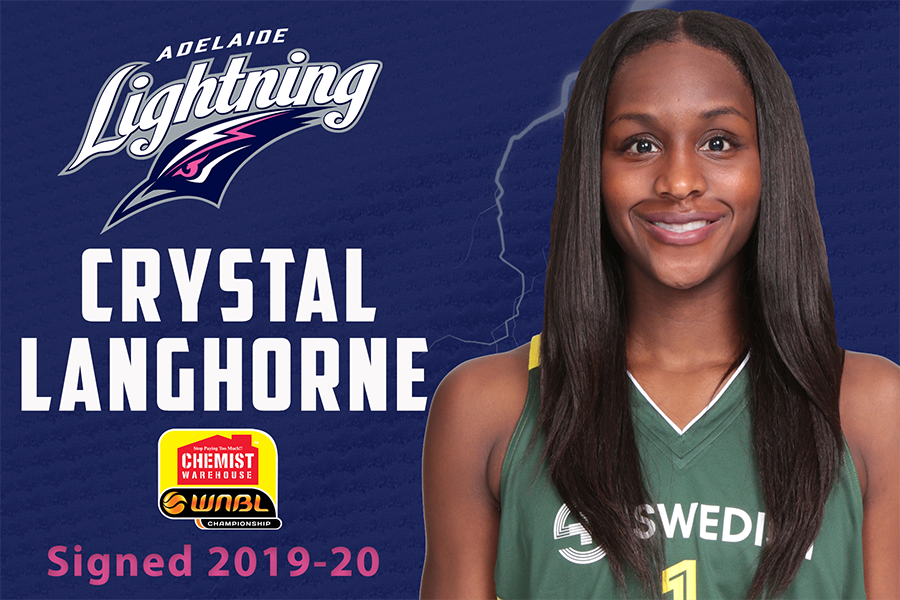 August 26, 2019 | Adelaide Lightning news
Adelaide Lightning has scored the biggest WNBA signing coup in the club's storied history, securing Seattle Storm championship-winning "big" and two-time league All Star Crystal Langhorne for the 2019-20 season.
Langhorne, 32 and a 189cm power forward/centre, was a key player in the Storm's 2018 championship team and says she is ready to help take Lightning one step further than last season.
Adelaide lost the best-of-three championship series 1-2 to Canberra this year.
"I'm a pretty efficient player, I've always been efficient throughout my whole career and I know Adelaide went to the Finals last season," she said from Seattle.
"So now I want to help take the team one better and to the championship."
Langhorne is no stranger to success, winning the 2006 NCAA championship with Maryland University, where she averaged 16.6 points at a stellar 65 percent, 9.1 rebounds and 1.5 assists across a four-year college career which also saw her win the Atlantic Coast Conference "Player of the Year" in 2008.
In between in 2007, Langhorne led the USA to the gold medal at the FIBA Under-21 World Championship, averaging a team-high 15.6 points at 70 percent. In the gold medal game against an Australian team which included former Lightning captain Abby Bishop, Opals captain Jenna O'Hea and Melbourne Boomers forward and Olympian Cayla George, Langhorne had match-highs with 23 points and 14 rebounds in the 96-73 win.
Drafted at #6 by Washington Mystics in 2008, she bumped her rookie average of 4.8 points to 12 in 2009, winning the WNBA's Most Improved Player award.
Traded to Seattle in 2014, she started for the Storm in every game from 2014-2017 and now in her 12th season, has been as resilient as she is efficient, missing just eight games.
A WNBA All Star in 2011 and 2013, she is the highest-credentialled import to join a Lightning roster and Adelaide largely can thank her Storm teammate, Sami Whitcomb, a naturalised Aussie Opal and former Perth Lynx star.
"Sami was the one," Langhorne said when asked what she knew about Australia and the WNBL.
"She told me there was a team in Australia interested in me and it just went from there."
Already aware of the WNBL and several former teammates and opponents playing within it, the twin prospects of playing in a quality competition and enjoying a southern summer became irresistible.
"I've never gone anywhere (in the WNBA off-season) where it has been warm," Langhorne said, having logged international experience in Slovakia, China and Hungary.
"I'm really looking forward to the weather and being part of the Lightning team."
Langhorne's signing completes Adelaide's roster, which is Nicole Seekamp, Lauren Nicholson, Stephanie Talbot, Breanna Turner, Langhorne, Natalie Hurst, Hannah Kaser, Chelsea Brook, Laura Hodges and Sarah Elsworthy.