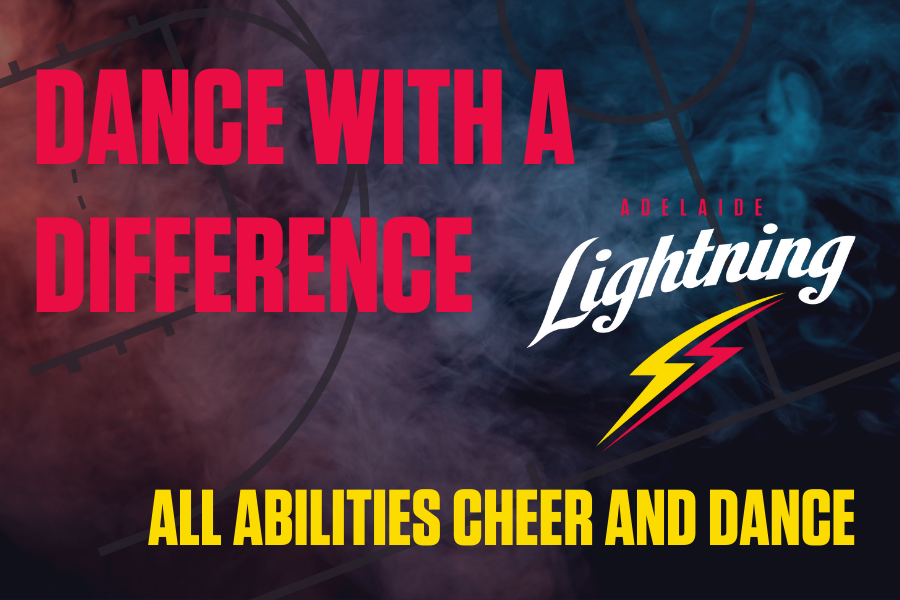 December 16, 2021 | Adelaide Lightning news
The Adelaide Lightning have established a partnership in the lead up to the WNBL 21/22 season by providing the organisation All Abilities Cheer and Dance the opportunity to be a part of the game day entertainment. We spoke to head of the company Alana Giaccio about what it means for them to be part of the Adelaide Lightning Gameday experience…
3 Minute Read
The Adelaide Lightning have established a partnership in the lead up to the WNBL 21/22 season by providing the organisation All Abilities Cheer and Dance (AACD) the opportunity to be a part of the game day entertainment. The company runs cheerleading and dance classes for people of all ages with all types of disabilities; the demographic of participation varies as explained by company head Alana Giaccio. "We have anywhere between 3- to 50-year-olds, we started in 2020 during Covid-19 restrictions and have over 100 students in 5 different locations in Pooraka, Modbury Heights, Unley, Beverley and Mt Barker," Giaccio shared.
AACD have performed at all kinds of events including mainstream cheerleading and dance competitions, Civic Park Carols, Minda Inc. International Day of People with Disability Show, Kids, Youth & Disability Expos, school workshops at disability schools and much more. "We performed at the Australian All-Star Cheerleading Federation SA State Championship and placed first in the DanceAbility section, and have also participated in Aussie Gold's State Championship and Cheer-Con's Worlds Experience," Giaccio referred to the events the company has performed at.
It's a big thing in the eyes of AACD to be part of the Adelaide Lightning's Gameday experience; and ground-breaking at the same time. "It's one of the biggest opportunities for us to be included as there is not a lot disability represented in this area. It is great to see the Lightning involving companies like us and give us a great opportunity to be involved in a mainstream activity which typically includes neuro typical people. I think it's the first of its kind so we wanted to start something that grabbed people's attention around the topic of inclusion," Giaccio declared for her company.
For the culture of basketball entertainment in terms of inclusion and participation overall, this creates a pathway that as mentioned before may be a new opportunity for elite sporting clubs. "We see it as a pathway for all that shows the spectators and the players that people with disability can be involved in something like this. It crashes through barriers and shows that anybody can be involved. It above all shows the things that neuro typical people can do that people with disabilities can be just as involved in."