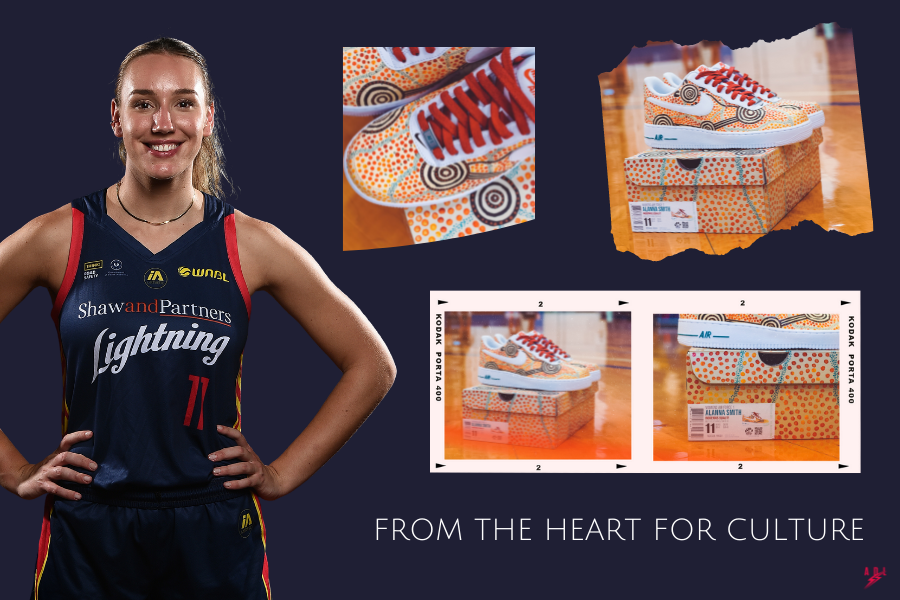 March 4, 2022 | Adelaide Lightning news
A superstar on the court, a bigger star off it!!   Alanna Smith has kindly donated a pair of Aboriginal art inspired Nike Air Force 1 shoes as part of the WNBL's Indigenous Round.  You can own these shoes through an online silent auction.
The collaborative process included Raymond Walters Penangk designing the artwork, and the artist was Zoe from Ruff Customs (based in the US).
Alanna approached Adelaide Lightning General Manager, Tim Brenton about the concept of auctioning off the one-of-a-kind Air Force 1's.
"Alanna Smith's family has a strong connection with Aboriginal culture and social justice, both parents have successful careers in each sector.  I was hardly surprised when Alanna approached me to discuss this initiative, Alanna's drive off the court to be the best version of herself is inspiring", said Brenton.
Alanna wanted to share her passion for Aboriginal people in a meaningful and authentic way,
"I have had the privilege of being able to spend time and make connections with Indigenous communities in Central Australia. As I continue to learn more and more about the trauma and oppression Indigenous and Torres Strait Islanders have faced, I want to use my platform to amplify their voices. These shoes symbolise a chance to celebrate a rich culture and highlight an amazing Indigenous artists talent", said Smith.
Alanna's wish is for all proceeds to go to the Aboriginal Basketball Academy.
Anyone and everyone are welcome to bid on the shoes through a silent auction.
To give yourself a chance to own these amazing pair of shoes, email your bid to info@adelaidelightning.com.au.  You can bid as many times as you like.  Bidding is open now and will close on March 13, 2022.
The person with the highest bid will be announced as the winner on the March 14, 2022.