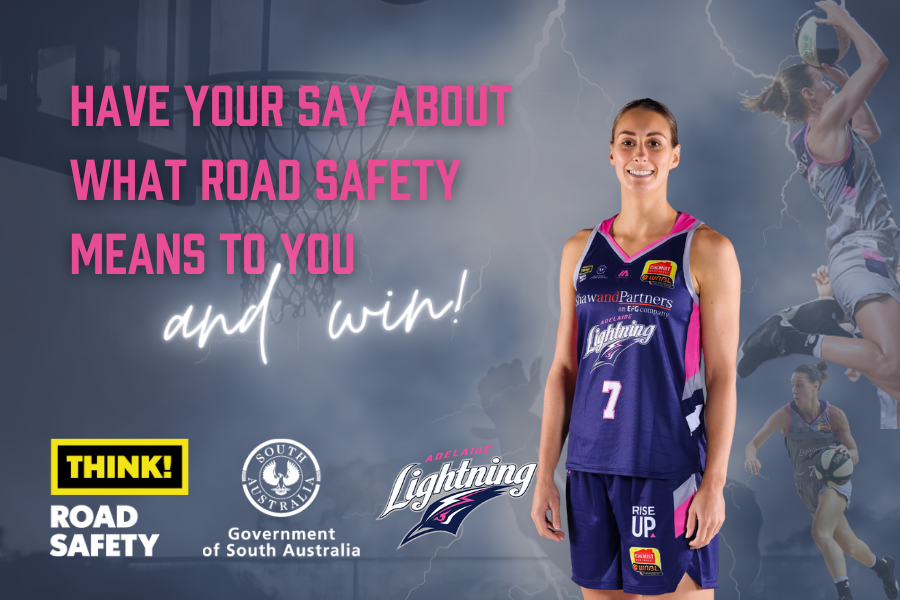 May 14, 2021 | Adelaide Lightning news
Thank you to all our entrants, this competition has now closed. Stay tuned for more details about the winner to be announced soon!
Join all South Australians in commemorating the lives lost on South Australian roads for National Road Safety Week. Adelaide Lightning together with our partner Think! Road Safety invites primary and secondary students to 'have their say about what Road Safety means to them'. The lucky winner will win their winter basketball fees (up to the value of $500) and a merchandise prize pack.
The competition opens at the start of the National Road Safety Week, Sunday 16 May 2021, and will close on Sunday 23 May 2021.
How to enter
'Like' us on Facebook:     @AdelLightning
 Tell us in 250 words or less 'What Road Safety means to you'
 Email your entry with your contact phone number to: contact@basketballsa.com.au
Good luck!
Road Safety Competition T&Cs V2
What is Road Safety Week?
Yellow Ribbon National Road Safety Week is being held across Australia from Sunday 16 to Sunday 23 May 2021.
In 2021, South Australia will lead the crucial fight to reduce the number of lives lost on our roads by hosting National Road Safety Week.
National Road Safety Week highlights the importance of driving safely at all levels in our community, and provides the opportunity to raise awareness about the level of road trauma and what we can do to improve outcomes.
Make your commitment to "Drive So Others Survive".