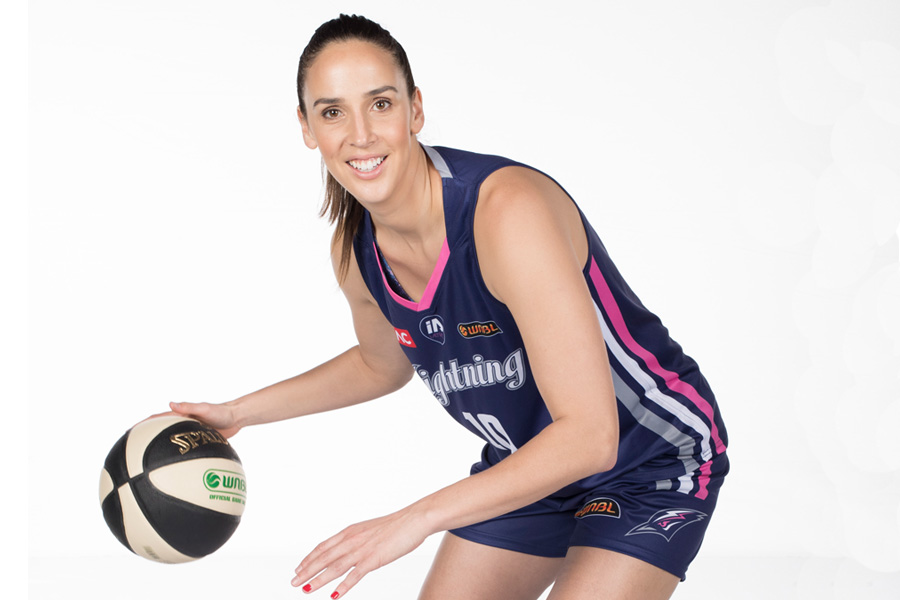 May 1, 2018 | Adelaide Lightning news
Four-time Olympian Laura Hodges is putting her basketball career on hold after announcing she is expecting her first child with husband, Tim.
The 34-year-old MAC Adelaide Lightning power forward is due to give birth in late-October and will miss the 2018-19 WNBL season.
Hodges plans to follow in the footsteps of inspiring sporting mums, like Lightning legend Rachael Sporn and Australian Diamond Renae Ingles, and make a return to basketball.
"It's interesting because before falling pregnant I thought it might be the end of my career,
but as soon as soon as I found out we had a positive result, my thoughts were completely different.
"I certainly don't want to finish my career. I realise it's going to be extremely hard and it's not going to be easy coming back, but I've got two really good role models in Racheal Sporn and Renae Ingles, who are both friends of mine. Hopefully I can get some advice from them because they're amazing.
The 188cm forward could not wait to find out her baby's gender and was thrilled when she discovered she is expecting a girl.
"A lot of my friends and my sisters all kept the gender a secret, so we decided we wanted to find out.
"It's actually made it feel a little more real now. Lots of people in my family are like, 'Oh a little girl!' and I'm like, 'I don't know about little!' It'll be interesting to see how big she is," Hodges said.
The Opals gold-medallist is hopeful her daughter will love sport just as much as she does.
"I'll definitely encourage her to try lots of different sports. If it wasn't for sport I don't think I would have made as many friends or even met my husband.
"My father-in-law played basketball for Australia, so it would be pretty cool to say she's a little basketballer," Hodges said.
Hodges is keen to remain around the club as much as possible, and after spending the majority of the 2017-18 season sidelined with a severely broken finger, is already a seasoned member of the Lightning cheer squad.
"It was disappointing getting injured and having surgery on my finger last year, but I did love still being a part of it, watching it and being able to pass on a little bit of my knowledge, so I'll definitely try and be around as much as possible.
"If I can pop in during pre-season, I'm sure I'll be out with a huge belly, but I'll certainly be around. Then hopefully if all goes well and we have a good little baby, I'll be able to get out to the games and be able to watch the girls and cheer them on for this season coming up."