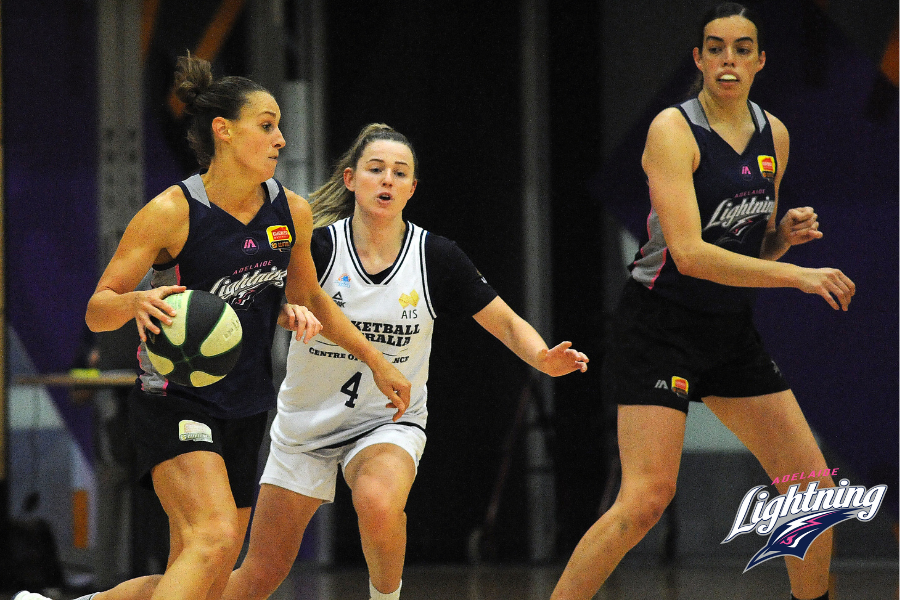 October 24, 2020 | Adelaide Lightning news
Adelaide Lightning have won a competitive hit-out against Australia's Centre of Excellence recording an 85-56 win at The Lights this afternoon. Just over a hundred of the Lightning's faithful were among the limited crowd supporting their team in what may be the Lightning's only public pre season game.
It was a big afternoon for Marena Whittle who in pre season said she was "ready to charge after a starting spot" with 20 points. Steph Talbot showed she is one to watch this 2020 WNBL Season with 15 points. Jade Melbourne led the way for the COE with 20 points and ran her position impressively in the hit-out for both sides.
Steph Talbot took charge in the first quarter with nine points, along with Chelsea Brook who added five. The Lightning led 23-13 at the first change with COE guard Melbourne, a stand out for her team with seven points in the first. The Lightning had a lift from their opposition through Melbourne and co as they kept within striking distance, 42-28 at the long break. Marena Whittle had a big quarter with six points, while Talbot continued to dominate with 13 points at the half.
A much tighter and up tempo Lightning broke the game open in the third with a 25-14 quarter, led by the energy of Whittle with a game high nine point-quarter. Crowd favourite Alex Wilson dropped six of her ten points in the third. Enter Carlie Smith who played the four-spot, set some big picks and showed she will certainly fit into coach Chris Lucas' system.  The Lightning entered the final break 67-41. The fourth quarter saw the opportunity for both sides to practice some further sets at both ends with a 18-15 final stanza, concluding the opportunity for Lightning fans to witness one of the only games they will get to see in person this year.
The Lightning will continue their pre season preparations in Adelaide before heading to North Queensland mid-November ready for the 2020 WNBL Season.
Game Highlights
Steph Talbot hasn't played a competitive set of games since the end of last WNBL season and was clearly hungry for some solid basketball action.
Alex Wilson took ownership of the point position, and Abbey Wehrung looks set to start at two and be a back up for the one spot.
Marena Whittle brought the energies for all positions and is going to have a big impact on the floor at both ends.
Jade Melbourne will be one to watch for future years from COE with a high basketball IQ and on-court leadership qualities.