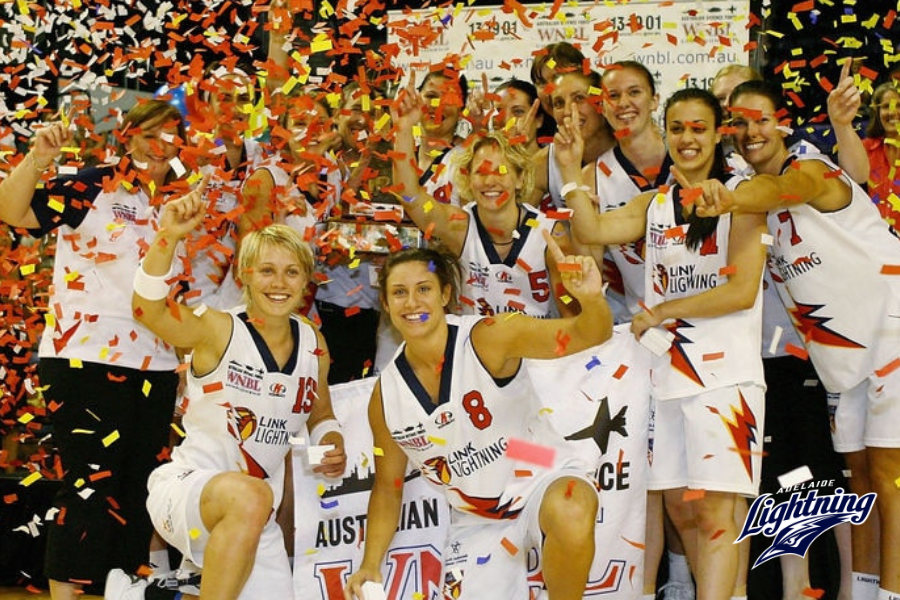 March 30, 2021 | Adelaide Lightning news
It might be off-season but there is plenty of current and former Lightning people to chat with and find out more about what they've been up-to after the challenging year of 2020. In this strike back we chat to former Lightning player and championship Captain, Sam Woosnam… 
It was a delight to see our former Captain and player of eight seasons Sam Woosnam during the coverage of the WNBL season in 2020. Woosnam has been living in Melbourne and recently finished a head coaching role at the NBL1 Kilsyth Cobras, but did not hit basketball as a sport till her mid-teens as she explained to us.
"I grew up in Country Victoria Mildura playing netball before moving to Adelaide when 16 then got into basketball at school with my friends then 12 months later I landed a scholarship at the AIS. It was current Adelaide Lightning head coach Chris Lucas who first spotted me playing so I started playing for the Lightning after my AIS days, then also played at West Adelaide Bearcats under him in the Central Australian Basketball League (CABL)."
Woosnam played several years for the Lightning winning a championship with the team in her first stint in 1997 before playing in Europe for five years. It was just before the next part of her contract with her club overseas that she was convinced to stay and captain a new young group across 2007-2008.
"I was going to head back to Europe, but Chris convinced me to stay so I became captain of the team and played with the Lightning till 2010 before playing a couple of seasons with Dandenong Rangers (Southside Flyers) at the end of my career," she described about her basketball career.
Woosnam can recall aspects of the championships that she was involved in including some of the key players surrounding her in the early part and latter part of her career.
"In 1997-2000, I was playing with women like Jae Kingi, Jo Hill and Rachael Sporn and I remember we beat Sydney in Sydney which was part of the four in five years in the 90s. When I was Captain in 2007-2008 we went undefeated through the season before losing the first playoff game to Sydney. We then had to win our way back into the final and played in Wollongong against them again. It was Renae Camino's home court and she lifted for us to score MVP of the game," Woosnam described of her memories of the Lightning's fifth championship.
When you are part of two championship squads, often you can recognise the recipe for success and as Woosnam explained its hard to split the squads in terms of their structure and experiences.
"Both squads were similar and featured current Australian Opals, experience and youth and ran ten deep. It was a huge learning experience for me in those first years as I had not been playing for a long time, so having a captain like Rachael who led by example on the court and that was the lead I took when I became captain. I was just back from Europe and training with the club and Chris spoke to me about it. I'd been away from home and my brother had a baby with his wife so missed my family so the captaincy and return to Adelaide was an opportunity to get out of my contract for Europe and come home to be around family and friends."
After stepping down from her head coaching role in NBL1 South, Woosnam has found plenty of ways to keep her engaged in basketball and that's good news for her basketball community in Victoria that someone is utilising her knowledge, experience, and skills at some level.
"I wanted to spend more time with my five-year-old and family on weekends, so I decided I wasn't going to be a head coach. I've been appointed the head of basketball at Yarra Valley Grammar. I'm excited about the change and the opportunity to work in basketball development as I've only ever coached seniors. So it's a new challenge for me and to give back to the grassroots side of basketball."
Her time at Kilsyth also gave her great insight into former Lightning and current Opals aspirant Lauren Nicholson who was a part of her team.
"Having played at the Lightning the fans know how valuable she is, it was one of our Cobra players Steph Blicavs (former Lightning player) who got in contact with Loz for me. Loz is an unbelievable person, it makes a difference when the leader of your team is a vocal person and down to earth wants to work hard and better the team as well as be an outstanding player herself. From day dot her work ethic was elite in both team and individual training and she just makes everyone better including the whole club and lifts the intensity of everyone.," Woosnam spoke glowingly of the Runner-Up Robyn Maher Defensive Player of the Year.
Of course, winning championships features in Woosnam's favourite WNBL Memories, but also some of the development of her younger team-mates and where they ended up as players; she always hoped for and cared for her fellow younger players in her squads.
"I loved playing in Adelaide, it's a basketball city, I loved our fans and had a really good feel about the whole program. I remember we won our championships in the white strip (2008) and they were pretty cool with the silky feel. I love seeing the number of young players develop in the WNBL and the path they were on daily. We did a Lightning development squad from the premier league and a couple of those girls went on to become part of the WNBL team as well," Woosnam shared about her memories.
As we mentioned, Woosnam was part of the WNBL Commentary for the 2020 team in the studios in Melbourne and the experience gave her "butterflies" just like her playing days.
"I was so nervous and compared it to a game of basketball. I have no experience, only having done a couple of live streamed games. The most difficult part was calling it off a screen rather than sitting at the game doing it where you can see everything that's happening. If the opportunity came up, I would definitely try again and improve on it though I don't think I will be seeking anymore commentating gigs," Woosnam quipped.
When asked about her thoughts about how the shorter more televised stand-alone WNBL 2020 season, Woosnam echoed thoughts about the difference between a shorter and longer season.
"I think it's valuable to have some of the season at a stand-alone point when there is not much other sport being televised. But on the other side of that we have some wonderful athletes and didn't have any imports in the WNBL this past season. So we were able to showcase some fantastic talent and junior players that came through that would've not had that opportunity if there were imports in the league," she summarised.
"It comes down to the promotion of the league and the teams and getting the word out there. We were able to do that this season as all games were back on TV on ABC, Fox and Kayo Sports and we have the potential with that platform to really spread the word about how good the league is.
"I don't know what it is about Australia, but we are traditionally not huge supporters of women's sport and it is so disappointing. We tried the strategies of aligning ourselves with the Mens team (Adelaide 36ers) in the past, but I don't think that's the answer. If you look at the other sports like Netball, Cricket and AFL we can definitely do it as a standalone league.
"I think it starts at the bottom and at the top and halfway with Basketball Australia (BA) and the clubs promoting the league more. We need to continue to get out in the community, grassroots and do promotions so we are noticed and kids at schools. It's about getting that overall connection so we get to the point while there are other sports on; we still get the viewers. Its great having people covering Women's basketball like Tristan Prentice locally in South Australia and nationally like Megan Hustwaite who are passionate about the league and want to promote it more to the public."
Woosnam watched plenty of the season and thinks after the announcement of the Opals squad, there maybe some bolters from WNBL 2020.
"I wouldn't like to be selecting that team as you have those set spots and those last few spots everyone is fighting for are scrapping for. I was most impressed with Loz especially on a young team that she led to the grand final and with Shyla Heal and would love to see her included in that final squad. We are lacking in the point guard position (apart from Leilani Mitchell). Maddison Rocci had an outstanding season, Sara Blicavs and Liz Cambage were impressive as well," Woosnam analysed about the season just past.
She also shared with some handy tips for younger players from her own playing, coaching and basketball experiences.
"Listen and take on feedback. Coaches are there to help you reach your full potential and put things in place to help you get to the next level and like many we've seen this season work hard."
In a huge year for women's basketball in 20201 ahead, Woosnam feels it's time to start talking up women's basketball participation across the country and for the players of the WNBL to start self-promoting to show young players there are players to look up-to and a league to support.
"This is the year to promote the Opals players and their club alignments, including our involvement in the World Cup in Sydney 2022."