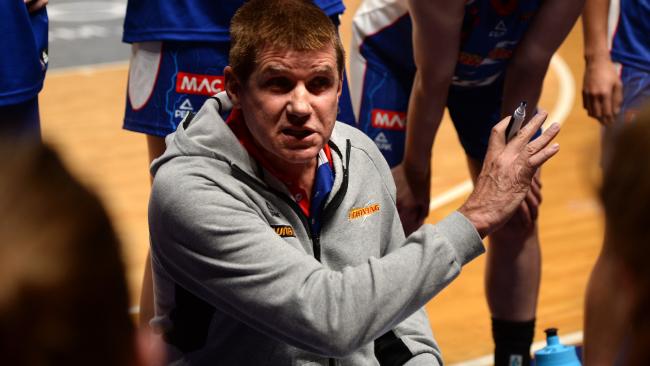 September 7, 2017 | Adelaide Lightning news
MAC Adelaide Lightning Head Coach Chris Lucas has temporarily stepped aside from the role while he battles cancer.
Lucas, 57, suffered extraordinary back and leg pain while coaching Australia's Emerging Opals to gold at the World University Games in Taipei last week.
The dual-WNBL championships winner returned to Adelaide after the stunning international success for medical treatment, with tests revealing he had cancer of a kidney.
"I was dumbfounded, shocked, I couldn't believe it," he said.
Club chairman Grant Kelley said Lucas has the Lightning's full support as he heads for surgery.
"It was shocking news for all of us but I've told Chris: 'You are still the coach of the Adelaide Lightning, but for now we need you to focus on getting back to full health'," Kelley said.
"Chris will just step aside for the time being and we fully expect him back.
"We know he is a fighter and it was so typical of Chris that his first thought was to tell his players first.
"He is a true players' coach and one of the very best in the business.
"He will take a minimum of two months off and the last thing he needs during that time is any stress.
"Obviously we wish him a full and speedy recovery and only the best."
Lucas told his playing squad last night at practice and appointed lead assistant Marcus Wong interim coach during his absence. Former Logan WNBL coach Jason Chainey joins the staff as lead assistant.
Where her commitments to FOX SPORTS' WNBL coverage permit, iconic team champion Rachael Sporn will also assist, beyond her "Rachael Sporn Lightning Academy" duties with up-and-coming SA players.
Lightning's key recruit and the league's 2015 MVP, Abby Bishop, said Adelaide will "do it for Chris."
"We took it very hard," Bishop said of Lucas's announcement to the team.
"But listening to Chris talk about how the way we fight and play will inspire him in his recovery was very motivating.
"If we can inspire him, then that's what we'll do."
The dual-Townsville Fire WNBL championship-winning coach returned from north Queensland to his Adelaide home last year to spend more time with his family.
Adelaide Basketball pounced to secure the nation's top women's coach but his second season, due to tip-off next month, will see him sidelined for at least eight weeks.
"I'm absolutely going to fight this," he said of the cancer. "I'm planning to be back before the season is over."
He initially coached Adelaide Lightning to a 44-26 win-loss record over three years and into the playoffs each year from the 2004-05 season.
Three games into the 2007-08 season, he was sacked by then club owner Vince Marino over a dispute involving playing time for his daughter Angela Marino.
Before taking on a rebuilding Adelaide program last season, Lucas was involved in seven of the previous eight WNBL grand finals, first as an assistant to Carrie Graf at Canberra Capitals before heading to Townsville.
He took the struggling program to the finals in his first season, then four straight grand finals, winning back-to-back championships for the Fire.
He compiled an 83-44 win-loss record there and is 130-91 overall.
Last week his performance in steering an under-23 team in an under-25 World University Games tournament, along the way eliminating unbeaten favourite USA and home team Chinese Taipei – supported by a loud 18,000-strong crowd – reached new heights in his outstanding coaching resume.
"Chris Lucas is more than the Lightning coach," Adelaide Basketball executive director Guy Hedderwick said.
"He's a genuine friend.
"The moment he is ready to return, we will welcome him back with open arms.
"There is no pressure on him whatsoever."