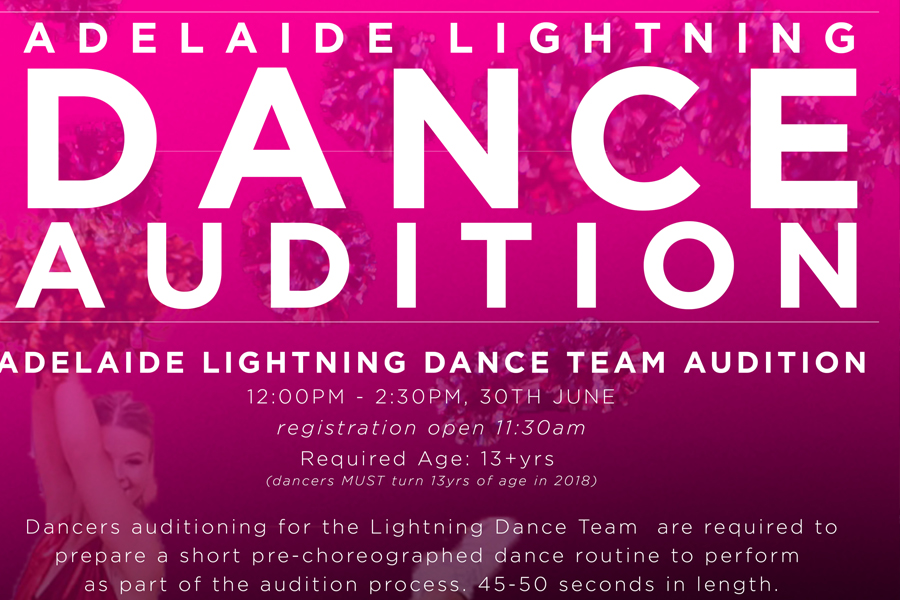 June 4, 2018 | Adelaide Lightning news
The Adelaide Lightning Dance Team is holding auditions for the 2018-19 squad on Saturday, 30 June 2018 at the JFF Woodville Park Dance Studio.
If you think you have what it takes to join the highly skilled performance squad that entertains crowds at Adelaide Lightning home games then make sure you attend the audition.
Dancers auditioning for the squad are required to prepare and perform a short pre-choreographed 45-50 second dance routine to as a part of the audition process.
The choice of dance style and music is at each applicant's discretion and it is the responsibility of each dancer to ensure music is supplied in a MP3 or WAV format on a USB and given to staff during registration.
Music must be edited with good sound quality and explicit language should be cut from music prior to use. We also recommend that music files are backed-up on phone or a secondary device.
The Adelaide Lightning Dancers volunteer their time to the squad with members using the experience to support their dance training in performance work. The squad typically perform approximately 20 routines over the course of a season, with team members contributing to the choreography of timeout, quarter breaks and half-time routines.
Training sessions for the 2018-19 season will be held on Monday evenings from 5.00 to 6.30pm at JFF's Woodville Park Studio, running from July through to December 2018.  Priority is expected to be given to all weekly training sessions & performances throughout the season.
The Adelaide Lightning Dance Team is committed to the pursuit of dancing excellence and performing a diverse repertoire ranging in commercial dances styles.
Proudly produced by Just For Fun the Dance Company
Audition Time 
Date: Saturday 30th June
Where: At JFF Woodville Park Dance Studio: 39-51 David Tce, Woodville Park
Time: Registration opens from 3.00pm, with the audition running from 3.30pm – 6.30pm
Required Age: 18+yrs (dancers MUST be 18yrs of age at the time of audition)
PLEASE NOTE: Any dancers participating in the Adelaide Lightning Dance Team who are not currently enrolled in the JFF Company are required to pay a fee of $80 for the season
Adelaide 36ers Dance Team
Season 2018/19
Proudly produced by Just For Fun the Dance Company
Saturday 30th June
At JFF Woodville Park Dance Studio: 39-51 David Tce, Woodville Park
Audition: 12.00 – 2.30pm
Registration Open from: 11.30am
Required Age: 13+yrs (dancers MUST be 13yrs of age in 2018)