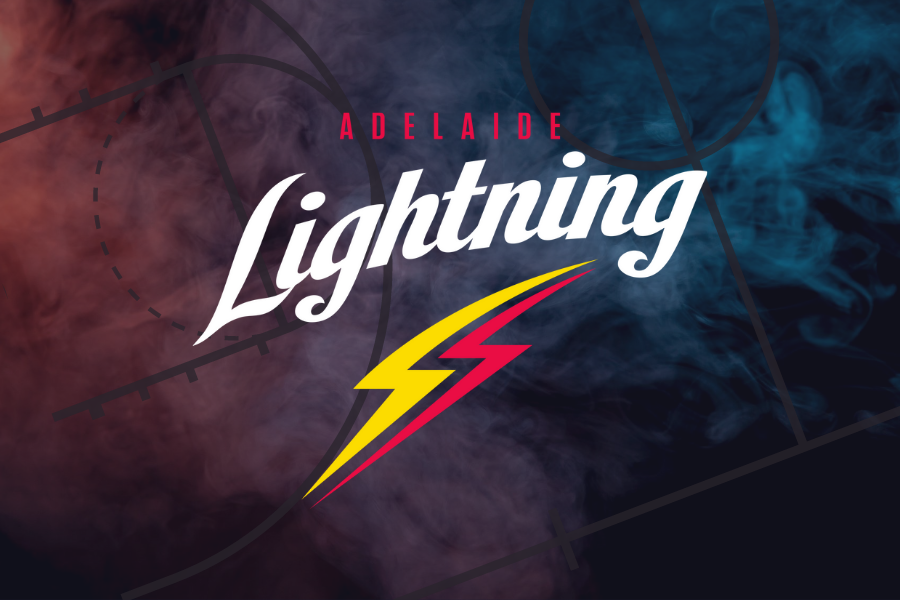 November 26, 2021 | Adelaide Lightning news
The Adelaide Lightning today officially unveil a change that has been coming for quite some time, a return to familiar colours and the identity that made the Adelaide Lightning synonymous with "Title Town" of the 1990s
3 Minute Read
The Adelaide Lightning have unveiled a new rebrand that returns to the iconic colours of its "Title Town" years of the 90s for the next generation of supporters and basketballers. The state colours will once again adorn the Lightning with a return to navy blue, red and yellow; the colours that evoke the memories of past greats and heritage within the history of South Australia.
Designer of the rebrand Nahum Ziersch from NZ Illustrations, already the man behind the design of several SA Sports and Basketball clubs branding and apparel shared about the inspiration behind the concept put to him by GM Tim Brenton and chairman Bruce Spangler.
"Tim (Brenton) approached me about it a little while back and it stemmed from the club wanting to stand alone again in its branding and one of those things was going back to those state colours, I think there's lots of people that love that iconic state colour and in the end our chair Bruce wanted to reflect those state colours again." Ziersch explained.
"The Lightning icon has been simplified in the logo and is also an iconic part of the branding of the club and we wanted that to stand out, in my work sometimes less is more when it comes to the imagery, and it can be streamlined much more effectively for use. They were the big elements to consider in the redesign."
The rebrand solidifies the Adelaide Lightning as a stand-alone club building the presence of Women's Basketball in South Australia, honouring and recognising the history and the identity of the premier Women's basketball club in the state.
The Lightning's 2020/2021 home jersey features the iconic navy blue along with yellow numbers and red stripes worn by past champions including Rachel Sporn, Michelle Brogan, Jo Hill and Jae Cross-Kingi to name a few of a generation that wore the state colours with 5 "V"s that represent the five championships of 1994, 1995, 1996 1998 and 2008.
The Away jersey will be predominantly red and be a tribute to the country/metro championship colour of the state.  

The Lightning will also unveil several other jerseys worn this season as the WNBL season approaches so stay tuned and get yourself an iconic Adelaide Lightning jersey when they become available…