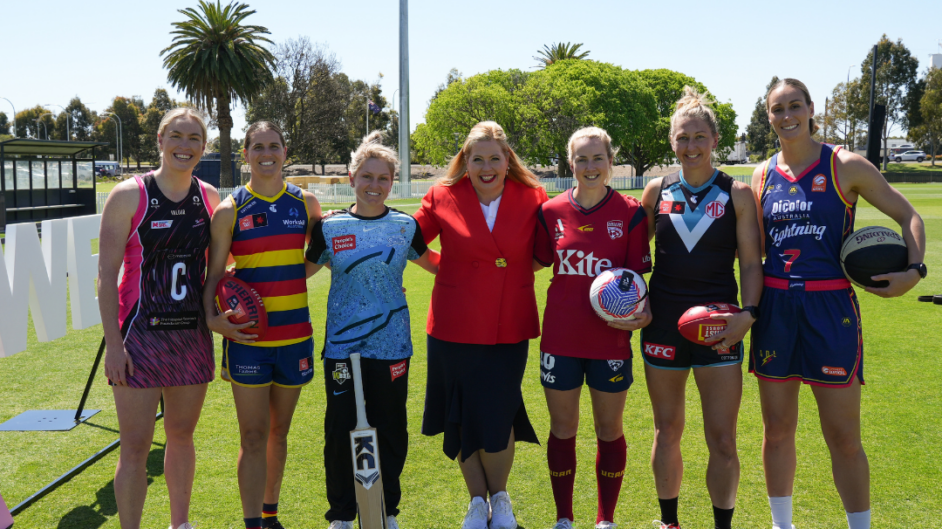 October 10, 2023 | Adelaide Lightning news
Representatives from the South Australian Government and all six sporting codes with women's teams in national competitions have come together today to launch the 'Power of Her' initiative, which will see all Clubs working together to promote women's sport.
The Adelaide Lightning joined by the Adelaide Crows, Port Adelaide, Adelaide Strikers, Adelaide Thunderbirds and Adelaide United have all made the commitment to help drive crowds to women's sport with unique ticketing and Membership offers as well as marketing and communications collaboration.
All clubs will encourage their own members and fans to support a key game for the other teams, driving as many fans as possible to see some of the best athletes in the world in person around South Australia.
With the recent announcement of Lauren Jackson returning to the WNBL, the Adelaide Lightning have chosen the matchup against the Southside Flyers on the 18th November.
Katrine Hildyard, Minister for Sport and Minister for Women launched the initiative today.
"The Power of Her Women in Leadership symposium was so powerful; it saw more than 1,000 people come together to advance gender equality and open doors for future generations," Minister Hildyard said.
"Attendees left determined to advance enduring change together that makes a difference in the lives of girls and women.
"Through this powerful step forward, these outstanding South Australian women's teams will absolutely advance change together. I am incredibly thankful for their willingness to get together – when women support other women, powerful change is possible.
"The Power of Her aimed to create a lasting legacy through harnessing the momentum and energy from the FIFA Women's World Cup. I am thrilled that this group is using that energy to collectively bring more supporters to women's sport.
"By selling out these games, more people will witness the powerful change in attitude that is possible when we see women being celebrated for being strong, powerful and talented on their particular playing pitch.
"When we witness and celebrate the strength and power of our female sporting stars, it transforms the way women and the roles they can play are seen – if she can see it, she can absolutely be it!"
Steph Talbot Captain of the Adelaide Lightning was at the launch today and shared;
"It is amazing to be apart of this great initiative and for all the clubs and athletes to get behind it. As someone who is a lover of sport it is great to see everyone working together to promote the amazing female athletes we have here in South Australia.
We are all role models for the future of Women in Sport and I am proud to stand here today, together, we're working towards a future where female athletes receive the recognition they deserve.
I really hope the South Australian public get behind this initiative and come out and support the amazing teams we have in our Women's competitions."
See more about The Power of Her initiative on the website.