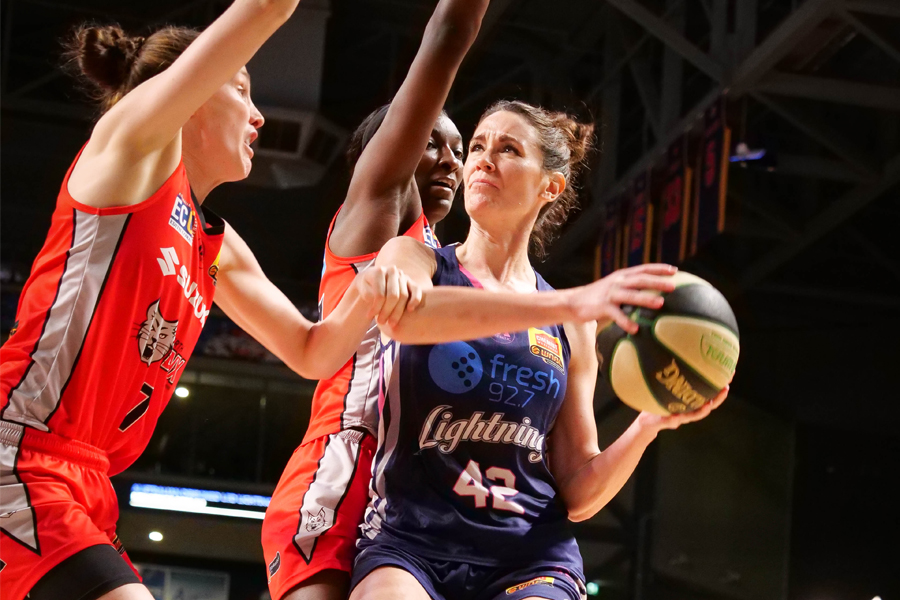 December 30, 2018 | Adelaide Lightning news
Written by: Kieren Vartuli @kierenvartuli
The Adelaide Lightning have capped off 2018 with a statement by defeating the Perth Lynx 74-67 at home Sunday.
In what was Aimie Clydesdale's 150th WNBL game, the Lightning comfortably overcame what was appearing to be a grind out victory.
The Perth Lynx forced a comeback throughout final period, cutting the margin to as little as 4-points with under 2-minutes remaining although Adelaide were able to keep them at bay.
After some shooting struggles throughout the opening half, Adelaide turned it around and found some form in the process!
"We didn't shoot the ball well at half time, I think we were 1 from 10, but shooters have got to shoot the ball and they did that in the second half" Chris Lucas said.
"I think all you need is one person to bring some sort of spark or some sort of energy and it flows through the team."
"I think as soon as one person has a good defensive play on the ball, we all sort of fall in behind that" Clydesdale said in a post-game press conference.
Adelaide outscored the Lynx 27-18 in the third term proving to be the difference maker for the hosts.
A highly physical matchup led to hard earned points on every possession especially inside.
Nia Coffey led all scorers with 21-points while adding some dazzling highlights – including a big 'and 1' extending the buffer for the eventual victors.
Coffey was one of two players flirting with a double-double (21-points and 9-rebounds) as Co-Captain Nicole Seekamp notched 17-points and dropped 7-dimes of her own in the process!
Not being shy to move the ball up the floor quickly, Adelaide scored a whopping 20-points on the Fast Break and 21-Points from Turnovers.
"We want to push and shift the ball, the first half we didn't do that, didn't do it well and they actually shut down some actions which broke us down."
"But then, the second half, I thought we ran some stuff that really shifted the ball to the second side and Aimie started that, not me" Lucas said while praising his side.
After having to adjust their style of play to matchup against the Lynx, Adelaide looked to have little problems against their third placed visitors.
After altering her game throughout the season, Aimie Clydesdale is continuing her form much to the delight of Coach Lucas.
"I think Aimie's impact today off the bench was really good and had a huge impact on the result" Lucas said about the veteran.
With a 150-game milestone gracing the WNBL veteran, Clydesdale admits that the she didn't particularly think about individual milestones.
Heading into the new year and the season end drawing nearer, Chris Lucas is pleased with his teams' efforts.
"That's a top 3 team, they are a genuine contender and we've knocked them off at home"
The Lightning will be back in action when they host Sydney Uni at home on the 4th January 2019 at 4:30pm