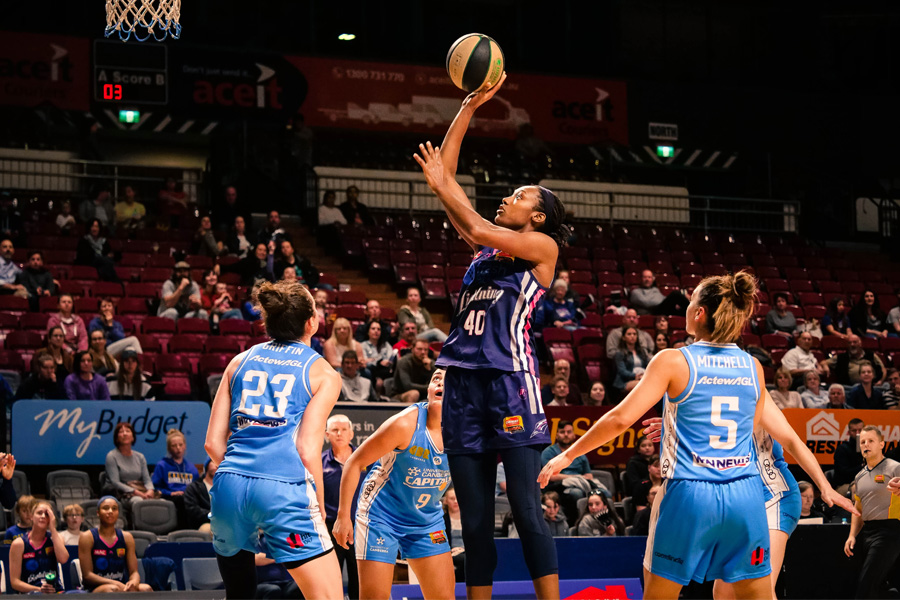 December 14, 2018 | Adelaide Lightning news
Written By: Kieren Vartuli @kierenvartuli
The Adelaide Lightning have extended their winning streak to 5 after convincingly downing the UC Capitals 93-73.
The Lightning kept their foot on the gas as the game continued with the margin growing throughout.
The 20-point margin comes after an extended period of fantastic basketball seeing them seize control during the closing 5 minutes of the second term.
The Lightning outscored their visitors 20-7 in the final five minutes of the half proving crucial.
Adelaide managed to control the game on both ends of the hardwood with it resulting in their favour on the scoreboard.
Offensively, Adelaide dominated both inside and out resulting with a demoralising 52-Points in the Paint and 42.1% from deep.
Four of the Lightnings' starting five finished in double-figures as Kayla Alexander lead all scorers with 22-points and 10-rebounds.
"[I'm] really pleased, five people in double figures and twenty-six assists. [It was] a really good team effort"
"I thought they just did a great job today walking into the game!"
"It's been a tough couple of weeks for us, but they walked into today and they were ready to play" Lucas said about their contest tonight.
Nia Coffey continues to prove she is a force to be reckoned with as the season proceeds after recording 21-points, 7-rebounds and 7-assists.
They (Coffey and Alexander) both played really well but I think it was a team effort to be quite honest!
"The strength of our team has to be one person can be up one day and down the next, but that needs to be a strength not a negative" Lucas said.
In what was Aimie Clydesdale's return to game day competition, Aimie did not shy away from action dishing off 7-assists.
Defensively, Adelaide forced over twenty Capitals turnovers resulting in only 12-Lightning points.
Eight of the twenty-one turnovers were results of players' pockets continuing to be picked! Both Nicole Seekamp and Steph Blicavs tied the game with 2-steals apiece.
The recent form Lightning form has sparked talk about their growth as a team and confidence moving forward.
"I think tomorrow we just get away from the basketball court, its been full on and I think tomorrow we just get over there. We are up early again; the girls' sleep is the most important thing right now" Lucas believes.
Adelaide look to continue to grow their streak to six with a matchup against the Boomers this Sunday in Melbourne.