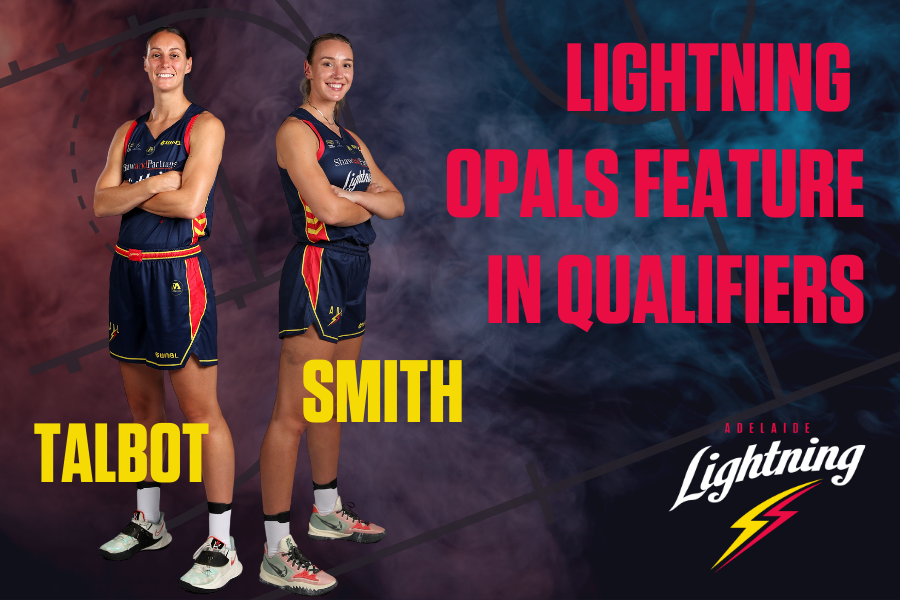 February 15, 2022 | Adelaide Lightning news
Missed the Opals Qualifying matches on the weekend? No sweat, we have the short breakdown on how your Lightning representatives went in the games in the lead up to the 2022 FIBA Womens World Cup in Sydney, read more here…
2-Min Read
Australia vs Brazil (65-52)
Steph Talbot (22 minutes, 3 points, 7 rebounds, 4 assists, 2 steals, Eff 9)
Key Takeaways
Talbot really showed what the Opals were missing with the injury that affected her in Tokyo. She helped setup a 11-0 start and continually at the two-position next to Sami Whitcomb caused headaches for the guards of Brazil. Her third quarter was huge as she forced jump balls, made a block and fed her teammates and continually started the Opal's offences off rebounding.
Alanna Smith (14 minutes, 7 points, 5 rebounds (2 off), 2 assists, 1 steal, Eff 10)
Key Takeaways
Sandy Brondello started Smith in the absence of Ezi Magbegor and she really had an opportunity to shine and showed some signs she's translating the WNBA game she brought to the Lightning into FIBA Womens basketball. Her third quarter was her biggest as she putback a bucket and had 6 points for the quarter along with some strong rebounds. Only concern for her was a head knock after her head hit the floor and sat out the last quarter in preparation for the next game against Serbia.
Australia vs Serbia (71-78)
Steph Talbot (12 minutes, 6 points 3/3 FG, 1 rebound, 1 assist, Eff 8)
Key Takeaways:
Started this one on absolute fire causing massive problems for the home side hosting the tournament. Her teammates found her open consistently in the opening stanza and Talbot looked like she would dominate along with her Opals all over Serbia. At 32-37 though, a contentious decision was made by the officials when Serbian guard Jovana Nogic was called for a hold on Talbot but trying to clear space with her body, Talbot was adjudged to possibly have created contact for at least a foul herself. If the original official's decision had stood it still would've been possession reversed and Serbia would've still got their two shots as well however the second official clearly wanted to review the call and upgrade it to two fouls and as result disqualified Talbot from the remainder of the game. Talbot was forced to hit the showers early in a bizarre set of events. Her absence affected the Opals result no doubt…
Alanna Smith (10 minutes, 0 points, 2 rebounds)
Key Takeaways:
Coming off the head knock, Smith started again but struggled for impact in this one. It did seem in this game Brondello thought Darcee Garbin and Marianna Tolo were needed for the key minutes in this one. It ended up being a frustrating night for Smith and for our Lightning players…
Australia vs Korea (79-61)
Steph Talbot (26 minutes, 11 points 44 FGP, 8 rebounds, 2 assists, 1 steal, Eff 14)
Key Takeaways:
Talbot with extra energy and fervent pented up from missing most of the last game brought her best game in years to the Opals dominating her 26 minutes on the floor. In her first 8 minutes she had 3 points, 4 rebounds and a steal to setup the 24-10 lead then returned in the second quarter to drop another 4 points. In the third she continued to create some strong gameplay before a slight scare with an extended knee flexor saw her subbed out. She returned in the fourth to finish her work and well and truly you would think solidify one of the starting five positions in the team for Sydney.
Alanna Smith (12 minutes, 7 points 42 FGP, 5 rebounds (3 off), 1 steal, 1 block)
Key Takeaways:
After a tough game against Serbia, coming off the bench Smith was efficient in her minutes impacting across her time on the floor. She helped setup an 11-4 run in the second which quashed the Koreans chances of getting back anywhere near the Opals. Hopefully she has shown enough this weekend and with a raft of candidates for the starting four spot in Sydney she's in the mix; only time will tell…