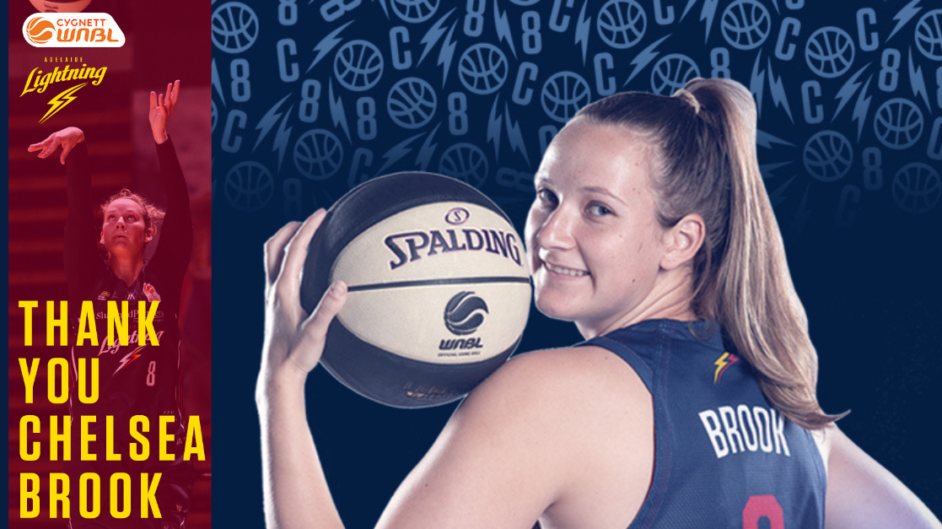 July 6, 2023 | Adelaide Lightning news
✨🏀 #ThankYouChelsea 🏀✨
Today, we announce Chelsea Brook will not be returning the Adelaide Lightning for WNBL24.
After seven amazing years with the club, Chelsea has decided to have a year off from the WNBL.
As we express our gratitude and fond memories, we also acknowledge the legacy she leaves behind and the impact she has had on our team and community.
Chelsea has been an invaluable asset to our basketball team, both on and off the court. Her unwavering dedication, passion, and undeniable talent have inspired us all. 🌟 Chelsea demonstrated each and every season the true spirit of the game, embodying the essence of sportsmanship and determination. ⛹️‍♀️
Beyond her on-court contributions, her presence in the locker room and the community has been immeasurable. Chelsea has been a role model for aspiring athletes and a beacon of hope for countless individuals, young and old alike. Her commitment to giving back and making a difference in the lives of others has touched hearts and created a lasting impact that extends far beyond the hardwood. 🌟
As Chelsea embarks on having some well-earned time off this summer, we want to express our deepest gratitude for her contributions to our basketball team. Chelsea has helped shape our team's identity and has become an indelible part of our rich history. The impact she has had on the organization and the fans cannot be overstated. 🏀💙
Head coach Nat Hurst, both played and coached Chelsea with the Adelaide Lightning shares some insight into Chelsea;
" When you think of the Lightning you think of Chelsea. She has been a massive part of the lightning on and off the court for a long time.
Her professionalism, commitment, skills and all round great person will be sorely missed. I wish Chels all the best in what's next in life but I hope it's not the last time we see her in a Lightning jersey "
Chelsea, while we will miss seeing you on the court, we are excited for the adventures that lie ahead for you. May your path be filled with continued success, happiness, and fulfillment. Know that you will always have a special place in the hearts of basketball fans, and your legacy will continue on. ⛹️‍♀️🌟
"I want to thank the Adelaide Lightning organisation for taking a chance on me 7 years ago and giving me the opportunity to start my professional basketball career. I feel very privileged to have been able to play home in Adelaide in front of my friends and family, and blessed for the friendships
I have made along the way. Lightning will always be my home and grateful everything the last 7 years have taught me."
Thank you, Chelsea Brook, for seven unforgettable years with our beloved team. Your dedication, talent, and remarkable character will forever be cherished. We wish you all the best in your future endeavors, and may your journey continue to shine as brightly as your time with us. 🌟