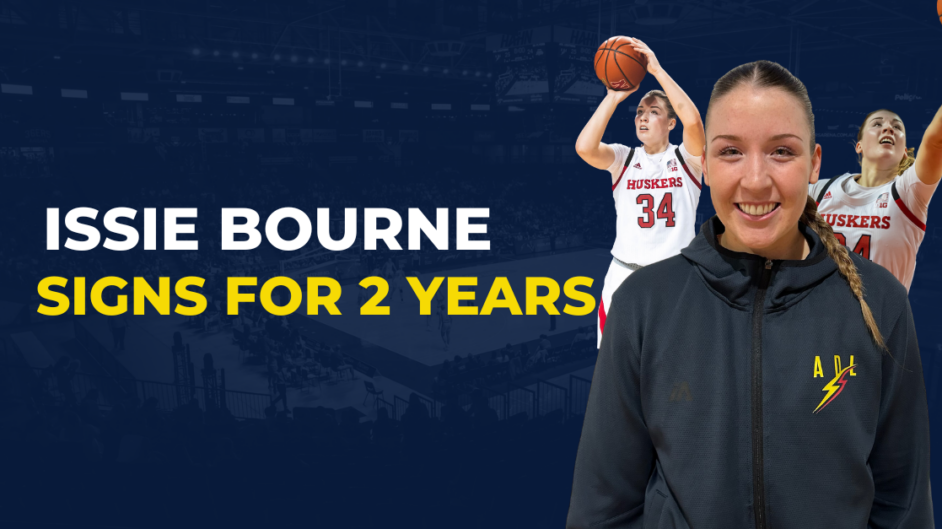 June 22, 2023 | Adelaide Lightning news
The Adelaide Lightning has signed rising star Isabelle Bourne for the next two seasons as she returns to Australia following an impressive college career.
Originally from Canberra, the 22-year old Bourne will commence her professional career with the Adelaide Lightning in the WNBL following four years at the University of Nebraska, where she averaged 12.6 points and 6.7 rebounds in her senior year. Her on-court accolades were matched by her broader impact on her team, where she has been team captain for three years, and won the 2023 Big Ten Sportsmanship Award.
Prior to her time at college, Bourne represented Australia in the U19 National Team, guiding the Gems to a silver medal at 2019 FIBA Under-19 World Cup in Bangkok, Thailand.
Bourne is excited to start her WNBL career with the Lightning.
"I am so excited to be joining the Lightning and can't wait to get to Adelaide and get started. I believe in the direction the club is heading and the role that I am determined to play in its success. It is a young and exciting team committed to getting better every day, and I am excited to learn under Nat and the coaching staff."
Adelaide Lightning Head Coach Nat Hurst is delighted to welcome Bourne for the next two seasons.
"Issie was one of the most sought-after Australian collegiate players looking to turn pro this year, so we are naturally delighted that she has chosen to join the Lightning. She is a wonderful player who we believe can have an immediate impact on our team while she also continues to learn and grow. We believe she has a bright future ahead and we are thrilled that she has committed to the club for at least the next two seasons."
Stay up to date with all our player announcements across our socials, but if you want to hear the news first sign up to become a subscriber today.