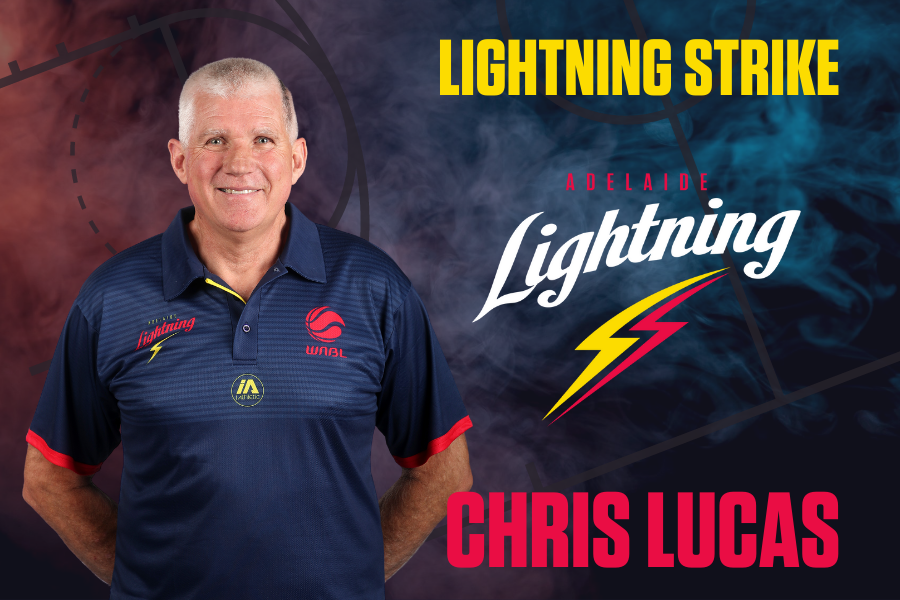 December 9, 2021 | Adelaide Lightning news
Our club Head Coach returns for another season, let's check in and see what Chris Lucas has to say about his ninth season in charge of your Adelaide Lightning…
2 Minute Read
Chris Lucas will once again return to the head coaching position at the Adelaide Lightning for the WNBL Season 2022. Lucas heading into his ninth season as Adelaide Lightning coach and fourteenth as a WNBL coach; doesn't look at the time he's been in the game rather the privilege of holding a Head Coaching role.
"I've never looked at it that way, I am very privileged to coach this club and at this point in my career I want to leave the club in a good place and help sign as many South Australian juniors as possible to the Lightning to secure its future," Lucas shared.
Lucas is no stranger to a busy off-season supporting international and state level basketball throughout his years, the year 2021 has been no exception.
"I've been working with the NBL1 Central players and keeping in touch with our players playing interstate. I've spent 2-3 times a week working with the NBL1 Central players on their skill sets and I think we've done a good job keeping the motivation up for season 2022," Lucas explained about the off-season.
With eleven positions locked into the Lightning roster including development players, Lucas has his final two pieces in imports in the country and now have both hit the hardwood.
"We've secured our imports and have looked to bring in a point guard in Kiana and a 4-5 type player in Kylee. We need these types of players to compete with the quality teams so we needed imports that compliment our chemistry and it's been good to get them on the floor with our full group in the last few weeks," Lucas updated about the final pieces to the Lightning line-up for 2022.
Overall Lucas is keen to get the ball rolling after a disruptive season 2021,
"Our players and coaching staff just want to play basketball this season with minimal disruptions. The NBL1 has been good here in SA as the players just got to play which is what they wanted to do; it's been good exposure in the lead up to another WNBL season."
Adelaide Lightning Memberships are on sale now, head to Lightning Memberships to be ready to strike in 2022 from December 11.