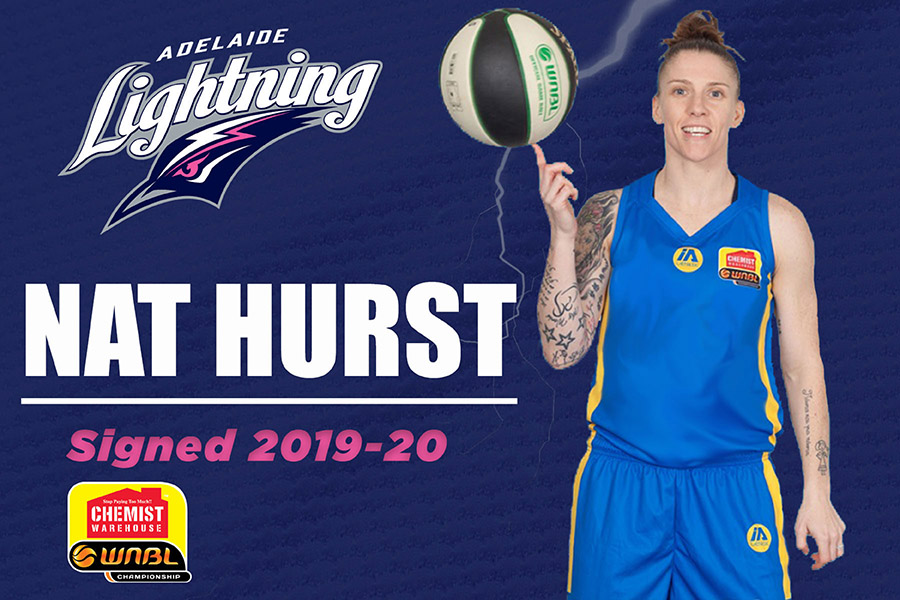 June 11, 2019 | Adelaide Lightning news
Adelaide Lightning have scored a further marquee WNBL recruiting coup with the signature of seven-time league champion Natalie Hurst for the 2019-20 season.
Hurst, 36 and a dynamic 163cm point guard, is second only to Basketball Australia Hall of Famer and 10-time WNBL champion Robyn Maher for championships won, tasting the ultimate glory with Canberra Capitals teams in 1999-2000, 2001-02, 2002-03, 2005-06, 2006-07, 2008-09 and 2009-10.
Currently playing in the NBL1 competition with Lauren Jackson's Albury team, Hurst in 2017-18 was the Capitals' Most Valuable Player and last season at Bendigo Spirit, also picked up the club's MVP award and Players' Player accolade.
Clearly, she remains at the top of her game.
"I'm really excited about coming to Adelaide," Hurst said today.
"I'm pretty happy with seven (titles) but I'd like to finish on eight."
Adelaide lost the 2018-19 championship to Hurst's former club, beaten 2-1 in the best-of-three grand final series by the Capitals.
The prospect of concluding a stellar playing career – which has included Australian Opals selection, an extensive professional playing career in Europe and a Gold Medal for Australia at the 2007 World University Games – by winning an eighth championship, possibly against Canberra, is not lost on the mother of Nash, 2.
"Yeah, I've thought about that but the Canberra I remember is not the same as it was when I was there," she said. "I don't mean that in a bad way. People you were involved with move on and circumstances and personnel changes."
Playing for Lightning coach and the WNBL's reigning Coach of the Year, Chris Lucas, also was a huge drawcard.
"I've been trying to work with Chris since he was an assistant (coach) in Canberra," Hurst said.
Having secured Nicole Seekamp, Lauren Nicholson, Natalie Novosel and Stephanie Talbot, Lucas offered Hurst a back-up PG role, where her experience and big-game nous would be an invaluable asset.
"That was the perfect role I was looking for," Hurst said.
"I know this is Nicole Seekamp's team and I am happy being a backup and a locker-room presence.
"I'm super-excited for this role.
"I know he (Lucas) was worried about how I might feel about it, but it was exactly the role I was looking for."
Lucas could not be happier.
"Nat was the player I was hoping to get for this role," he said. "She is a proven winner and makes players around her better.
"I couldn't be happier."