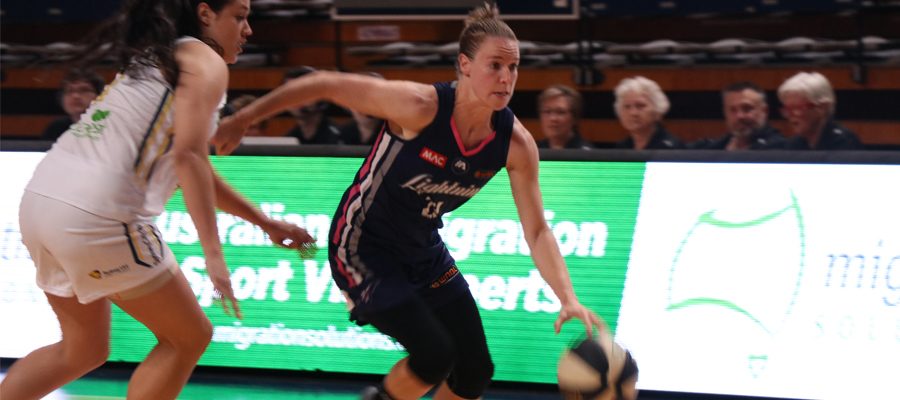 October 6, 2017 | Adelaide Lightning news
It was a fairytale start for Adelaide Lightning, after a pre-season plagued with adversity. With Chris Lucas on the coaching bench for support, Marcus Wong took charge of the transformed Adelaide team.
Lightning started the night strong, with a three-pointer from Adelaide's new US import Natalie Novosel setting the tone early. Canadian Ruth Hamblin had an impressive start, dominating under the ring and also in defence, producing strong rebounds and blocks.
But it was Nicole Seekamp, who stole the show, blitzing the visitors. She went on a scoring rampage, shooting three three-pointers in a row to finish the first quarter with 14-points and extending Adelaide's lead to the same margin at the first break, 33-19.
Back on court, Lightning's new combinations continued to gel. Vanessa Panousis made her mark, showing confidence from long range, helping Lightning to edge forward by 17-points.
However, Sydney's flame wasn't flickering just yet. A three-pointer by Snell provided the spark they needed to go on a scoring charge and reduce the deficit to just 2-points.
However, Lightning proved they had resilience, with another 3-pointer by Panousis increasing Adelaide's lead to 8-points at the main break, 53-45.
From half-time Lightning didn't take the foot off the gas. Novosel took control of the game, all over the court, finishing with a near triple double (21pts, 8rbs, 9ast). Despite the American's dominance, the victory was a true team performance.
"It was fantastic, the hard work the girls have put in over the last month really came together tonight. Our energy amongst the whole group and our starts to every quarter was really a key to the success," Adelaide Lightning Head Coach Marcus Wong said.
"It's been a focus of ours to just play team basketball and I think that's one of the things we do really well."
"It makes us hard to defend because we can score from a number of players, our team game has been excellent. We focus on getting ball movement, player movement and we get 20 plus assists in games and five people in double figures is right on the money of where we want to be."
Novosel echoed her coach's thoughts, praising her new teammates for the win.
"I felt pretty comfortable out there, but I think it was because everybody is out there moving and selfless and making the passes, and I think that's really going to define our season, us paying together as a team," she said.
Seekamp was another standout (16pts, 66% FG), with Wong praising the guard's efforts.
"Nicole 'Noodle' Seekamp started the game on fire. She was excited to play at home for the first time in a long time in front of family and friends. I think Noodle had a fantastic game.
Wong's focus now shifts to Sunday's game against the Canberra Capitals and he acknowledges no game will be easy.
"Every team in this league is tough. It's probably the toughest competition the WNBL has been, if you take any team lightly you're in trouble and I think every game you've got to bring you're a game.
"We've got to move our focus to Canberra and hopefully go over there and get a win."
ADELAIDE LIGHTNING: 91 (Novosel 21, Seekamp 16, Nicholson 14)
SYDNEY UNI FLAMES: 80 (Ebzery 20, Wilson 18, Snell 16)