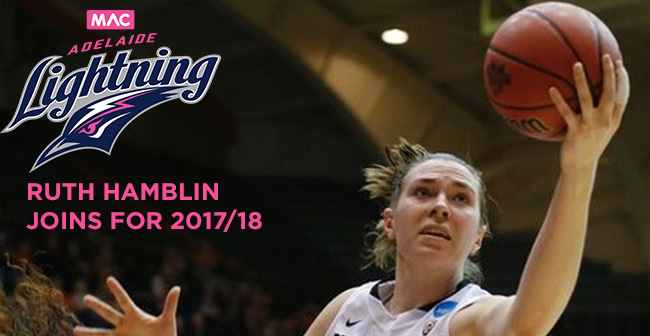 May 17, 2017 | Adelaide Lightning news
MAC Adelaide Lightning are very excited to announce the signing of Canadian Ruth Hamblin.
198cm (6'6″) tall Hamlin, who played last season for the Perth Lynx and averaged 11.0 points and 7.7 rebounds will be a welcome asset to the team and a great inside presence with Abby Bishop.
Head Coach Chris Lucas mentioned about Ruth, "I'm really excited to have Ruth as part of our program for the upcoming season, she is an athlete who brings terrific size and will give us a presence in the paint".
In 2016, Ruth was signed with local legend Erin Phillips for the WNBA team, Dallas Wings and was taken at number 18 in the draft.
Lucas said that Ruth is a hard-working individual, "I am looking forward to her continued development as a player. She has a great personality that fits exactly with what we are looking for in terms of our teams culture and chemistry. We felt it was important to recruit a player with size to compete in the league this season."
Ruth now joins a formidable line-up comprising of Aimie Clydesdale, Nicole Seekamp, Natalie Novosel, Abby Bishop, Sarah Elsworthy and Chelsea Brook.
GM of the Lightning Mandy Spear said "We are so pleased that Ruth has chosen to play for MAC Adelaide Lightning. If last season is anything to go by we need a superstar on the boards to be competitive this coming season. Ruth is that superstar."
2017/18 Membership will go on-sale in June 2017 and will be available for $40.