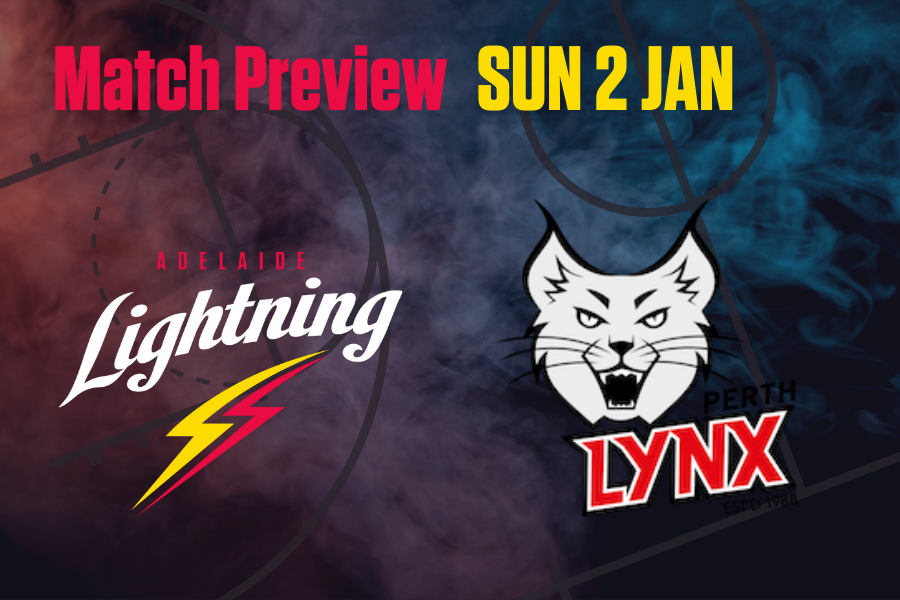 January 2, 2022 | Adelaide Lightning news
Perth have come into the WNBL 21-22 season one of the raging favourites with the line-up they have rostered for the season and haven't even played a game this season. Your top of the table Adelaide Lightning will open their season against them Sunday after a big booming win against the Melbourne Boomers…
WHEN: SUNDAY JANUARY 2 – 2:30PM SA TIME
WATCH: KAYO FREEBIES
WHERE: The Lights Community and Sports Centre
Last time they have met:
ADELAIDE LIGHTNING 78 (Talbot 23, Brook 16, Whittle 11, Wehrung, Wilson 8) DEFEATED BY PERTH LYNX 80 (Garbin 31, Ciabattoni 15, Ebzery 12, Steindl 11) at Townsville Stadium
The Lightning struck hard in the final quarter on Thursday night in front of a strong home crowd at the "House of Lightning" with a 18-3 stanza earmarked by a tenacious defence that forced five turnovers and the Boomers to score a single field goal. Even underdone, this is required across four quarters to knock off a star-studded Lynx side keen to make an impression in their opener.
Key Matchups
Steph Talbot vs. Sami Whitcomb
Talbot has led from the front as the Captain and has played the 1 through to 3 spot on the floor although much of what we have seen between at least the back and front court is that Lightning have the ability to play positionless basketball and utilise many different combinations through the guard rotations. She is getting it done in different ways already averaging 12 points, 12 rebounds, 4.7 assists per game and her influence in all games so far has been incredible.
For an American player that was spotted at a national tournament in January in 2015 to running the Opals as a naturalised combo guard at the Asia Cup 2021, many have followed the journey of Sami Whitcomb. The mail was in early that she'd suit for the Lynx in the coming season and it proved to be true and she's coming off a humdinger of a calendar year with the WNBA New York Liberty. She is coming off a 30-game season averaging 11.7 points, 5 rebounds and 2.7 assists per game. She tied the club's record for makes beyond the perimeter against the Dream with seven and she's also a teammate of our next matchup highlight in Kylee Shook so she'll know plenty already about our upcoming matchups in another WNBA showcase in front of your very eyes.
Kylee Shook vs. Jackie Young
A solid and unassuming start from our WNBA centre from the New York Liberty but her matchup in this game particularly will be very important considering history over in the states this year. On Tuesday 15 June, both Shook and Young played against each other when the Liberty took on the Las Vegas Aces. Shook was impressive despite a 78-100 loss to the Aces with 12 points and 9 rebounds in 20 minutes of action.
Young dropped 11 points, 5 assists and 3 rebounds in that game alongside A'ja Wilson and another known quantity in Cambage. The 3×3 Basketball Gold medallist at the Tokyo 2021 games upped her average of 12.2 points, 4.1 rebounds and 3.2 assists to show she'll be a huge issue to handle in the upcoming season. If there is some one-to-one coverage through the front court, this will be fun to watch these two go at it.
Marena Whittle vs. Alex Ciabattoni
The former Lynx player has a solid record against her former side. In the 2020 season she had 11 points in both games which featured several impact plays. Off the bench this season she already has made use of her average 13 minutes with 7 points and 4.7 rebounds per game. A big tick in her box is the number of those which are offensive boards with 3 with also a couple of massive hustle plays.
On the flip side, Ciabattoni also has a good record against her former club. In the 2020 season she had 10 and 15 points against the Lightning and proved to be a problem for our players. With a strong starting core likely to feature Whitcomb, WNBA Dallas Wings Marina Mabrey and Opals Darcee Garbin and Lauren Scherf, it'd be easy to see Ciabattoni come into the game and continue that type of impact for the Lynx.
The Last Strike
The scene is set for an absolute post New Year's feast to open the WNBL 2022 component with both teams chock full of WNBA talent, the anticipation on how our opposition will start their season, all eyes will be on this game across the country which means in terms of making a statement and making the "House of Lightning" a tough place to come and win in, another scalp of the star-studded Lynx will credential the Lightning and after a challenging 2020 season in the hub; that sounds like a pretty good new years resolution to us.