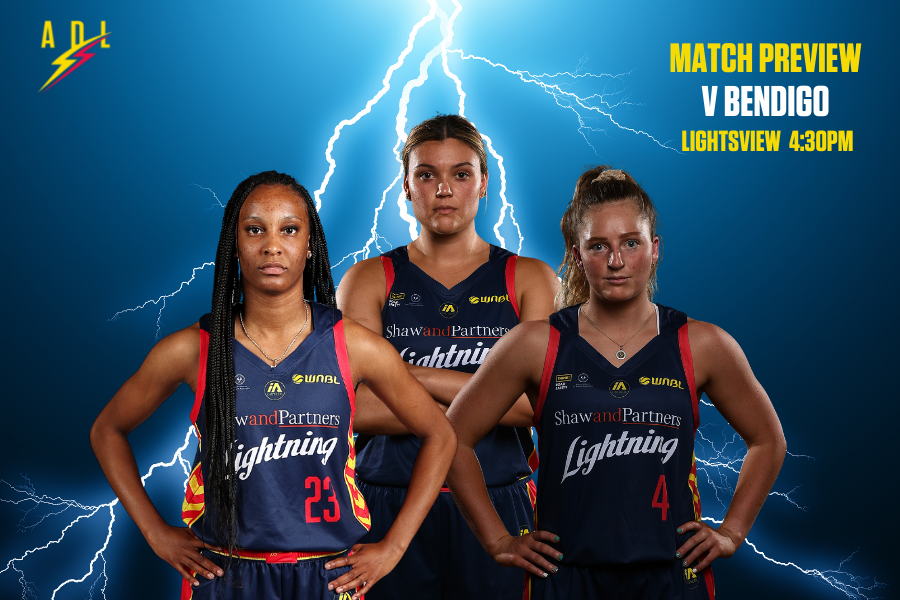 February 5, 2022 | Adelaide Lightning news
WHEN: SATURDAY FEBRUARY 5th – 4:30PM SA TIME
WATCH: ABC TV AND IVIEW, KAYO
WHERE: The Lights Community and Sports Centre
Last time they met:
WNBL 2020: ADELAIDE LIGHTNING 69 (Talbot 15, Wilson 14, Wehrung 12, Brook 11, Whittle 10) DEFEATED BENDIGO SPIRIT 59 (Ernst 32, Lavey 17) at Cairns Pop-Up Arena
Our preview this week features a look at who might step-up for the Lightning and Spirit that are under 23 and have an impact for their teams in this unique fixture showing talent of the future.
Key Matchups
Sam Simons vs. Isabella Stratford
Leading the charge for the Lightning is Sam Simons; likely to fill Steph Talbot's guard spot. Simons who recently re-signed with her beloved Forestville Eagles in the NBL1 Central for 2022 is relishing the opportunity to gain some extra minutes and show the depth that the Lightning have. Simons at 22 years of age will likely get a significant amount of court time in the absence of Talbot at the two position and slide across to the three at times during the match to use her size and ability to stretch the wings with her shooting. In an average of 16 minutes per game, she has shot 40 plus percent from the field and beyond the arc.
Likely to see some time of similar ilk is her new teammate at Forestville in Isabella Stratford. Stratford is a familiar name in the NBL1 Central having played under Lightning assistant coach Matthew Clarke at the Southern Tigers last season and this coming NBL1 season will play under her father Daniel at the Eagles. Her most productive game was against the Capitals with 11 minutes yielding 4 points on 2-3 shooting, 2 rebounds and an assist. It's likely she'll see some more court time under coach Tracy York in her home state.
Ella Batish vs. Anneli Maley
While SA born Chelsea Brook is likely to see a majority of minutes in the absence of Alanna Smith; don't discount the 22-year-old also seeing some time in the 4 and 5 spot in this one. Batish has been fighting her way back from injury and has the tools to be a very confident stretch forward in the WNBL. With the Lightning lighter in the front court expect her to rotate with Brook, Kylee Shook and some Marena Whittle this weekend.
From role player to next generation star, Maley if she's back in time to play at just 23 years old will have benefited from her time at Opals training camp. Now she'll be equipped to come back to the WNBL knowing what the next steps are to climbing the pecking order and we may see that first up in her return game. She's averaging 18.3 points, 14.8 rebounds, 2.9 assists and shooting above 40 percent from all areas. Maley is primed to be at the forefront of the next generation of WNBL basketballers.
Tayla Brazel vs. Cassidy McLean
Out of the local guard trio of Basham (Norwood Flames), Tayla Brazel (Sturt Sabres) and Jasmin Fejo (West Adelaide Bearcats); Brazel maybe is the guard that could see some more duties to fill for Taylor Ortlepp and Abbey Wehrung. Brazel has shown some signs that she may be about to get an opportunity lodging some court time against the Capitals last week. If the Lightning get out by a large margin early; we may see more of the talented 17-year-old in Lightning colours Saturday afternoon.
Mclean who averages 16.7 minutes per game has also been seeing more opportunity on the floor. She had a good game against the Capitals with 7 points including 4-6 from the free throw line, 4 rebounds and 3 assists. The 22-year-old has had some opportunities this season under York and some more exposure in the WNBL will see her continue to develop and make an impact for the Spirit.
The Last Strike
Any games around this time were likely to bring the opportunities with up to three of the Lightning players in the running for an Opals spot in the qualifiers. While one didn't quite make the cut of the sixteen and twelve, two holes need to be filled this weekend against the Spirit. Add to that whether the ankle of Kiana Williams comes up and you have potentially three spots up for grabs. Those chances don't come around too often, and the Lightning's depth will be keen to make an impact.
On leaving for Opal's camp, Captain Steph Talbot was confident the depth would be able to take it to the Spirit. "That's one of our strengths this year; every single one of our starters can go off any night and we have much more depth on the bench. We have a real spread of scorers and it'll give a chance for some of the girls to show what they can do. We believe in them as they show up at training each day and they push hard and strong; we trust them to step up and get the job done," our Captain summarised this Saturday's contest against the Spirit.
And trust indeed will be what Chris Lucas places in whomever pulls on a Lightning singlet for him from the next generation bunch and the state of South Australia…