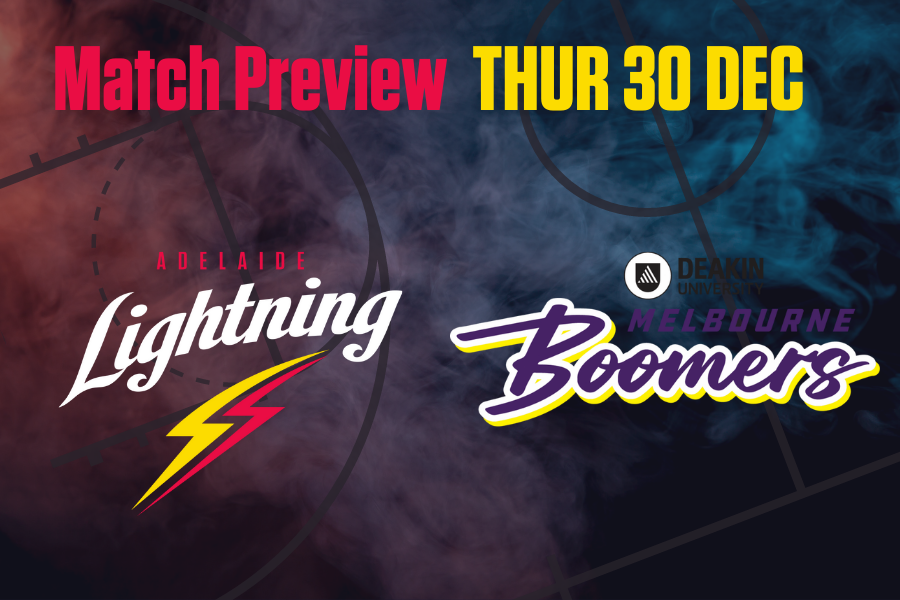 December 30, 2021 | Adelaide Lightning news
Christmas has come and gone for another year and your Adelaide Lightning are ready to light up the "House" for some extended festivities against the Melbourne Boomers…
WHEN: THURSDAY DECEMBER 30 – 7:00PM SA TIME
WATCH: KAYO
WHERE: The Lights Community and Sports Centre
Last time they have met:
WNBL 2020: ADELAIDE LIGHTNING 55 (Wilson 14, Talbot 11, Brook, Ortlepp 7) DEFEATED BY MELBOURNE BOOMERS 76 (George 22, Magbegor 14, Purcell 11, Garrick, Karaitiana 9) at Cairns Pop-Up Arena
The first stern test of the season has arrived for the Lightning with a 4-1 Melbourne Boomers team equipped to strip the holiday cheer from any side at this time of year. One of the keys to tonight's game power forward Alanna Smith has slowly inserted herself into the WNBL and after a few games is starting to feel comfortable with her role in the WNBL and Adelaide Lightning.
Key Matchups
Abbey Wehrung vs. Tiffany Mitchell
Our tenacious guard will have her hands full with the WNBA star and one-to-one coverage will likely occur throughout the match. Wehrung hasn't set the season alight offensively as her chemistry develops with our import Kiana Williams yet this might be the match she gets going after averaging 11.3 points per game in 2020. Her assignments so far have been Mia Murray (9 points) and Brittany Smart (12 points) however with Lindsay Allen and Tess Madgen also key matchups she might find herself rotated between those three.
Mitchell is a massive problem in this league already averaging 18.2 points, 3.4 rebounds, 2.6 assists and shooting the rock at 47.1 percent from the field. If you look at Mitchell's shot chart, 26 of her 33 makes are from the "Nykiel Zone" (That's the space between just under the foul line and basket named after arguably the greatest shooter from that spot in Women's SA Basketball history). The Lightning will need to contain her ability to score in the paint off the top of key actions that free her up to finish with physicality.
Alanna Smith vs. Eziyoda Magbegor
A ripping matchup is on the cards between the two Opals members and no doubt they both will suit each other well in the matchup. Smith despite only an average of 16 minutes per game, she already has and average of 12 points and 5.5 rebounds per game and as she knows if she can stay on court then those numbers are likely to explode.
Magbegor is not only the future for the Boomers but for the Opals as well and after a few rounds of the WNBL it is clear she has gone to another level. She already is stat stuffing averaging 14.8 points, 7.8 rebounds, 3.2 assists, 1.8 steals and 1.2 blocks per game and shooting it at 56.6 percent. She has 18 offensive rebounds already this season and after a smashing on the glass in a game and a half, the Lightning will need to have plans in place to counteract her impact.
Sam Simons vs Penina Davidson
The contrast between the first two games for Sam Simons was stark. Understandably in her first game she learnt quickly that the looks you get at NBL1 Central level are not the same as the WNBL however in an absolute credit to the coaching staff of Lucas, Hurst, Clarke, and her, she adjusted to it immediately in the next game dropping 12 points in a perfect 5-5 from the field. She has the upside potential to cause problems for the Boomers with her size and length especially when the starters are getting their minimal rest time.
The Boomers bench averages 6.25 minutes per game so across a long season there is a heavy reliance on Guy Molloy's starters. Davidson averaging 13.6 minutes is the most used and is a known quality to the Lightning having played here in 2018-2019. The New Zealand Tall Fern could cause problems for the Lightning on the glass and her relief minutes for the forwards and centres.
The Last Strike
The Boomers biggest strength is their use of their starters and particularly from the first few games their use of the twin peaks of Magbegor and Cayla George in pick and roll situations and onball actions with each other making them an extremely difficult guard.
If the Lightning can repeat their second half glass effort, find some foul trouble on the starters and just keep hitting the Boomers with their bench numbers they might just be able to see the Boomers bound their way back to Melbourne having being struck down by some pre-New Year's Eve fireworks.