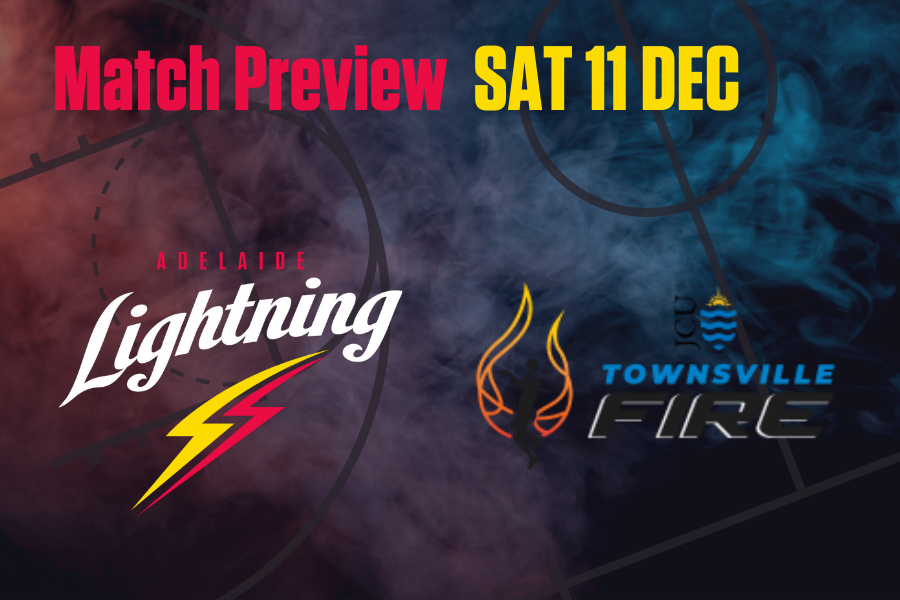 December 10, 2021 | Adelaide Lightning news
It's been 657 days since our last home game in 2020, the semi-final against Southside Flyers and now the Adelaide Lightning are ready to take the home floor to open the season at the "House of Lightning" against the Townsville Fire on Saturday night…
WHEN: SATURDAY DECEMBER 11 – 4:30PM SA TIME
WATCH: Foxtel, ABC TV and iView
WHERE: Lights Sports and Community Centre
DOORS OPEN: 3.00pm
Last time they have met:
WNBL 2020: TOWNSVILLE FIRE 95 (Nicholson 21, McKay 19, Reid 17, Woods 12, Heal 10) DEFEATED ADELAIDE LIGHTNING 66 (Wehrung 15, Whittle 14, Talbot 9) at Cairns Pop-Up Arena
It has been 657 days since our last home game in 2020 the semi-final against the Southside Flyers and our Captain Steph Talbot shared with us that plenty has happened since that last game. "It's a whole new team and venue, I think because it is completely different that its exciting. It's been a big twelve months for me with the WNBL hub, the WNBA and the 2020 Tokyo Olympics, so I am ready to be part of the next era of our team thats evolved during that last two years," Talbot explained about the changes since the last home game.
Key Matchups
Steph Talbot vs. Monique Billings
The league MVP of 2020 is raring to go and a likely match up looms against the Atlanta Dream forward if that is the direction coach Chris Lucas chooses to go. Talbot at the two spot was often used in 2020 as part of a three-guard setup however as is often the case in modern basketball, Talbot can play anywhere between the one to five position giving the Lightning great flexibility. "Its going to look a lot different (where I play); We've added lots of players to the team and while I still have personal goals I want to achieve whatever position I play, it's going to look different to previous seasons," Talbot summarised her flexibility in the line-up.
The 6-4 power forward Billings is one of many WNBA entries this season. The 2018 second round draft pick has played 114 games with 27 starts at an average of 19.7 minutes per game. The UCLA all time blocks leader has a WNBA career average of 6.2 points, 5.9 rebounds and shoots 43.5 percent from the field and has played in many systems all over the world. The Lightning even with her only having left isolation six days before the opening game will need to be wary of the fire that she'll provide for Townsville. "I've played against her a little bit, she's super physical and athletic however if I do get a matchup on her during the match, I'll be happy to have a crack at her," Talbot shared about the potential WNBA matchup.
Kiana Williams vs. Lauren Nicholson
Our other import may in some ways face a baptism of fire from one of the league's strongest defensive forces. Williams will want to jump out of the blocks with a bang with the reputation she brings to the Lightning. Her preparation has been incredibly solid; Talbot sharing with us about how she has prepared for a possible matchup with the former Lightning and recently announced Opal squad member for 2022. "She (Loz) is an amazing defender so that'll be something new for Kiana, us Aussies get up the court and pressure more so she'll need to get use to that gritty defence in the WNBL."
Nicholson will be looking to show how much she has made progress between the 2020 season and the Asia Cup where she would've taken a lot of learnings. Williams if the matchup eventuates needs to be aware of the third placed Robyn Maher Defensive Player of the Year's influence.
Alanna Smith vs. Zitina Aokuso
Making her mark for the Lightning first up off the back of her season with the Phoenix Mercury, no doubt there is anticipation to see what Smith can do in the WNBL. Her preparation and buy into the team culture has been second to non-according to Talbot. "Zitina's a big body but Lan's (Alanna) looking good. She's been here for a month and I'm excited to see what she can do this year."
Aokuso has risen rapidly in the eyes of many and showed her ability to hold the four to five spot on the floor; her Asia cup and Opals squad selection adding to her experience. Last season she wasn't as much trouble for the Lightning as a matchup however partnered with Billings, the glass will be crucial to the front court battle and control of the game between Lucas and Fire coach Shannon Seebohm.
The Last Strike
The Captain has called upon the supporters to get behind the next era of the Lightning starting with this weekend's home game. "Come out and support us, we've got seven local talents in the team, exciting additions and we are going to play a fast-exciting brand of basketball," Talbot declared of her squad's opening game of the season.
After 657 days we finally get to witness some home basketball action and for women's sports, the Lightning really are ready to strike for their supporters and the state of South Australia.