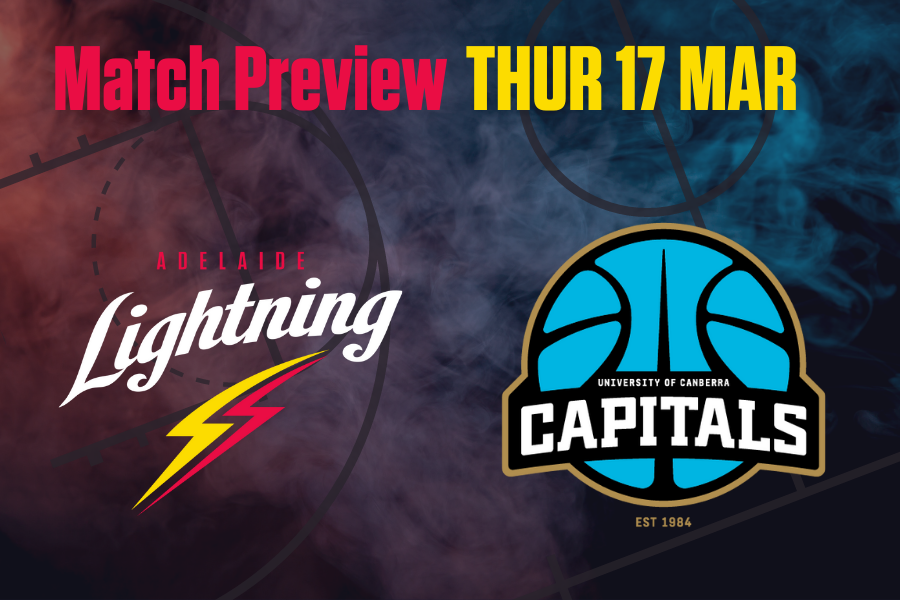 March 16, 2022 | Adelaide Lightning news
Match Preview – Adelaide Lightning vs UC Capitals
When: Thursday 17 March at 7:00 PM
Watch: Kayo
Where: The Lights Community and Sports Centre 
Last time they met:
WNBL 21-22: ADELAIDE LIGHTNING 67 (Smith, Ortlepp 12, Talbot 11, Wehrung 9, Brook, Simons 7) DEFEATED BY UC CAPITALS 80 (Ruef 20, Smart 17, Sykes 13, Bunton 9) at the Lights Community and Sports Centre
In both games, this season, the team that has won has had their bench score more than 20 points, shot more than 45 percent from the field, had 32 plus points in the paint, and 6 or more block shots.
Key Matchups
Steph Talbot vs. Brittany Sykes
Talbot has given her all this season already but with a strong matchup looming, it's time for Talbot O'Clock to tick into real MVP mode. Talbot can kick it up to another level against the Caps having clocked 31 points, 13 rebounds, 6 steals and 4 blocks, 21 points and 8 rebounds and 11 points and 9 points, 10 rebounds, and 5 assists in her last three games against them.
The key matchup Talbot will have defensively is Sykes who is in elite form. Sykes has pushed her average up to 24.6 points at 58.3 percent plus 6.3 assists and is utilising the Caps pick and roll and pop sets effectively and some blistering speed off the dribble. Single coverage may not be enough but if anybody can shut her down it's the reigning Robyn Maher Defensive Player of 2020.
Kylee Shook vs Kelsey Griffin
Shook got outmuscled and smashed on the glass by Ezi Magbegor last game but she's too good of a solid player to let that happen twice. Plenty of work at training this week would've gone into those box-outs and a look into the Caps key rebounding strengths. They won't come much tougher than Kelsey Griffin when it comes to protecting glass.
With Mikaela Ruef ruled out for the season through injury, Griffin has upped her contribution back to the numbers we know she can produce. Griffin has averaged 18.75 points, found her three-ball with 11 of her last 26 made, and grabbed 10.25 rebounds across her last four games. She was quietly dangerous the last time they won. Now she is in this form keeping her off the glass will go a long way to keeping the result the home side's way.
Taylor Ortlepp vs. Tahlia Tupaea
Ortlepp has caused problems for the Caps in the last two seasons. Her shot shooting streaks have been on show particularly the last meeting when they met, with Ortlepp dropping four of five from beyond the arc for 12 points in very efficient offensive minutes.
The same can be said of Tupaea and her scoring impact. Back to full fitness, she has produced 10.25 points per game off the bench but also started in absence of Kelly Wilson in Perth; that's including 11 of 18 beyond the arc at a high clip.
The Last Strike
There is so much riding on this game in terms of the Lightning's credentials for the WNBL Championship. After four games in eight days including a road trip to Perth, we are going to see the real Adelaide Lightning on Thursday night, and a win against the Capitals means that once again the Championship will be a four-horse race.
Make sure you get to the "House of Lightning" this Thursday night, this is one not to miss…