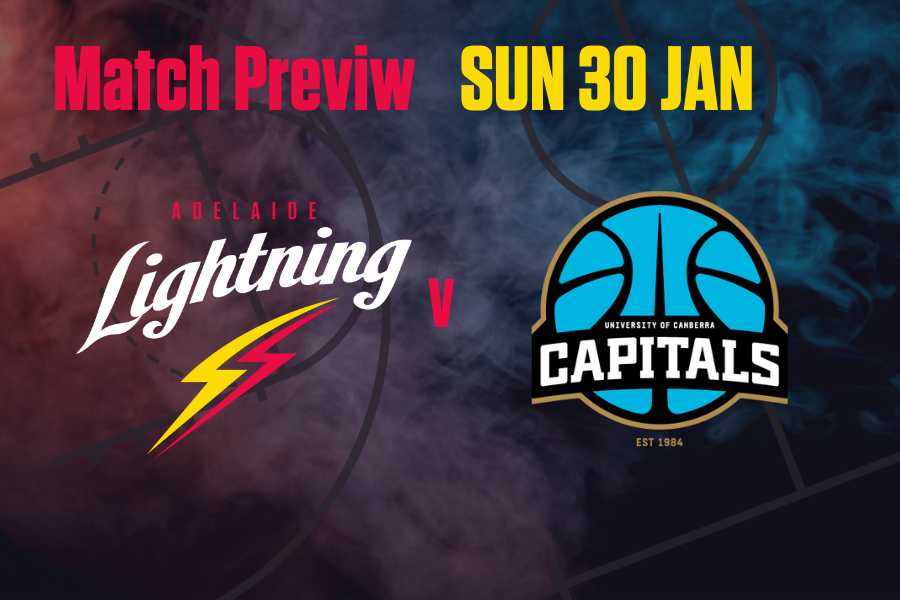 January 30, 2022 | Adelaide Lightning news
The Lightning return home with five wins in a row and for their Think! Road Safety focus game and will be throwing caution into the wind as they encounter the Canberra Capitals who are on a two-game winning streak with the return of their gladiator Kelsey Griffin…
WHEN: SUNDAY JANUARY 30 – 2:30PM SA TIME
WATCH: KAYO
WHERE: The Lights Community and Sports Centre
Last time they met:
ROUND 3: UC CAPITALS 62 (Melbourne 18, Smart 12, Ruef, Sykes, Wilson 9) DEFEATED BY ADELAIDE LIGHTNING 88 (Whittle, Williams 17, Smith 16, Brook, Simons 12, Talbot 9) at the NATIONAL CONVENTION CENTRE CANBERRA
The Lightning notched up a huge win on the road against a championship contender in the Townsville Fire and although they took care of the Caps last time, this time around will be a more challenging line-up to stop.
Key Matchups
Abbey Wehrung vs. Brittany Smart
Wehrung has just been going about her solid business this season and with the other two guards keeping her team-mates busy, her role on a hot shooting wing will be key defensively.
That would be Smart who has hit some strong form with 14, 9 and 15 points in her last three games (an average of 12.66). She's earnt an extra 10 minutes a game and shot at above 35 percent from the field including 12 triples in that patch.
Alanna Smith vs. Kelsey Griffin
When the Lightning needed her, Alanna Smith flexed hard and dominated the second half against the Fire with 18 points and 9 rebounds. The Capitals do have some height to counter her however Smith went a point a minute last time they met. The scout on her seems to be to get her two quick fouls early but no doubt Chris Lucas would've been working with her to make sure she stays on the floor in terms of production. In games Smith is on the floor more than 20 minutes she has scores of 21, 25 and 21 points plus 11 rebounds every time; its crucial she plays more than 20 minutes a game statistically.
The one player that has the experience, craft, and nous to makes sure she doesn't didn't play in Round 3. Be under no illusions that Kelsey Griffin is a tough match up already crunching 15.7 points, 7.3 rebounds, 2 assists this season; consistency has been her mantra yet again. Add to her stretch ability she's shooting 42 percent from beyond the arc; she's a dangerous matchup for the Lightning and needs some time put into her.
Marena Whittle vs. Jade Melbourne
A case of deja vu with once again these two sparks plugs likely for either side having a huge impact off the bench in this one. Whittle impacted in the Round 3 game leading all scorers with 17 points, 4 rebounds and 2 assists in just under 20 minutes from the pine. She's a difficult matchup for the Capitals both too strong in the block and nimble enough off the perimeter for her opponents.
Earning a spot in the Opals squad is no mean feat and Jade Melbourne continues to defy her age and show ultra-consistency. From the pine she's dropped double figures four times already this season and is averaging 11 points, 3.3 rebounds and 1.5 assists. It won't be long before she moves from being a spark plug to the main event in any WNBL team but she clearly also won't lose the punch and drive that she brings.
The Last Strike
The quick turnaround can work both ways however you feel the Lightning need to secure this home victory before we lose a couple of the players to the FIBA World Cup Qualifying window. With the Lightning in bright yellow (and the fans also wearing yellow), another victory will certainly highlight our Championship contention and setup a handy buffer going into a challenging stretch without Talbot and Smith.
And any bonus performances on Sunday certainly will have Chris Lucas, Nat Hurst and Matthew Clarke Think! about who is next cap off the rank…