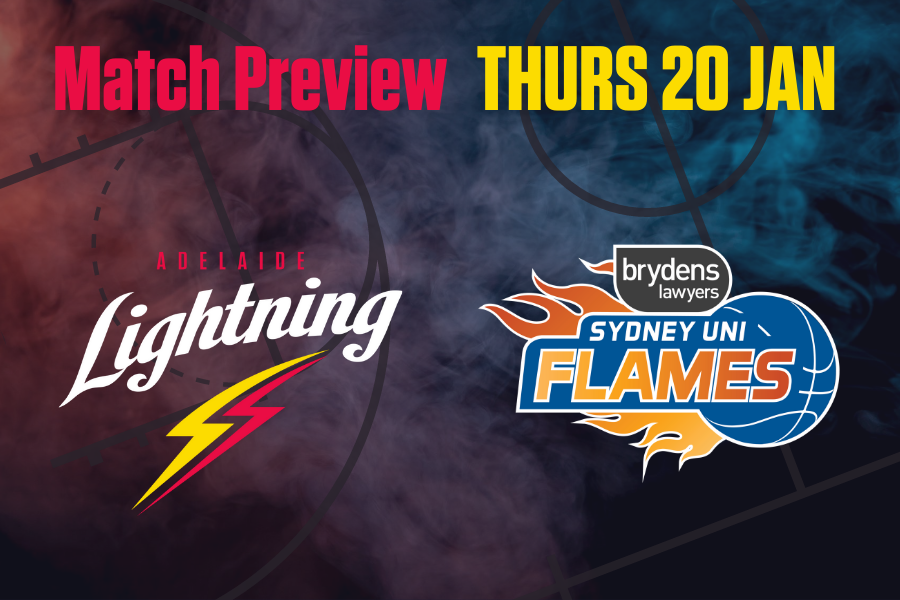 January 20, 2022 | Adelaide Lightning news
Despite an enforced layoff of 18 days since the Lightning's last game, we still sit equal top of the ladder and come up against a Sydney team that has changed in dynamics since the start of the season. Some familiar faces await our Opal representatives as well as some former squad members…
WHEN: THURSDAY JANUARY 20 – 6:00PM SA TIME
WATCH: Kayo
WHERE: Brydens Stadium 
Last time they met:
2020: SYDNEY UNI FLAMES 86 (Mansfield 31, Schwagmeyer-Belger 16, Scherf 11, Maley, Burton 7) DEFEATED ADELAIDE LIGHTNING 60 (Talbot 22, Wilson 12, Wehrung 8) at Townsville Stadium
Key Matchups
Steph Talbot vs. Shyla Heal
Once again the MVP of 2020 is having a blinding start to the season leading from the front. After nearly grabbing a triple double against Perth, Talbot is chalking up 13.8 points, 11.5 rebounds, 5.5 assists, 2 steals, 43.5 percent from the field and 42.9 percent from beyond the arc. Expect with Heal the key guard for the Flames for Talbot to see plenty of defensive time on her.
Heal has come back from her WNBA chance with "flames" running through her and is the most important player in her Father Shane's Flames guard unit. Heal averages 16.7 points per game along with 4 rebounds and 2.3 assists per game. She is also shooting it at 36.8 percent from beyond the arc, a keystone to the Flames gameplan in creating outside open shots.
Kylie Shook vs. Rennia Davis
The Flames are ranked last in rebounding with 33 however have played a few less games than other teams. Shook is a huge key to the Lightning in this department already averaging 8 per game; her presence in the key simply put is a huge advantage to the away side.
Chelsea Dungee for whatever reason didn't work for the Flames so they have brought in WNBA draft pick Rennia Davis to fill the forward role. The 22-year-old was the number 9 draft pick for the Minnesota Lynx and for her college of Tennessee averaged 17.3 points and 8.8 rebounds per game. She is the fourth import the Flames have already signed in 21-22 after Leanna Odom and Dungee were not able to continue. She brings exactly what the Flames need and will be looking to make a huge first up impression.
Sam Simons vs. Kalani Purcell
Simons will be a known quality for the Flames particularly for Shyla Heal who she played with in the Under 19 World Cup in 2019. She has been a big part of the Lightning's 86 bench points having scored 24 of those including shooting 41.7 percent from the perimeter. She's been averaging 16 minutes per game and has forced her way into those rotations in a very competitive bench from the get-go.
Purcell has seen much more action than anticipated this season already averaging 24 minutes per game. She has been a more than handy contributor with 4.7 points, 7.7 rebounds and 3 assists per game. The New Zealand international has been in the league for over 5 years now and after starting her WNBL career at the Melbourne Boomers is a savvy signing for the Flames and its showing; beware the influence of Purcell.
The Last Strike
The Lightning can erase the demons of past seasons coming off extended breaks by coming out hard in the opening stanza and setting the tone for the next segment of their season. The bigs could conceivably really have their way with the Flames front court which will still be settling. if the Lightning are to figure as a top four contender; these games as always need to be taken care of in a league where no one sleeps on any team despite a long lay-off.