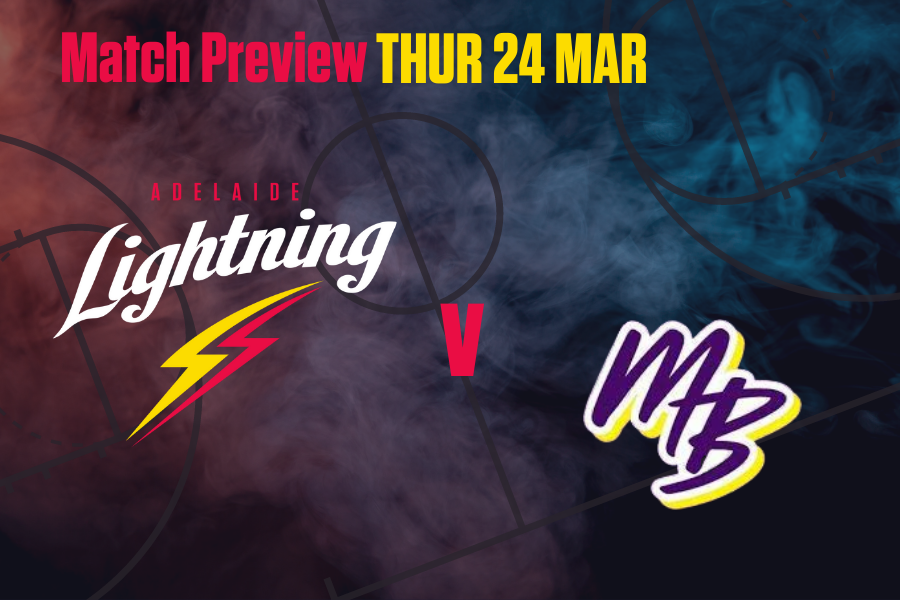 March 23, 2022 | Adelaide Lightning news
WHEN: Thursday 24 March – 6:30 pm
WATCH: Kayo, ABC iview
WHERE: Melbourne Sports Centre, Parkville   
Times they've met this season:
ADELAIDE LIGHTNING 65 (A Smith 21, K Williams 11, Simons 10, Talbot 8, Wehrung 7) DEFEATED MELBOURNE BOOMERS 53 (Magbegor 15, L Allen 14, T Mitchell 12, C George 8) at the Lights Community and Sports Centre
ADELAIDE LIGHTNING 49 (Williams 12, Talbot 10, Smith 8, Shook, Brook 7) DEFEATED BY MELBOURNE BOOMERS 72 (Magbegor 23, Mitchell 15, George 12, Allen 10) at the Lights Community and Sports Centre
Match Fact: Both teams this season in their wins kept their opposition to record low last quarter scores (Boomers 3 in game one, Lightning 2 in game two)
Key Statistics
In both games, the winning team got off to a fast start

In game one the Lightning's opening surge of 24-8
In game two the Boomers got out 14-8

In inflicting the last quarter low scores the numbers that stood out for team that lost were

One field goal made and a drop of over 6 per cent in overall match shooting percentage
More than 3 turnovers coupled with less than 2 assists
10-11 rebounds for the quarter
Less than 2 steals
Key Star Matchups
Steph Talbot vs Tiffany Mitchell
Both have battled hard against each other this season, Mitchell's presence, when she gets inside, got the Boomers going in game two of the regular season. Talbot will need to make sure she doesn't get easy passage to the keyway while also putting Mitchell under pressure with foul trouble and sending her to the pine.
Kylee Shook vs Ezi Magbegor
Ezi has dominated between these two in terms of numbers and the last battle was a reminder of how aggressive Shook will need to be. While both will play and be switched onto their opposites, whoever wins the rebound count between these two will go a long way to deciding the overall result.
Alanna Smith vs Cayla George
It's 1-1 between these two in terms of their impact and numbers with Smith's 21 points, 10 rebounds and 3 assists getting it done first up then George hit back in her 300th game with 12 points, 13 rebounds and 4 assists and both held to single figures on the opposite end. Must watch viewing as to who gets this one.
X-Factors
Sam Simons (Lightning) – her length and ability to stretch the perimeter
Lily Scanlon (Boomers) – import defensive minutes for Lindsay Allen and Mitchell if they have to see the pine
The Players/Coaches View
Steph Talbot shared with Lightning media that the build-up and excitement to the series are really starting to become real as Lightning got some ideal preparation ahead of the informed team of the league. "It's been good preparation, we had a bit of a break after the Southside game and put that behind us, everyone's looking good and pretty excited."
The Lightning has looked at those record low scoring quarters on both sides and how they can turn that to their advantage against the Boomers.
"We've looked at that a bit about what works well, what we can do to break their defence and how we can get better shots. It's going to be a team effort, they are a star-studded team, but if we bring aggression as a team as we've done most games this season for the full 40 (minutes) then I think we'll be fine."
There's no secret to who the key figures for the Lightning are in this series however don't be surprised with the depth we have for some faces to pop up and make an impact, "Lan (Alanna Smith) and I are obviously the go-to players but if we can have a third or fourth player really step up, that would make all the difference.  I'm excited to see what ree (Marena Whittle) brings off the bench as well as Sam. We are a solid team so there are a few that have the potential to bring the x-factor," continued Talbot.
Coach Chris Lucas has been pleased with the preparation and thinks that we have a good process in place for the coming days, "It was a pretty relaxed day Monday, we had a really good session this morning (Tuesday) and we are on the plane tomorrow to prepare for Thursday."
For Lucas, it's not about what's happened and who's done what, it's about what's ahead this coming week and that's where his full focus is on.
"I haven't looked at them (the numbers from previous games) not really, I think any team can beat any team in the league, so we just have to focus on what's in front of us and not look at the negatives and just move forward. It's not about individuals it's about team performance as well so I'm looking forward to a quality game."
The Last Strike
Our Captain and coach both summarised that now is the time to get behind the Lightning as we push for a first Grand Final appearance since the 18-19 season and this time the squad are ready to go, "We are better rested and ready, we need to get up for the finals as this is what we play for, so we'll be switched on and ready for these games. Melbourne is a basketball city so there's going to be a big crowd for game one but that's part of the finals and why we play this sport and I'm looking forward to the challenge of the noise against us which will be great," said Lucas.
Challenge accepted and Lightning is ready to strike…