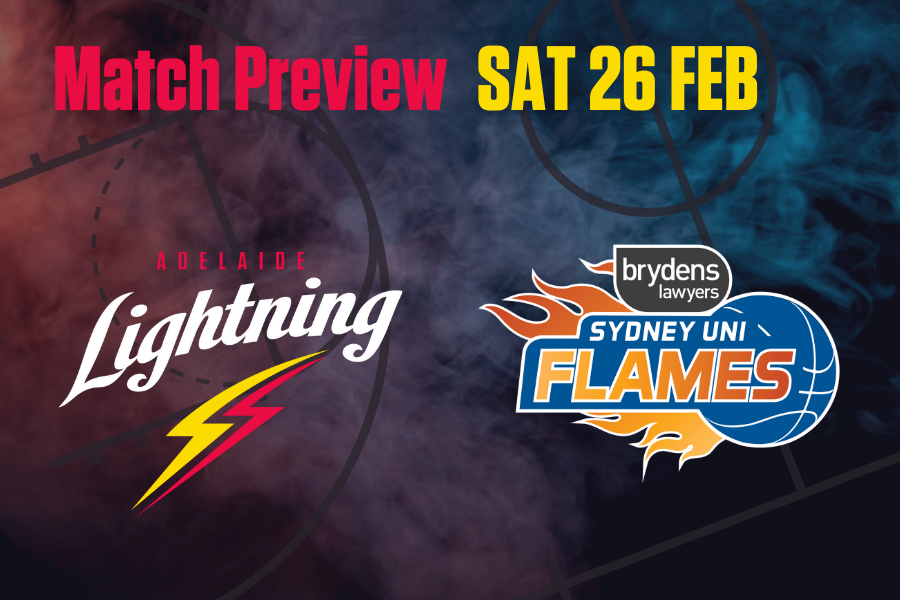 February 25, 2022 | Adelaide Lightning news
It started with thunder against the Spirit then quickly turned into a tight contest as the Lightning got themselves out of a tussle on Thursday night. With the Sydney Uni Flames having recently tested their opponents coming close to knocking off the Flyers, Fire and Boomers without getting an elusive win; The second of two road games this week can't be underestimated by Chris Lucas's women. Read more about this weekend's matchup against the Flames…  
WHEN: SATURDAY FEBRUARY 26 – 7:00PM SA TIME
WATCH: KAYO
WHERE: Hills Basketball Stadium 
Last time they met:
WNBL 21-22: SYDNEY UNI FLAMES 52 (Heal 13, Mansfield, Yaeger 10, Davis 7) DEFEATED BY ADELAIDE LIGHTNING 77 (Talbot 19, Wehrung 16, Shook, Brook 10, Williams 9) at Brydens Stadium
Key Matchups
Kiana Williams vs. Shyla Heal
Williams has really settled into the point guard role for the Lightning and its showing in her numbers. In her last four games she's dished a total of 15 assists while also adding 45 points across those games. With the Flames giving up an average of 78 points per game, its another chance for her to really stamp her influence on the game.
Heal leads in all facets for this team under her father Shane. Her numbers offensively have been strong since their last encounter having scored 19, 22, 16, 9 and 21 plus an Opals appearance or two to boot. It is interesting to note, in her two games against the Melbourne Boomers who she has scored the most, Heal has scored 10 of her 12 made attempts and 10-13 from the left side of the court. Against the Lightning last time, she was forced into 12 attempts from the right side of the court. Perhaps this is one of a few keys to stopping scoring Shyla.
Kylee Shook vs. Keely Froling
Shook has produced some dominant opening halves in recent games which as a WNBA player was much needed for the Lightning. She has had in her last two games 14 points against the Flyers in the first half with 7 rebounds and 2 blocks then against the Spirit finished with 14 points and 11 rebounds. The rebound count has started to increase for Shook notching an average of 8 rebounds in her last four games; that's an increase of 0.4 from her season average but its showing that she is starting to dominate the front court in the WNBL.
With a revolving door of imports and the latest signing US based European Maria Blazejewski still to settle, Heal turned to a Froling to deliver and Keely is having a huge last few games. She has seen more than 30 minutes per game for scores of 10 and 13 then dropped season highs of 31 and 24. The Lightning will need to put some time into the inform Froling.
Sam Simons vs. Funda Nakkasoglu
With a few injuries and absences, Simons should look to this game to take advantage when her number is called. While understandably quiet due to others getting it done for the Lightning in the team, impacting the floor through her defence and making the most of the limited shot opportunities will be key for her. After a quiet couple of offensive games, expect the talented Forestville Eagle to hit the scoreboard in this one.
Speaking of hitting the scoreboard, finally Funda got freed from the bench and did she deliver for the Flames in recent matches. Since being given more than 10 minutes a game her average has lifted from 0.4 to 13.2! That's including shooting 13 of 24 at 54 percent from beyond the arc. Funda has breathed life into the Flames and is an outside threat that must be quelled.
The Last Strike
Everyone will have had a couple of days to digest the events of Thursday night, we saw every facet of the Lightning against the Spirit and probably more than anything those last three quarters will be on the mind of most Lightning faithful.
So how do you respond to that? You rinse and repeat the first quarter against the Spirit and this time you keep the heat on the Flames. If however, you don't keep that heat on them, then you'll find the Lightning may stoke their embers and that then can turn into a danger game in the second of two road games.
And that will put the Lightning's perfect road record in some jeopardy.