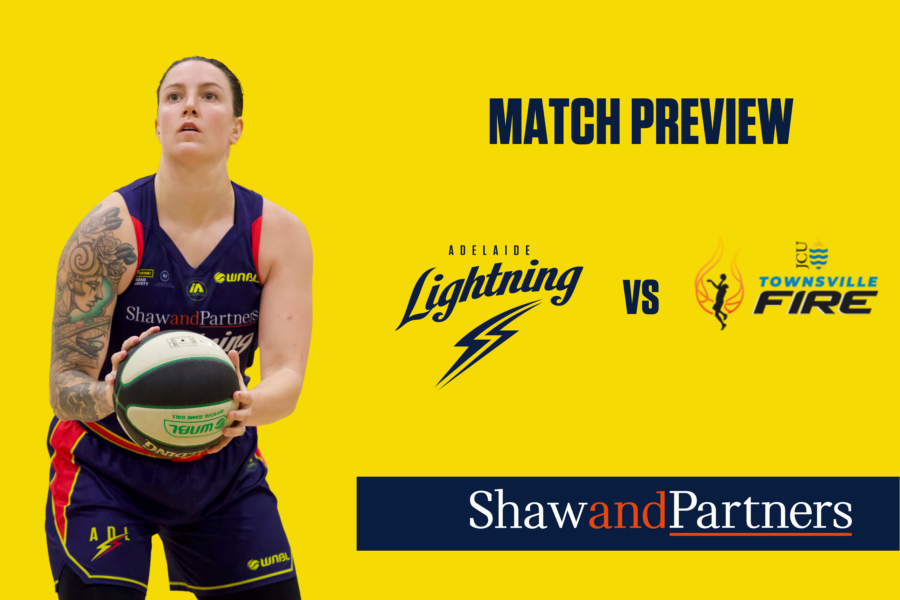 January 27, 2022 | Adelaide Lightning news
Lightning top of the ladder with their only loss coming against the Fire in their first hit-out a month ago. It's the perfect opportunity to strike back up in North Queensland this Friday night…
WHEN: FRIDAY JANUARY 28 – 7:30PM SA TIME
WATCH: Kayo
WHERE: Townsville Entertainment and Convention Centre
Last time they have met:
ROUND 3: ADELAIDE LIGHTNING 59 (Talbot 19, Shook 9, Smith 8, Williams 7) DEFEATED BY TOWNSVILLE FIRE 70 (Nicholson 24, Billings 15, Aokuso 13, Murray 9) at the Lights Community and Sports Centre
Kylee Shook noted after the last few games that her and the new players particularly Opal and WNBA Power Forward Alanna Smith now having multiple weeks and playing time in the league have settled into the season ahead. "Alanna and I have been adjusting to the league and therefore we've been able to have more impact on games," Shook shared with Lightning media.
Key Matchups
Steph Talbot vs. Lauren Nicholson
Once again the MVP of 2020 is having a blinding start to the season leading from the front. After nearly grabbing a triple double here last two games, Talbot is chalking up 14.8 points, 11 rebounds, 5.8 assists, 1.6 steals, 44.1 percent from the field and 45.5 percent from beyond the arc. She was the dominant force the last time they met with 8 points, 5 rebounds (4 offensive) , an assist and steal plus 24 in efficiency in the attempted comeback in the last quarter.
Instead of seeing Williams, Nicholson matched up on Talbot in their last meeting. That assignment didn't blunt her numbers as she produced a player of the game 24 points, 5 assists, 4 rebounds and an efficiency of 24. In the Fire's losses in the last few rounds that has been reduced to 11 points including 20 percent from the field, 5 rebounds and 2 steals. Stopping the Opal guard in waiting is a no-brainer on these numbers.
Kiana Williams vs. Sugs Sutton
Williams has gradually eased into the season and her numbers have steadily increased from the last time these two teams met. She had 7 points in 30 minutes last time wearing the tenacious Steph Reid. Williams has lifted these numbers to 11 points per game along with a solid 38.5 percent from beyond the arc.
Missing the first game, Sug Sutton will be keen to impact this one. After three games her numbers have been solid averaging 10.2 points, 5.4 rebounds and 5 assists. She's a pass first guard from the numbers and what we've seen so far and compliments the Fire. Her impact versus our guard will be a crucial match shifting momentum one if based on form the front court breaks even with each other.
Chelsea Brook vs. Nadeen Payne
The Brook we know and love really came to life offensively and defensively the last few games and she saw more balls through the hoop and time on court than anytime this season. It started by seeing roughly an extra eight minutes of court-time against the Boomers and Lynx and that has yielded a total of 18 points from the bench along with her usual high percentage from the field of above 50 percent. Brook then continued that on against the Flames with early action from the pine with 10 points and 4 rebounds. A Brook flowing from the pine is the depth Lightning requires and in the last few games she has engaged her scoring mode; let's hope that continues for the loyal Lightning forward.
Payne has caused problems for the Lightning in the past in home games. Most games Payne has played against her old side she has had a habit of splashing an inopportune triple; we recall her reeling off a stack for the Lynx back in 2019. She hardly made a splash in the first encounter (1 point and 5 rebounds) so that does worry us a little those hits from outside will fall against Lightning this Friday; she must be watched with caution.
The Last Strike
Now is the chance for the Lightning to grab an early gap between the competition with a win against a contender away from home, an opportunity not going under the radar for our import centre Shook. "It'll be nice to knock them off on their home floor, it'll be a good game going down to their house," Shook summarised this Friday's contest.
It's been a mixed record against the Fire having won 3-2 since the start of the 19-20 season. With the double header looming this weekend, starting by knocking off one of the two grand finalists from on their home floor will have the eastern states looking at an emerging contender for the 21-22 season.