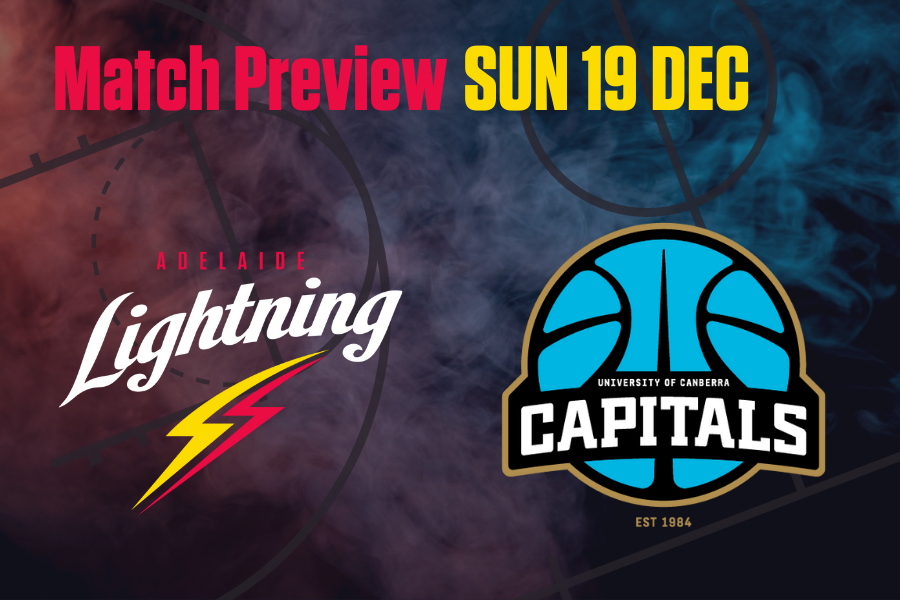 December 18, 2021 | Adelaide Lightning news
There's been plenty of time to readjust and prepare for our first away clash of the season against the University of Canberra Capitals and while several key Capitals are missing from last season the returning ones will be a danger to the Adelaide Lightning…
WHEN: SUNDAY DECEMBER 19 – 3:30PM SA TIME
WATCH: KAYO Freebies
WHERE: National Canberra Convention Centre
Last time they have met:
WNBL 2020: UC CAPITALS 85 (Rocci 18, Griffin 15, Tolo 12, Smart 10, Ruef 9, Melbourne 7) DEFEATED ADELAIDE LIGHTNING 65 (Talbot 21, Brook 14, Whittle, Wehrung 7) at Townsville Stadium
The signs out of last week's comeback should spark some hope for the Lightning that they can take down the Capitals Sunday afternoon. Seattle Storm WNBA recruit Kiana Williams with one game out of the way is settling in well to her time in the WNBL and Adelaide after a tough first up encounter with the Townsville Fire's Lauren Nicholson and Steph Reid.
Key Matchups
Kiana Williams vs. Brittany Sykes
The WNBA matchup between these two is looming as a must watch. Williams came to life in the second half with some big points and plays and showed when she is aggressive and pushes the ball in transition, she'll be a weapon for Chris Lucas against the league's other guards.
Sykes who averages 10.8 points and 4.8 rebounds per game in her WNBA career and currently plays with the Los Angeles Spark started her WNBL career with 16 points, 7 rebounds and 3 assists. Williams knows that her and the team will need to take care of her.
Kylee Shook vs. Mikaela Ruef
Offensive rebounds killed the Lightning last week giving up 11 to the Townsville Fire which out of those created 16 second chance points. WNBA Import Kylee Shook will be crucial in this area against the Capitals having collected 14 rebounds last week on debut along with 9 points plus along with the Captain was the most efficient player with a score of 22. Shook as predicted was solid and will create those second chance opportunities for the Lightning this weekend.
Standing in her and the Lightning's way is the ever-reliable Ruef; a known commodity in the WNBL. Ruef grabbed 8 rebounds in the Capitals first game, but more alarming was that 5 of those were offensive rebounds. Some serious boxing out and bodying out will be needed to keep the Ruef on the ground as opposed to the backboard.
Marena Whittle vs. Jade Melbourne
Two spark plugs for either side will have a huge impact off the bench in this one and for the Lightning, Whittle turned last week's game through her hustle and desire. Whittle played seven minutes in the final quarter grabbing 4 points, 2 rebounds and assists and one block along with several other pressure type acts on the Fire. Expect her to bring the same when the Lightning need a lift especially against the Capitals fellow utilities in Brittany Smart and of course the other spark plug in Melbourne.
As a Capitals player you'd have to be affected by the infectious enthusiasm and play of Jade Melbourne and no doubt she can ball as well. Having also gained an Opals squad spot during the 2021 Asia Cup, she opened her account last week with 8 points and 4 rebounds. Melbourne will charge Canberra and her influence must be quelled if the Lightning are to prevent the Capitals from going on long match winning runs.
The Last Strike
The work has been done this week off the floor and the Lightning will be keen predictably to open their account for the season. Given all the above matchups, the key overall will be to stop the returning combo of Kelly and Kelsey which yielded 17 points and rebounds whilst adding 9 assists for Wilson and Griffin. The Capitals have plenty of weapons and engine runners to stop however in recent historic nature, games between these two have always been close contests so expect that for your Sunday afternoon viewing.