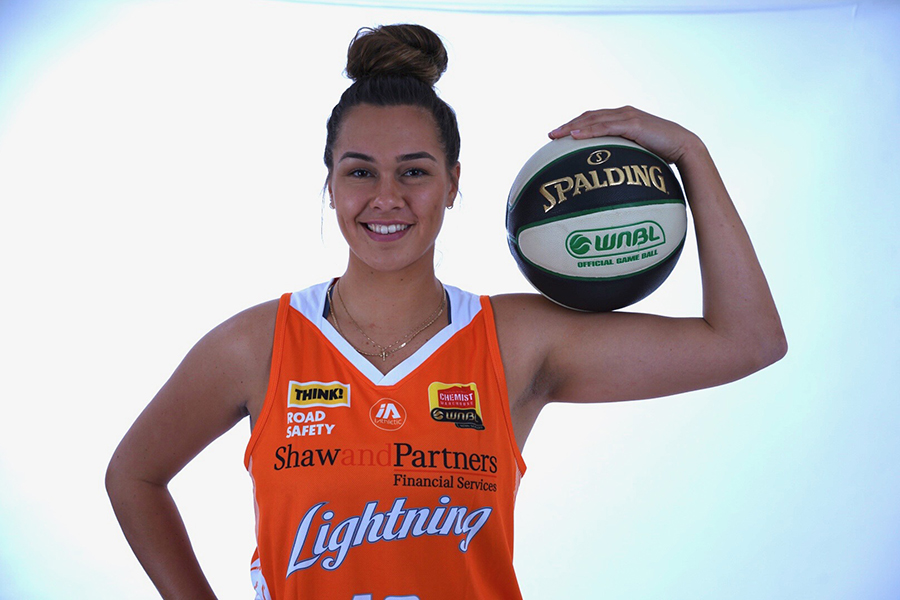 November 27, 2019 | Adelaide Lightning news
NEW Adelaide Lightning import Kathryn Westbeld has big shoes to fill, but coming off an NCAA championship and another in Puerto Rico, she's confident it's "three times is the charm" in the WNBL.
Westbeld, 23 and a 188cm US "big", replaces Crystal Langhorne who had surgery last month for her knee injury and will not be returning in Season 2019-20.
A teammate of current Lightning import Brianna Turner at University of Notre Dame, Westbeld was instrumental in the Fighting Irish's 2018 NCAA championship success, before this year claiming her second championship crown with Atenienses De Manati in Puerto Rico.
Arriving last Friday, Westbeld missed the home loss to Melbourne Boomers but will debut on Sunday against league leader Southside Flyers, the revamped former Dandenong Rangers.
"I'm really excited to be here," she said.
"I'd heard great things about this league, that there were a lot of WNBA players in it and that it is very tough."
Westbeld had a training contract with the WNBA's Los Angeles Sparks before playing in Puerto Rico.
She replaces Langhorne, who opened the season with an impressive 20-point, 13-rebound double-double in its 89-79 win over Sydney Uni Flames before pulling up sore, having aggravated a pre-existing knee injury which required surgery.
"I know I'll be trying to fill some pretty big shoes," Westbeld said.
"But I think I will be a smooth fit for Adelaide. The team and Bri (Turner) and the entire coaching staff have been working with me."
Westbeld said coach Chris Lucas had her on a fast-track with the team's offences and she had adjusted now to the time difference, having flown from Dayton, Ohio to Dallas, to Los Angeles, to Sydney and Adelaide.
"Kathryn is exactly the player I was expecting," Lucas said.
"She suits our group. I'm confident she'll bring some balance back to the group and help our defensive rotations too."
Westbeld will wear the same number 33 she wore en route to her college and Puerto Rican championships.
Cracking the WNBA is not a burning desire for the talented rebounder.
"I'll kind of just see where the wind takes me," she said.
"I mean, I was preparing for life after basketball when I left college and look what happened."
What happened was contracts to play in Spain, Puerto Rico and now Australia.
Lightning warrior Laura Hodges, who is returning to the line-up this season after a two-year hiatus but has been out injured with a calf, is a chance to also suit on Sunday against Southside.