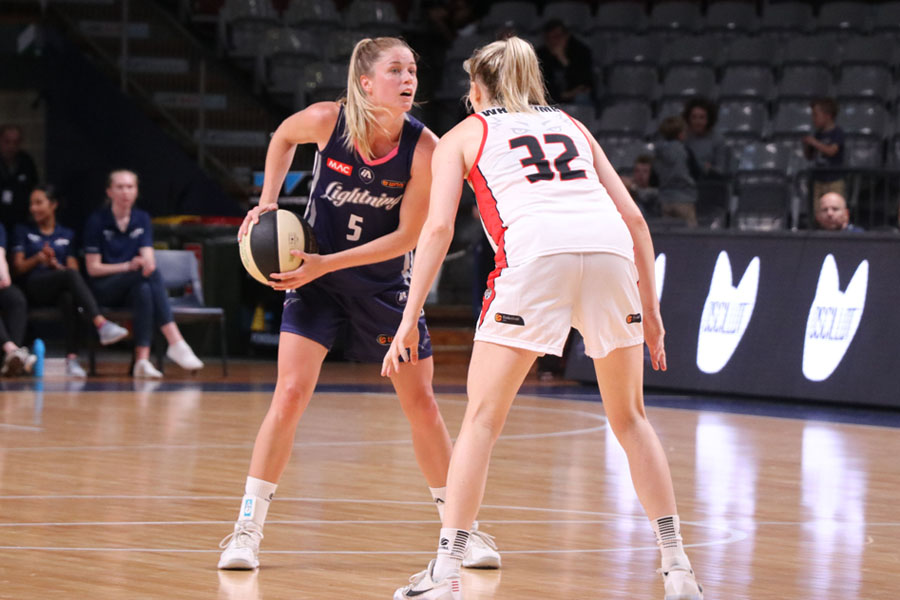 December 2, 2017 | Adelaide Lightning news
Benito Carbone @BurritoCarbone
The MAC Adelaide Lightning failed to build on their impressive performances on the road, falling short against a classy Perth Lynx outfit, 74-89.
Perth's usual suspects stood tall yet again.
Courtney Williams had 22 points, with captain Sami Whitcomb (19 points) and Opal Alice Kunek (16 points) also dealing in large numbers.
An even spread of scoring saw five lightning players accumulate double digits, but to their detriment none of which were able to go on and register a match-winning score.
Coach Chris Lucas highlighted this in the post-match presser.
"In the first quarter we played some really good basketball but we didn't stay with that. I just felt like we were waiting for someone else to step up.
"Abby was unbelievable in the first quarter but we didn't go back to that. There was no one else prepared to take the game on," said Lucas.
"People were catching to pass instead of catching to score."
The top-of-the-table Lynx opened the scoring immediately through Kayla Standish, but the hosts quickly settled through none other than their captain.
Bishop (12 points, 11 boards) piled on 10 first-quarter points in a frenetic term as Lightning shot out of the blocks to open up a quick 10-point buffer.
However, the visitors showcased their quality in spite of some extra attention on Williams, pulling back to end the stanza just two points down.
Aimie Clydesdale (12 points) proved her value as a starter, burying a corner three as time expired to extend her team's lead.
But the class of the league leaders sparkled yet again. Hot hands from Whitcomb and Williams saw Perth not only gain the lead but extend it, as the Lightning entered the third term down by six.
In the paint, Bishop and Ruth Hamblin (13 points, 10 rebounds) toiled hard but found the going tough up against the likes of local Olivia Thompson, as well as Natalie Burton and Standish.
Although Adelaide remained solid defensively in the penultimate quarter, their offence went cold.
A late flurry of points led by Hamblin somewhat stemmed the bleeding, but plenty of work had to be done to overturn a 10-point deficit in the final period.
With the match on the line, the Lightning began to throw the kitchen sink at Perth to some effect.
Baskets from Clydesdale, Seekamp and Lauren Nicholson (10 points) were asking the right questions of the Lynx, but the visitors had done their homework and had all the answers, crushing Adelaide's spirit.
MVP-contender Williams was at her brutal best late on, as her and Kunek converted prodigiously under pressure to knock the wind out of the home side's sails.
The 15-point loss will prove tough to swallow for Lucas, but he is confident the group will put today's 25-point turnaround behind them when they make the difficult trip up to Queensland to face Townsville in five days' time.
"You don't have to worry about this group. They're pretty self-motivated and they know what's required.
"There's a couple of people down tonight, but that's the strength of our group, [the girls] will be ready to go."