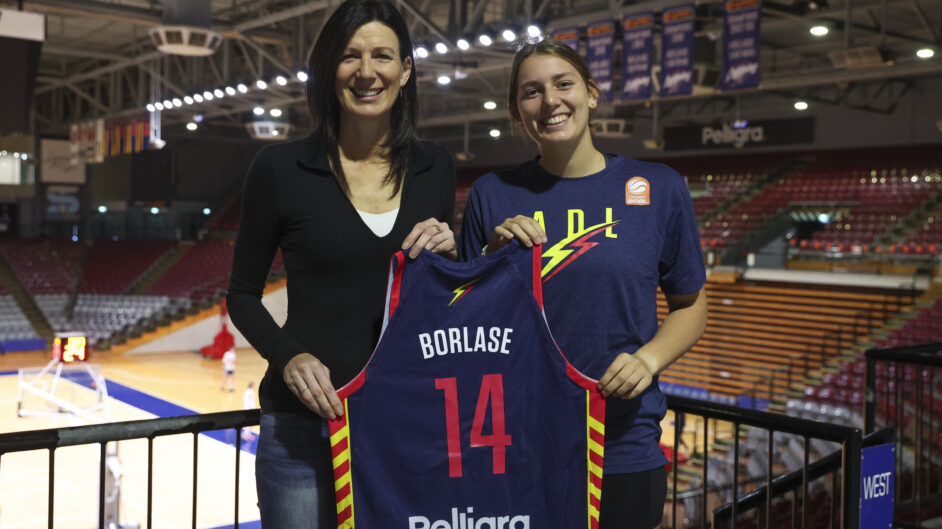 September 11, 2023 | Adelaide Lightning news
In a ground-breaking announcement that will undoubtedly resonate throughout the basketball world, Rachael Sporn, an iconic figure in Australian women's basketball, has chosen to un-retire her legendary number 14 Adelaide Lightning jersey. This historic decision opens the door for the exceptionally talented Isobel Borlase to carry forward Sporn's storied legacy by donning this legendary number.
Rachael Sporn, renowned for her extraordinary skills, leadership qualities, and numerous contributions to Australian basketball, retired from the sport in 2004, leaving behind an unparalleled legacy. Her retirement marked the end of an era for the Adelaide Lightning, a team where she played an indispensable role in its success, securing four WNBL championships in 1994, 1995, 1996, and 1998, as well as a WNBL Championship with the North Adelaide Rockets in 1990.
The decision to bring her iconic number 14 jersey out of retirement is not only a testament to Sporn's unwavering dedication to the sport and her commitment to nurturing young talent but also to the extraordinary young talent Isobel Borlase.
In a heartfelt statement, Sporn expressed her enthusiasm for this transition:
'I was incredibly honoured to have no. 14 retired by Adelaide Lightning in 2007.
Bringing no.14 back on the floor for a player of the calibre of Izzy Borlase was a decision that made a lot of sense. Izzy will be able to adorn a number which already has great meaning for her and she has shown that she will have longevity in her career in the WNBL and beyond.
Even at such a young age, Izzy is a wonderful role model on and off the basketball court.
Izzy has many attributes that I admire, namely a great work ethic and integrity.
I am so looking forward to seeing no.14 in the Lightning colours again!'
The unretirement of Rachael Sporn's number 14 jersey is an exciting development for both the Adelaide Lightning and the WNBL. It serves as a reminder of the rich history of Australian women's basketball while also highlighting the bright future ahead.
Isobel Borlase who now is set to wear the legendary number, expressed her gratitude to Rachael. 'I feel very grateful that Rachael has thought to bring her number out of retirement for me to wear. She is a legend of lightning and Australian Basketball and I'll do my best to continue the legacy of number 14.'
The Adelaide Lightning's General Manager, Reece Turner, also expressed his support for this momentous decision, saying, 'Rachael Sporn's contribution to the Adelaide Lightning and Australian basketball is immeasurable. We believe that Isobel Borlase is the perfect athlete to honour her legacy, and we are thrilled to see the number 14 jersey back in action.'
Fans of the Adelaide Lightning and women's basketball enthusiasts alike eagerly await the upcoming season to witness Isobel Borlase wear the number 14 jersey and continue the legacy of greatness established by Rachael Sporn.
There's no better time to jump on board with the Lightning, sign up for a membership today;
https://am.intix.com/adelaide-lightning