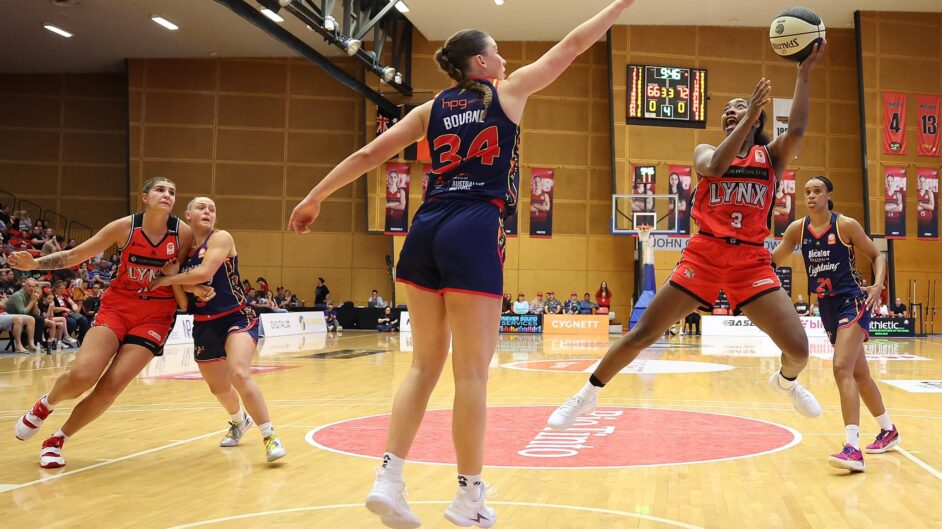 November 13, 2023 | Adelaide Lightning news
With another away game for the Adelaide Lightning, a head-to-head clash was played at Perth Lynx home soil. Right from the get-go, the basketball played at Bendat Basketball Centre was gripping.
FIRST HALF
The first half saw the Lightning put on a show. Winning the tap, Isobel Borlase scored within the first five seconds of the game, setting a fast-paced tone for the opening quarter. Following Borlase's flying start, Liz Tonks and Tayla Brazel hit back-to-back threes to extend their lead even further. Brianna Turner's rebounding was elite, gathering eight in the half. With some great ball movement and execution on the offensive end, the Lightning set themselves up with a ten-point lead at quarter time.
During Lightnings push, the Lynx were never far behind with Anneli Maley scoring the first four points for her team, building the Lynx intensity. This was shown on the defensive end, creating eleven defensive stops in the second quarter, the Lynx were closing the gap. Amy Atwell and Anneli Maley starting strong, led their team back into the game.
At the half time break, the score line was now just two points.
SECOND HALF
As the second half got underway, the Lynx defensive intensity was at a high. Their pressure forced the Lightnings execution on the offensive end to drop slightly, closing the lead again. With continued effort throughout the game, Anneli Maley was a huge difference on the boards. Finishing with thirteen rebounds and seventeen points, she created multiple opportunities for the Lynx. Following suit, Aari McDonald had one of the biggest second halves seen in this WNBL season. Hitting some crucial shots, McDonald had an astounding double-double, consisting of twenty-nine points and eleven assists.
The Lightning focused on their execution and displayed some classy looking basketball. With Lauren Mansfield creating for her team, Borlase and Bourne capitalised at the offensive end. Borlase especially, finishing with twenty points and four steals. This fight was also seen in Brianna Turners impressive double-double, finishing the game with a huge twenty-three rebounds and fourteen points which kept the Lightning in the hunt.
A noteworthy highlight was the block fest put on by Borlase, Turner & Brazel. In one of the Lynx's offenses, three consecutive shot attempts were absolutely denied by two athletic blocks from Turner and one from Borlase.
With an eventual Lynx victory over the Lightning, this game was a nail bitter. Coming down to the dying minutes of the game, both teams fought hard with some of the biggest stats listed so far, this WNBL season.
For the Adelaide Lightning fans, our next game is a home game held at the Adelaide 36ers Arena against the Southside Flyers. Tip off at 6:00pm, be sure to grab your tickets here and support our team, fighting for their next victory. (Also streamed on 9NOW).