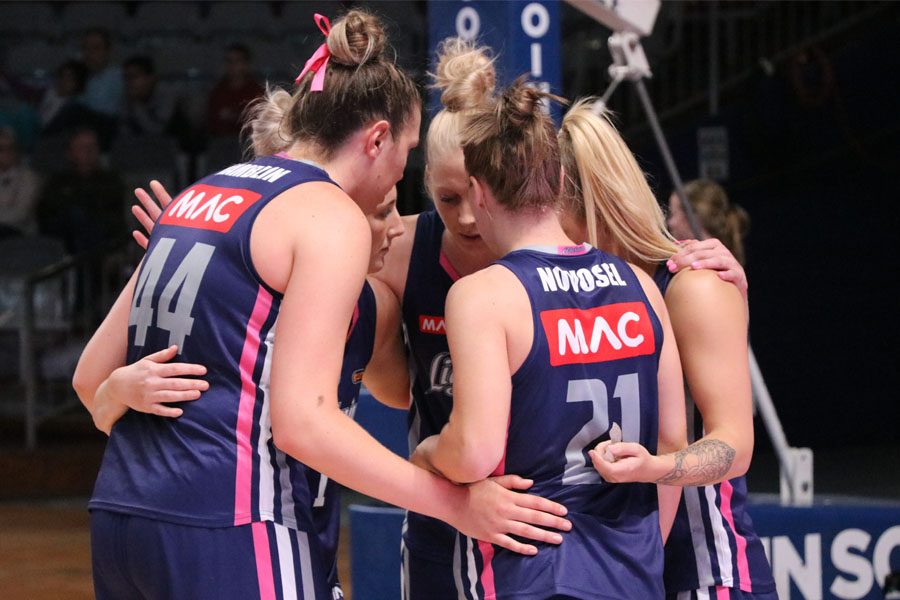 October 20, 2017 | Adelaide Lightning news
Enjoy double action for the price of one game on Saturday, as the Adelaide 36ers and the Adelaide Lightning play off back-to-back in front of a home crowd at Titanium Security Arena. The Lightning kick the blockbuster event off at 2.30pm when they take on the Bendigo Spirit. It will be Chris Lucas' first game back at the helm as head coach, since he beat cancer. At 5.00pm, the Adelaide 36ers battle it out against the Sydney Kings. The last time the pair meet, the 36ers were the victor by 9-points.
night.
Venue:
Titanium Security Arena
Parking:
The Titanium Security Arena car park opens at 1.00pm and costs $10 per car, with cash, Visa or Master card accepted. A season parking pass can be purchased for the entire season including finals for $120. Please ring the Adelaide 36ers office on 8268 3592 to purchase.
Timeline:
1.00pm –  Carpark opens
1.30pm – Doors open
2.30pm – Adelaide Lightning vs Bendigo Spirit
5.00pm – Adelaide 36ers vs Sydney Kings
Tickets:
Tickets are still available, but are selling quickly. Avoid disappointment at the gate and purchase your ticket now at Ticketmaster.
Merchandise: 
The Adelaide 36ers and Adelaide Lightning's brand new 2017-18 season merchandise will be on sale on game day. Grab your new jersey and even get it personalised with your favourite players number and name at the game!
Social Media: 
We want to see game day through the 36er and Lightning Family's eyes, so make sure you get social! Tag #WeAreSixers and #ReadyToStrike in any photos, status updates or tweets you post during game day, so we can keep track of them.
Bistro
This Saturday night the bistro opens at 6.45pm after the game. Secure your table after the blockbuster double header by booking in advance. To book, please call (08) 8331 5277 or email reservations@titaniumsecuritycatering.com.au. To find out more about the bistro here.
Competition: 
50:50 Lottery
The Adelaide 36ers Win 50:50 lottery is back and opens at 9am tomorrow morning. To purchase your tickets, all you need to do is jump online at www.win50-50.com.au. At the game, you can simply get on your mobile from the comfort of your seat and enter for your chance to win up to $5k. All proceeds raised goes to the Shooting Hoops Foundation supporting community basketball programs in SA.
Coke Competition
Want to watch the 36ers' next home game against Illawarra Hawks on Saturday, 11 November on in style? Purchase a refreshing Coca Cola product at the game and hold it high above your head at three quarter time. A lucky winner will be selected from the crowd to sit in the exclusive Coke Seats
MAC Random Seat
At half-time of the Adelaide 36ers game one lucky fan will be selected in a random seat draw to win a signed Adelaide 36ers jersey.
Nexgen T-shirt Giveaway
Keep an eye out for Murray the Magpie who will be shooting out Nexgen t-shirts into the crowd.
Win a Chemist Warehouse $50 voucher
Bring along your Adelaide 36ers rally towel that you received Round 1 and wave it around for your chance to win a Chemist Warehouse $50 voucher.  
Shoot-out with Chad Wingard  
At three-quarter time at Adelaide Lightning's game, a lucky fan will be selected from the crowd to have a shoot-out with Port Power legend Chad Wingard for a double pass to the Adelaide 36ers next home game.
Conditions of entry to Titanium Security Arena
Please note that as a condition of entry to Titanium Security Arena that all bags and other carriers are allowed to be searched for prohibited goods by authorised representatives. Please follow the link for more information about entry.
Prohibited food and beverages
Commercial food is prohibited inside Titanium Security Arena and patrons found to be in possession of foods deemed commercial will have it confiscated by authorised arena staff.  Commercial food includes takeaway items such as McDonalds, KFC, Dominos pizza, Subway etc. Home-made food is allowed, as well as snacks like fruit, lollies, chips etc. Waters bottles are accepted.
Need help finding your seat?
There will be a team of ushers stationed inside the arena to help you find your way around.
How to watch
If you can't make it to the game, you can watch the Adelaide 36ers take on Sydney Kings live on Foxtel 503 or SBS Viceland.