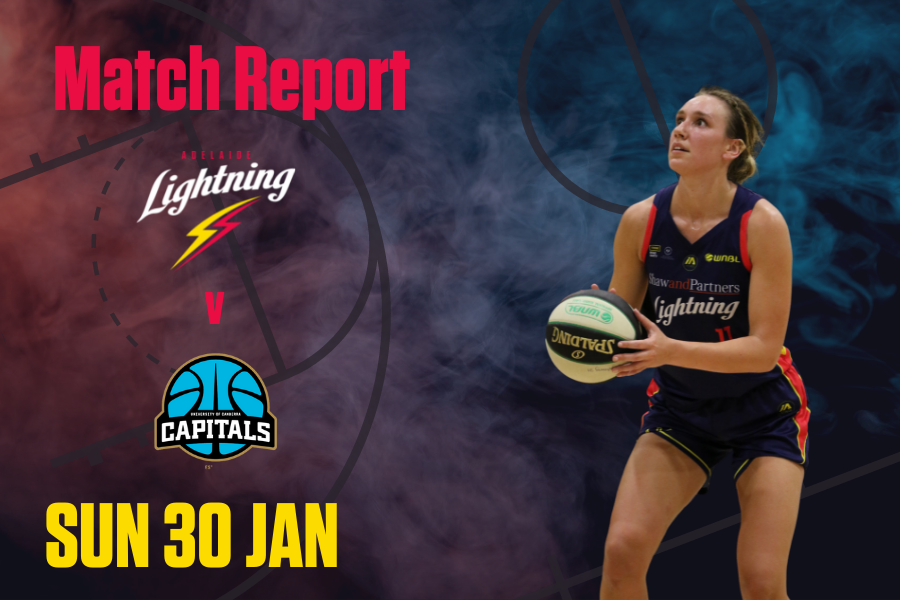 January 31, 2022 | Adelaide Lightning news
A commanding performance from former Lightning big Mikaela Ruef halted the Adelaide Lightning's winning run at five games with the UC Capitals outlasting the home side 67-80 at the Lights Community and Sports Centre…
Ruef was dominant from tip off finishing with 20 points at 64.3 percent, 10 rebounds including a handful of 6 offensive rebounds and an efficiency of 29. Not far behind her was Brittany Smart who had hit some dangerous recent form and in draining a couple of fourth quarter daggers nailed an exhausted Lightning to the floor with 17 points including 5 of 10 from beyond the arc. The Lightning were led by their incredible Captain Steph Talbot with 11 points, 8 assists and 4 rebounds, Alanna Smith with 12 points, 8 rebounds and 5 assists and 4 blocks and a hot shooting 11 minutes off the pine from Taylor Ortlepp with 12 points on 4 of 5 shooting beyond the perimeter.
THE WRAP Q BY Q
Reuf started off her big afternoon with two with Talbot striking an early two and Kelsey Griffin who missed last time they played going early. Kylee Shook dropped a two and Smart nailed her first triple continuing with her good recent form then found another basket in transition. Alanna Smith started strongly at the rack; but Reuf was causing problems early. WNBA import Brittany Sykes had two quick fouls and Smith took advantage with the finish off the glass. Talbot then found Sam Simons on the beautiful cut and Smith again caused issues for the Caps front court with a couple of strong takes. Chelsea Brook made a triple making it a 7-0 run before Alex Bunton and Kelly Wilson grabbed a couple back-to-back to give the Caps a 17-18 lead at quarter time.
Abbey Wehrung and Smith opened from the charity stripe and paint respectively with Jade Melbourne nailing one from the corner. Wehrung continued a strong start with a pull up J but Sykes first triple of the afternoon and some careless turnovers made it a 0-5 run and timeout was burned by Chris Lucas. Marena Whittle came out of the timeout aggressive with a turnaround two then a post-up layup with Wehrung then hitting the high arc off the window. That's when Taylor "Tay" Ortlepp shook the Caps off harder with a stare down triple on her opponent to ignite an 8-2 run and timeout was used by Paul Goriss. Talbot extended it with another jumper, Wilson finally halting the run with a driving layup then Simons cut hard to the hoop again to make it. Smith received a nice one from Talbot but with the Lightning trying to grab a last second bucket the Caps Tahlia Tupaea stole it and missed the layup, but Reuf just beat the clock and at the half the Lightning had a slight edge 40-33.
Ruef started as she did the first with a bucket as did Smart with another triple with Simons answering with a triple of her own. Talbot dropped the next deuce before Griffin powered her way in then Sykes added to it. Smith reinserted herself grabbing the and1 off the patient offence however it was Ruef again who posted up. Shook did the same, but Ruef was having the afternoon of anyone, and she showed her range with a bank off the glass triple. Tupaea then did the same with one of her own, Sykes edging the Caps back in front with her drive. Wilson made that a 3-12 run and Lucas needed to steady the ship calling timeout. Bunton responded with a couple but again Ortlepp beat the winding down clock with a timely triple to make it a 56-58 ball game at three quarter time.
Ortlepp then struck with her third triple of the afternoon then a fourth at the start of the fourth. Smart then rained one down herself, Ruef once again popped up for step-back then Sykes made one of her own for a 7-12 run and another timeout was called by the Lightning. That didn't stop Brittany as she got smart and nailed back-to-back triples out of the timeout which pushed the margin for the Caps out to 63-78 with 3:15 left. Talbot struck a triple late, but Sykes sealed it with a runaway two and the Caps had snapped our winning streak 67-80 in the finish.
THE MOMENTS LIGHTNING STRUCK
In the second quarter the Lightning won 23-15 including an 11-0 run setup by 9 rebounds, 6 assists, an increase of 22 in efficiency plus 54.8 percent from the field including 66 percent from the paint
Wehrung's second quarter was flawless in that run with a perfect 8 points (2/2 and 4/4 FT)
THE PLAYERS VIEW
The second quarter was the big positive takeout of the loss with again the Lightning able to execute their offence through defensive pressure. "I think it was less of the points in the paint and more our defensive pressure with getting stops and then getting out and running which, we like to do." Talbot told Lightning Media post-match.
No doubt the fatigue and the extended time of play in Townsville and a late arrival the previous day caught up with the Lightning in their fourth quarter performance. "It was a big road trip and we only arrived back at 5pm the previous day, we definitely were tired, however we also need to find ways to score when that happens and find a way to get the win. We also needed to get stops to do what we wanted to do and we simply didn't do that. They hit some big shots which was a stab to the heart so next time we play them we have to find a way to get over the screen and not let them find rhythm." Talbot summarised the fourth quarter fadeout.
WHEN THE NEXT STRIKE COMES
Sadly, the winning streak of five came to an end to a very well drilled and prepared Caps team but that shouldn't disdain the spirits of the Lightning faithful. The confidence that Lucas exudes into calling up the next player in line showed again today with Ortlepp shining and shooting with no fear and Smith again has hit some solid form heading to the FIBA World Cup Qualifier Window.
Talbot and Smith will head for Opals camp this week and our Captain is excited to get another opportunity to show what her and Smith can do in the green and gold after the Tokyo games. "Every time you pull on the green and gold it's exciting, Lan and I are going to camp tomorrow and just looking to put our best foot forward to make that team that heads to Serbia."
With two key pieces gone, the depth will be tested but as Lightning have proved this season; they have the ability to cover that and the hunger of the bench brigade will be craving those extra minutes and opportunity to show what they can do on the WNBL stage.
ADELAIDE LIGHTNING 67 (Smith, Ortlepp 12, Talbot 11, Wehrung 9, Brook, Simons 7) DEFEATED BY UC CAPITALS 80 (Ruef 20, Smart 17, Sykes 13, Bunton 9) at the Lights Community and Sports Centre