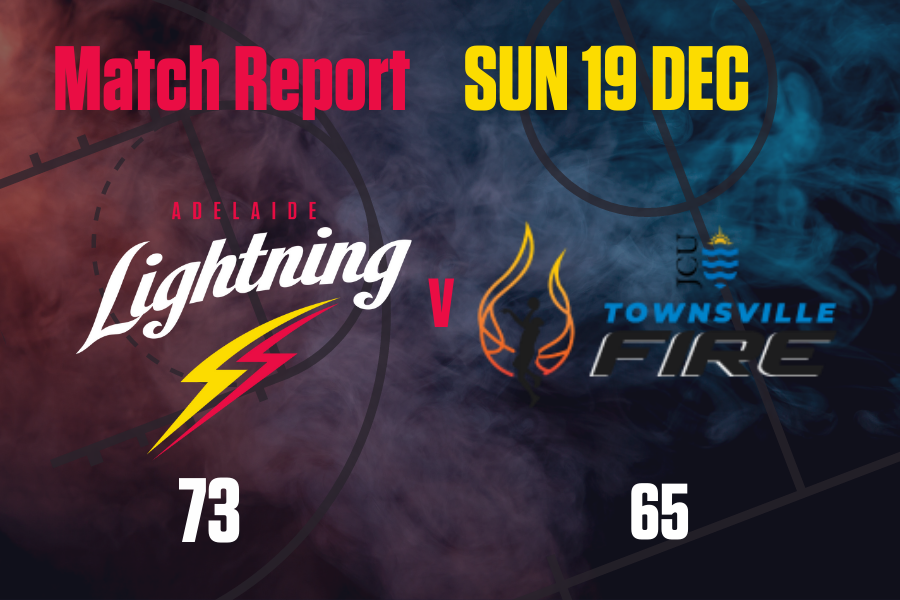 January 29, 2022 | Adelaide Lightning news
A movie we'd seen before from the Townsville Fire didn't quite go to script as the Adelaide Lightning snuffed out any chance of a comeback win but had to wait till overtime to get it done 65-73.
The game had varying individuals that stepped up for both teams with Alanna Smith scorching in the second half with 18 of her 21 points and 11 rebounds to finish with a double double. Kiana Williams was consistent with 13 points including three triples while Steph Talbot once again was on triple double watch finishing with 13 points, 9 rebounds, 6 assists and 3 steals. Monique Billings was unstoppable all night until the last few minutes finishing with 27 points at 58 percent from the field, 7-9 from the free throw line and 7 rebounds and along with Lauren Nicholson (15 points, 3 assists and 2 rebounds) made it a contest in the second half. Kylee Shook however had the final say in the overtime period.
THE WRAP Q BY Q
Abbey Wehrung broke a two and half minute drought for both teams with Smith making sure getting inside the paint early was an arduous task for the Fire. Talbot chalked up a second steal assisting Smith to an and1 which she converted with Williams opening her account with a triple. Billings grabbed the Fire's first field goal then her and Zitina Aokuso levelled things up before Chelsea Brook dropped a bomb from deep to get her going. Taylor Ortlepp a new Flame in NBL1 West fired off a late triple to give the Lightning an 8-14 lead after one.
The Fire started with New Zealand international guard Micaela Cocks who was breaking the all-time games record (229 overtaking Rachel Flanagan) for the home side in the second with Williams knocking her second triple to open scores for the quarter. Marena Whittle got a late birthday present getting to the charity stripe and dropping a free throw before Sugs Sutton got one to drop from mid-range. Billings was causing problems like the first game clash with a pair of buckets with Lightning edging ahead at the charity stripe. Sutton dropped a nice mid-ranger before Wehrung grabbed another one just to keep a fingernail ahead in a low scoring opening half. Nadeen Payne struck outside the arc before Shook backing down on Payne inflicted the aforementioned by grabbing the layup to keep the Lightning just ahead 21-24 at the long break.
Billings continued a hot shooting night dropping the first of the third with Smith returning to court after two early fouls and grabbing an and1 instantly. Williams must have gotten the pre-game script as she hit another triple in the third before Smith found an easy opening cut. Mia Murray dropped her first three of the night, Talbot made another deuce to get it back out to double figures before Nicholson grabbed amazingly her first points of the night. The Fire stung responded with an Aokuso block on Shook with both teams unable to capatilise on multiple offensive rebound possessions. Smith scored again with Billings answering for the Fire with Nicholson igniting the home side again for an and1; the Lightning dodging a fireball from Billings on three quarter time to hold the lead 37-44.
Talbot knocked an early triple before Steph Reid returned her own to open the fourth. The Fire roared back into the game with a 10-3 run and timeout to Chris Lucas and an opportunity to address about the full court press defensive strategy. Billings gave Fire the lead with another bucket, Smith responded then Nicholson dropped a pair of hits and Billings dropped the money again and the run was 18-5. Desperate to stem the onslaught, Lucas turned to his WNBA and Opal power forward in Smith and she obliged spinning her way into the paint with a bucket then a mid range. Cocks then celebrated her special night with a huge triple but Smith would not let it go with a triple of her own. The final minutes of regulation were frantic with Wehrung droving and finding Talbot who was fouled. The Fire won it back but Talbot stole the ball back with Nicholson's head hitting the floor and leaving her a little worse for wear but she played on. Talbot went to the free throw line where she made one to tie it 59-59. Lightning won the ball back off the second missed attempt through Smith but Williams lost the handle on the drive and a jump ball was forced. Smith did enough to worry Sutton out of the pass to Murray in the corner and the Lightning forced overtime.
Wehrung started overtime by attacking the rim hard but got worried out of it with Shook grabbing the offensive rebound then bodying her way to the hoop for the finish to kick it off. Aokuso tied it again with a long mid-range with Shook then Nicholson trading hoops from different plays. Billings scored again then Shook shaked her opponent off the three-point line for a mid-range swish. She followed that up with a huge defensive block but Nicholson got a good look and luckily for Lightning missed. Williams however didn't driving to the hoop and grabbing the and1 but coming up proppy from the contact and being helped from the court. Brook and Talbot iced free throws and a fifth win in a row on a hostile floor was accomplished 65-73.
THE MOMENTS LIGHTNING STRUCK
The Lightning jumped out to an early 2-8 run exposing the Fire forcing five turnovers and holding them field goalless
The third quarter belonged to Alanna Smith as she reeled off 9 points and 6 rebounds after sitting most of the first half on the bench with foul trouble. She also dropped 9 points in the fourth as she dragged the Lightning back into the contest late.
Kylee Shook came to the party late to help Smith push the Lightning to a 6-14 overtime period; she came up with 8 points in that stanza in a huge finish for the fifth
THE PLAYERS VIEW
Alanna Smith summed up the challenge of coming up to a place like Townsville and getting a win on the opposition's home floor in a front of raucous fans. "It's tough playing another team on their own court, but we stuck together and manage to get through it. I think we are the youngest team in the league, so it shows that we love the fight and a group of girls that love to be round each other." Smith spoke to WNBL broadcasters' post-match.
WHEN THE NEXT STRIKE COMES
34 turnovers and both teams shooting 30 percent between both sides was not pretty basketball to watch however again for the Lightning when push came to shove, they responded through someone on their roster. This game it was Smith 'N' Shook, a combo that is starting to cause some concerns for their opposition and well…
Will have Sunday the Canberra Capitals coach Paul Goriss and his panel THINK!
TOWNSVILLE FIRE 65 (Billings 27, Nicholson 15) DEFEATED BY ADELAIDE LIGHTNING 73 (Smith 21, Shook 14, Talbot, Williams 13) at the Townsville Entertainment and Convention Centre