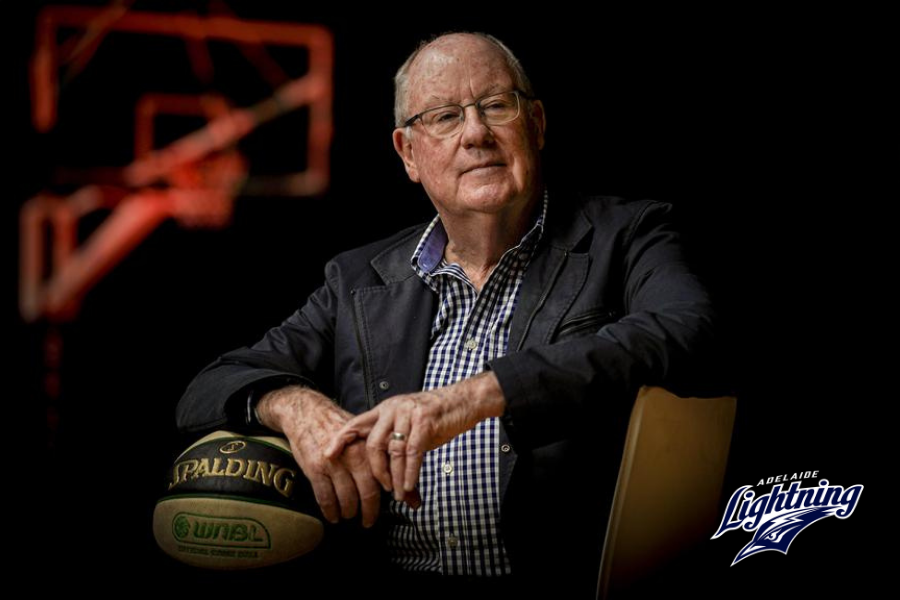 October 23, 2020 | Adelaide Lightning news
We sat down with the Chairman of the Adelaide Lightning for a Q & A about the upcoming season, the challenges of the pandemic and his views for the WNBL 2020 condensed season. Read all about the Q and A with SA Basketball Media Advisor Tristan Prentice…
Prentice: Thanks so much for the chat this morning Bruce, what excites you most about the 2020 team?
Spangler: When we put the team together with Chris (Lucas) it was a team of hardworking athletes that got on well with each other. A number had played with Chris previously in the University Games Gold winning team. Before COVID-19 hit, it looked like an interesting season as we felt we had a good spread of quality players across all positions. We have also focused on getting some more local South Australian girls in the squad and this year we have four to five, with a concentrated effort on giving opportunities to girls to play for our club looking for some longevity. Carlie Smith is an example of this as someone who has not played WNBL before we have given that opportunity to.
Prentice: Obviously, you are giving girls like Smith opportunities they may have not had before to be active players in the squad, so how are you feeling about the upcoming season?
Spangler: It's a lottery in a 14-game season in far North Queensland in the Hub in Cairns, Mackay and Townsville starting in mid-November. It now becomes tournament play where players will live with each other. Injury recovery will basically be non-existent and several players that would have played in the WNBL will not be able to play now. Some of the other teams will be stacked as we have seen already so that will make it tough, however, we are looking forward to it. Plenty of our players have been through the quarantine process either in isolation or doing home isolation depending on where they have come from.
Prentice: Sounds like even before the season you have had to chop and change the squad a fair bit, how reactive do you have to be as the Chairman to the process of putting together a fresh team for the season?
Spangler: Free agency was dragged out for an exceedingly long time and the league had no imports and the Lightning have traditionally run one of their imports as a big as it's difficult to get experienced bigs in our league. These were holes we had to fill as we did have some decent imports last season and we also lost Nicole Seekamp and Lauren Nicholson. Despite those changes we are happy where we have landed. We managed to get Louella (Tomlinson) and we still have Steph (Talbot). We also have worked on getting continuity with the signing of multiple girls to multiple year contracts to make sure we are not "starting again every year." Of course, this is naturally what the girls want too. We are very proud that we have got players and people from all sorts of backgrounds as part of our club as we grow and become more diverse.
Prentice: Great to see the club signing some players that are going to be around for multiple seasons in a row instead of having to restart the squad annually. In your opinion, which of our signed players are ready for a breakout season? 
Spangler: I guess we have a slight advantage of being able to see early with a larger amount of training who is ready for a breakout season in the WNBL. Steph Talbot is one that can take the next step and be the league MVP, Chelsea Brook will have a lot more confidence in her role and have a standout season while players like Marena (Whittle), Abbey (Wehrung) and the big surprise will be in my opinion Carlie Smith coming from an international 3X3 experience. I think there will be a lot of girls this season that will have an opportunity to show something.
Prentice: Are there any challenges from the pandemic that came across your desk from a structural and organisational point of view that you had to deal with?
Spangler: Waking up every morning was the biggest challenge (chuckles). The main challenge for the Lightning has been trying to turn a team into a club, for many years it's been a number of girls on the court and a coach and some small background staff. With Tim (Brenton) and Basketball SA we have worked hard together and there are a lot of opportunities to create a strong relationship with them going forwards. Our biggest challenge to come with our team not playing here in Adelaide, is how do we re-engage and continually engage our fans during this upcoming season. I am currently working with Tim regarding sponsors for the upcoming season which we'll announce shortly and a direction for our club to continue its trajectory.     
Prentice: It's definitely a different looking season ahead, what are you looking forward to most about the opportunities for the club this season?
Spangler: We are using it as an opportunity to expose the brand and continue basketball. It would be very difficult to start again if we abandoned it, so we are using this as a step up for the following season.
Prentice: That makes perfect sense Bruce as the Lightning want to have an impact on the local community before they head off for the season so that all eyes will be on our club for the upcoming season. Outside of the Lightning, which clubs should we be keeping an eye on this season? 
Spangler: I think frankly all the teams on their day will be worth watching out for. The Southside Flyers are stacked, Melbourne Boomers are always good, and the Townsville Fire being at home have Lauren Nicholson and a whole heap of young talent including Shyla Heal. The Sydney Uni Flames have a good partnership and access to resources through the Sydney Kings and Paul Smith who is their Chairman and owner. Perth have got Darcee Garbin and if Sami Whitcomb plays in the hub; they will be strong. Bendigo always play pretty well against us as we have a history. We could really be at either end of the competition come the end of the season.
Prentice: Bruce Spangler Chairman of the Adelaide Lightning, thank-you for your time and sharing about the pre-season and the upcoming season plans for the Lightning for our fans base, the Basketball SA public and the WNBL public.
Written by Tristan Prentice (South Australian Basketball Media Advisor)