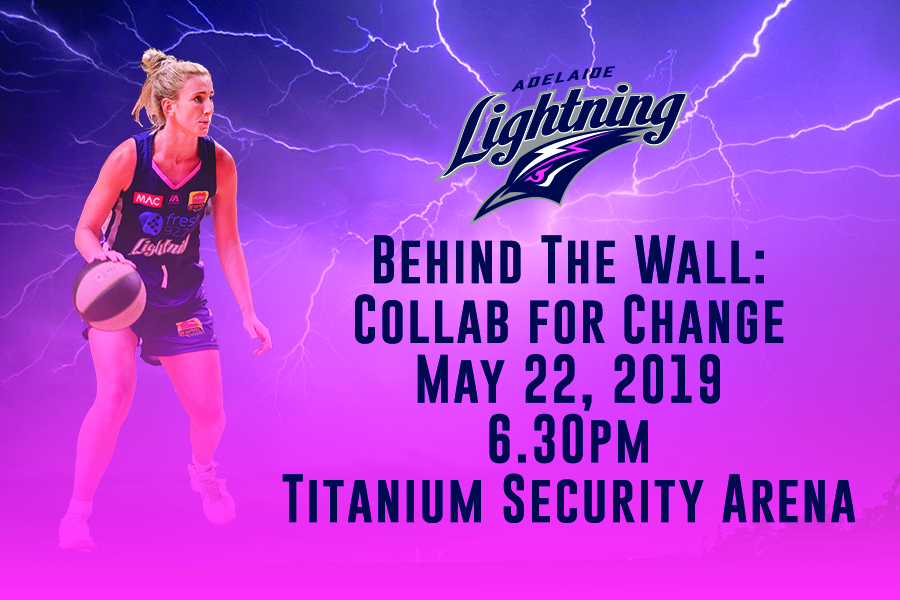 May 1, 2019 | Adelaide Lightning news
Behind The Wall – Collab For Change
Titanium Security Arena
Wednesday 22 May @6:30pm
Background:
The Adelaide Lightning is one of the most successful professional teams in Australian Sport. Having won 5 championships in nearly 30-years the on-court success of the club is astounding. Despite the success on-court the club faces its most challenging period in history with the former owner handing the license in after the teams' Grand Final series this year.
A consortium of new owners refused to let the team disappear and have committed to two years to turn around the club's financial position in what is a male dominated industry with investment opportunities being directed largely towards the men's teams in the NBL.
With new owners, and passionate staff, the Adelaide Lightning are not only looking to turn their fortunes around but bring along the community and build an inclusion wall that represents positive change and opportunity through collaboration.
Speakers:
Claire Parkinson
Claire is an inspiration for women in the workplace achieving the unusual position for a female in running a prison! She is also a successful consultant working with businesses and government agencies across the globe. Armed with a sense of humour and inspirational stories of success in male dominated fields, Claire is a unique mix of wisdom and laughs.
Special Guest from Adelaide Lightning

Host:
Katrine Hildyard MP
Katrine is a sitting member of Parliament with the Labor Party of South Australia. She is a fierce advocate for equality for women. She also led a taskforce on Women in Sport, composed of athletes, administrators and event managers, to help close the pay gap for women athletes and encourage investment in women's sport.